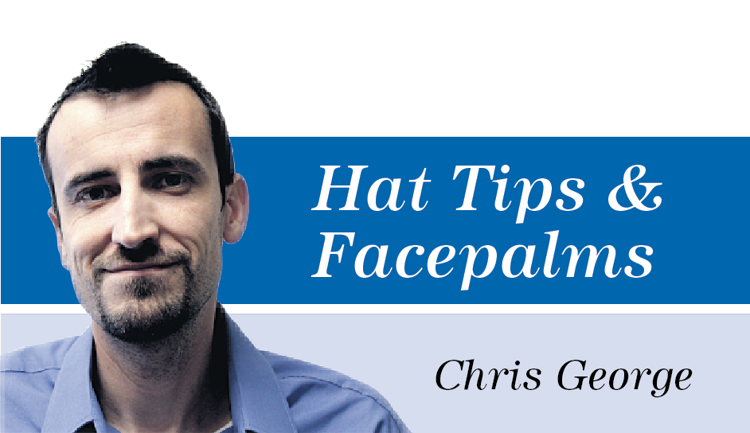 You may have read recently about the troubles facing the city of Riviera Beach. According to reports, a hacker crippled the city's computer system with a virus and demanded about $600,000 in bitcoin. Left with little recourse, the City Council voted to pay the ransom to get its operations out of the Stone Age.
So who's the poor guy who has to clean up that mess? Why none other than Madeira Beach City Manager Jonathan Evans, who is resigning his post July 9 and taking over the same post at Riviera Beach. In fact, it will be Evans' second stint with the city, where he was fired in September 2017. The City Council there changed, however, and decided to rehire him.
Since the announcement, he's had some heated exchanges with a couple Madeira Beach commissioners, so a paralyzing computer virus may not seem so bad in comparison.
Hat tip to Pinellas County firefighters: I've got breaking news, folks: It's scorching hot outside. Now imagine putting on about 50 pounds of gear while fighting a fire at the Brooker Creek Preserve in Tarpon Springs or a former Winn-Dixie parking lot in Largo. Local fire crews don't have to imagine because that's exactly what they did recently, taking on blazes in what's probably as close to hell on earth as it gets. Hell, I feel like a lose a pound of sweat just walking through the parking lot to get to my car.
Facepalm for the city of Seminole: Speaking of fires that need to be put out, let's discuss the latest on the city's contract negotiations with its fire union. The two have been at an impasse for more than a year, and Seminole Fire Rescue's employees have been working without a contract since Oct. 1. Basically, the firefighters say they're underpaid and their benefits are lacking compared with nearby agencies. A special magistrate was brought in and agreed with them. The city, however, rejected the magistrate's decision, claiming he failed to justify some of his positions. Now, the City Council will make the final decision July 15.
In her state of the city address in January, Mayor Leslie Waters hailed the city's finances and said she was proud the city hasn't had to raise the millage rate in 12 consecutive years.
She and the other councilors shouldn't be. There's no shame in raising property taxes if it means your first responders are fairly compensated. I'm sure Seminole residents wouldn't mind paying a few extra bucks for some peace of mind. Hopefully, the City Council won't let some minor sticking points obscure the bigger picture when it makes its decision next month.
Hat tip to developer Grady Pridgen's ambition: The St. Pete-based developer has big plans to transform the 40-year-old Oldsmar Flea Market into a regional food and entertainment destination. Pridgen said he's shooting for a "Disney Springs feel," with a mix of food, entertainment and shopping options. I look forward to seeing what he can pull off during his two-year plan.
Facepalm for the city Clearwater's ambition: The city has decided it wants to add $6 million to its $55 million Imagine Clearwater redevelopment plan in order to overhaul its main library near Coachman Park. The renovations sound like a wonderful addition. Unfortunately, according to finance director Jay Ravins, the Imagine Clearwater project budget only has about $4 million left. Does that stop the City Council? Nope. We'll cross that $2 million bridge when we get there, they say. Isn't this the same city that just last year needed to increase its millage rate for the first time in almost a decade?
Hat tip to Dunedin: The city recently proved that cooperation pays off when it approved a three-year extension with Clearwater Ferry Services to continue shuttling people between the city marina and Clearwater Beach. Officials said they would also like to expand the service in a bid to reduce traffic congestion. Pinellas County needs as many transportation alternatives as it can possibly afford, so kudos to the city and the ferry for making one work.
Facepalm for St. Petersburg, St. Pete Beach and the PSTA: The three entities have shown what happens when you don't cooperate or communicate. PSTA's plan for a Bus Rapid Transit project linking downtown St. Petersburg to the beaches has led to verbal jousting from officials of both cities. The project also includes 6 miles of lanes just for the new buses, which St. Pete Beach officials say will just clog up an already congested Gulf Boulevard. PSTA officials say that congestion is the exact reason the project is needed. St. Pete has dedicated $4 million to the $40-plus million project, while St. Pete Beach and South Pasadena, who oppose it, won't have to pay anything. The bad news for those two cities is that Gulf Boulevard is a state road, so if the funding comes through, the buses likely will too. The blame for this contention should also fall on the PSTA. This project has been in the works for more than three years, so this should've been worked out a long time ago.
Facepalm for the Rays: The team announced June 20 that it is exploring playing half of its home games in Montreal. This might be even more ludicrous than proposing a nearly $1 billion stadium without any kind of funding plan. That being said, if they change the name of the team to the Ex-Rays, then I might reconsider.