On Nov. 3, I did something I had not done before. I volunteered to be an election day poll worker. I did not really know what I was getting into, but with so many workers sitting this one out due to COVID-19, I wanted to help.
First of all, not all the people you see at your polling place are volunteers. I got paid. I was assigned to be an "Assistant Clerk," which is basically like middle management. Training was required.
I attended a 5-hour class two weeks before the election. Before the class, we were instructed to watch a series of online training videos. At the class, we were taught the procedures and how to operate the polling equipment.
The main piece of equipment is called an EVID (Electronic Voter Identification Device). When you vote in person, it scans your driver's license. The title of the person operating it is called an "Inspector."
The process is straightforward. When your license is scanned, the EVID tells the worker if you are in the system and are at the right precinct. Once that checks out, you are forwarded to a person issuing ballots. Once you have your ballot, you are sent to a nearby privacy booth to vote.
The voter then goes to the scanner and inputs their ballot themselves. Once complete, the scanner announces that "You voted" and you get an "I Voted" sticker.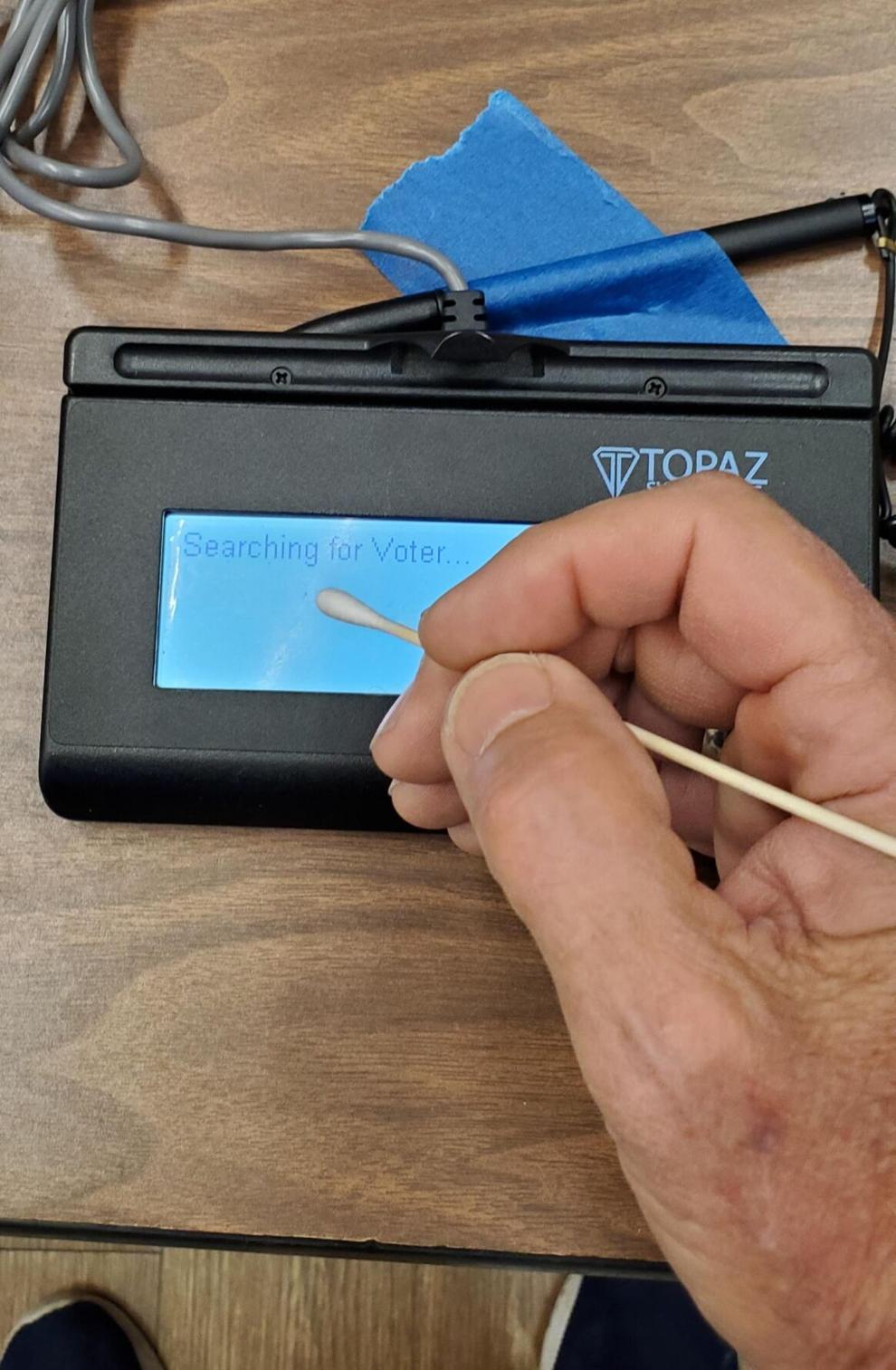 At our location, the entire process took anywhere from 5-15 minutes per person; it depended on the voter's readiness and ability to read.
After 12 hours — 7 a.m. to 7 p.m. — our precinct had 606 actual voters. That translates to about 50 people per hour. We had a rush from 7:30 a.m. to 9 a.m., and another one again in the afternoon from 4-6 p.m. Very few people voted from 6 to 7 p.m. Our line never went outside the building, as it did at other precincts.
Part of our group — four of us — reported to the polling place the day before to setup the equipment and make sure it all worked. That took us about two hours. As we left, we were instructed to be onsite by 5:15 a.m. the next day as we had to be ready for the first voter at 7 a.m. Two "deputies" controlled the lines, inside and out. A deputy is a poll volunteer.
A regional manager from the county's elections office was on site 50 percent of the time. Two "poll watchers" from the two primary parties were also present to observe and kept an eye on things.
I helped to check people in with the EVIDs and processed people that had a problem. We only turned people away if they were not registered in Pinellas County or were at the wrong polling site.
I was amazed to see how many people either had the wrong address on their driver's license or had not notified the Supervisor of Elections' office that they had moved. In most cases, if they had a valid photo ID, we updated them in the database and let them vote. However, if they had moved, they were sent to their new polling place to vote. The EVID provided the address and directions to the new site. Most people understood and were thankful for the help. A few people, however, were frustrated and stormed out.
With of 606 successful voters, less than a dozen were turned away for some reason.
I personally assisted four people who needed a special type of help, such as an elderly person that brought a relative to assist them. One person only spoke Vietnamese. We had to call a special translator to help with that one.
Throughout the day, all our information was sent to headquarters electronically. Thus, our results are basically known within minutes of the polls closing.
At 7 p.m. we had no line and closed the doors. At 7:01, we started to break down the equipment and the tables. All the electronic equipment, EVIDs and scanners produce backup tapes to record all the day's activity. That is used in the event there is a problem calculating the vote.
We were packed up and out of there by 8 p.m. — the end of a 15-hour day. It was interesting that before we left the building, our precinct's results were being broadcast on television and available on the internet.
As I said, I was paid. I received $210 for my service. Considering my three days of service, that is about $10 per hour. Some of my fellow workers were employed by local governments, which encourages participation. Three were from the City of Largo. They received time off with pay from their jobs while they worked at the polls.
All in all, I was impressed by the checks and balances put in place. There is virtually no way for the wrong person to vote or to vote twice.
It is a shared responsibility. However, voters must keep their registration updated and report to their proper precinct. If they move or do not vote for many years, they may not be in the county's voter system at all.
I was also impressed with the attention to the health and safety of the staff and the voters. Due to the COVID-19 pandemic, we were issued face shields and masks. There was hand sanitizer everywhere. Voters used a disposable Q-Tip-like swab to electronically sign, which was then thrown away.
I had a very good team to work with and a very good experience. If you would like to learn more or volunteer next time, visit www.VotePinellas.com and click on the link on the front page, "Become an Election Worker," or send an email to PollWorker@VotePinellas.com.