I saw a shocking statistic recently. Florida leads the nation in danger to bicyclists. By far. Deaths of bicycle riders in Florida is three times the national average! Inattentive drivers looking at their phones are probably to blame, as are intoxicated motorists. And probably our population of seniors who just don't see as well as they used to. But I think, to some degree at least, the bikers themselves bear responsibility.
I live in a neighborhood of bike riders. Not a day goes by when I don't see them break the laws. They run red lights and stop signs with abandon. They swerve in and out of traffic to suit their needs. On weekends, they often ride four or five abreast, frustrating motorists behind them.
Then there is the whole issue of these motorized bikes. What exactly are they, bicycles or mopeds? Should they even be in the bike lanes at all? They appear to be as fast as automobiles on neighborhood streets. The fact that their riders may not be sure about these things as well scares the heck out of me.
It seems to me "share the road" is a two-way street (pun intended). If bikers want motorists to respect them on the road, then they should do the same and adhere to the same rules as automobiles. What about it, bikers? Will you stop at the next stop sign or just blow right through it?
• • •
Mary Falkenstein died one year ago this week. She was three months short of her 100th birthday. Mary was as close to Pass-a-Grille royalty as you can get. She owned and ran two businesses that take up an entire block of Gulf Way: the Keystone Motel and the iconic Hurricane Restaurant.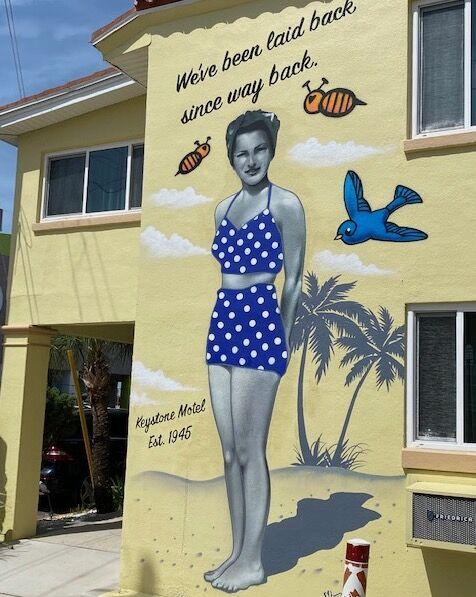 I was lucky to get to know Mary from staying at the Keystone before we bought our house. I went to the motel to visit her frequently after that. She gave me wonderful advice about island life. She put me in contact with a great handyman. She recommended a plumber and an AC specialist.
Mary was a force of nature. She never really retired and never wanted to. Well into her 90s, I would see her cleaning tables at the Hurricane or carrying fresh towels to the Keystone. Her favorite saying was, "Hard work will never kill you, but laziness will."
Tom Brokaw's book described people like Mary. She was a perfect example of "The Greatest Generation." She worked hard, put money into savings and always found ways to give back to the community. I knew a guy like that once. He was my dad, born the same year as Mary.
If you drive down to Pass-a-Grille one day, come around to the alley behind the Keystone. There on the wall, Mary's family commissioned a mural as a tribute to her. "Laid Back Since Way Back" is Pass-a-Grille's unofficial slogan. But "Laid Back" is sure not how I would describe Mary Falkenstein.
We miss you, Mary.