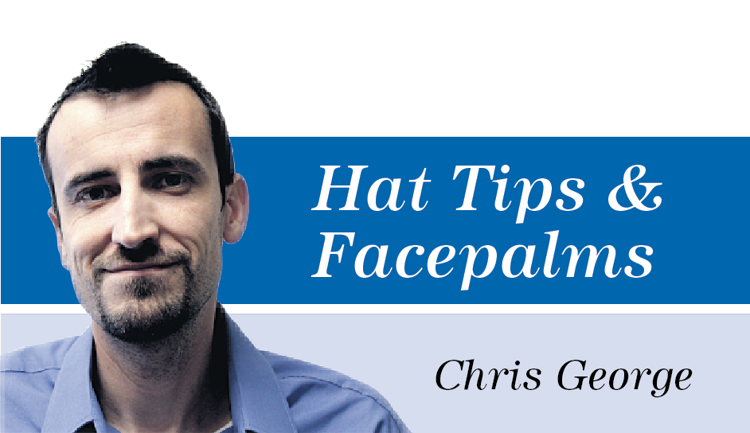 When the Fourth of July rolled around last month, I tried to find a movie in honor of the holiday. The options were few, however, so it came down to the always-entertaining "Independence Day," which has about as much to do with U.S. history as "ET," and my favorite musical, "1776."
Now, while the thought of aliens eviscerating Washington, D.C., seemed attractive — more so by the day, I might add — I went with "1776," which details the efforts taken by John Adams, Ben Franklin and Thomas Jefferson to achieve independence from Great Britain. 
In a scene from the film, Stephen Hopkins, the delegate from Rhode Island, boasts to Franklin about some cards he had printed up in an effort to save everyone time and effort, considering the epidemic of bad disposition plaguing the Continental Congress. 
The cards state:
"Dear Sir, you are without any doubt, a rogue, a rascal, a villain, a thief, a scoundrel, and a mean, dirty, stinking, sniveling, sneaking, pimping, pocket-picking, thrice double-damned no-good son of a b----."
Hopkins added that you just sign your name, and asked Franklin what he thought.
"I'll take a dozen, right now," Franklin says.
I'll take more. 
I need them for some of our state legislators, who passed a bill that makes texting while driving a primary offense, so now officers can pull you over if they see you typing into your phone. 
OK, so far so good. Until you read the fine print of the legislation, which includes exceptions like navigation and weather alerts. That means officers have to prove you weren't just using your GPS by examining your phone — but drivers can say no. 
The result will probably be a bunch of officers and deputies unwilling to write tickets. According to the Tampa Bay Times, data from the Florida Highway Safety and Motor Vehicles shows that only 36 tickets were issued in the entire state in the law's first few weeks.
Shocker! I wonder why.
Facepalm for the Circle of Heroes: A ribbon-cutting was held Aug. 5 roughly 10 miles off the Pinellas County shore for what is being called the nation's first underwater dive memorial honoring veterans. When completed, the attraction will include 24 different life-sized concrete statues of men and women serving in the armed forces.
Besides being a tourist draw, it's been said "diving trips to Circle of Heroes may be used in conjunction with sports therapy programs for disabled veterans struggling with PTSD, depression, trauma and other anxiety disorders."
The entire project is expected to cost — wait for it — about $450,000.
I have the utmost admiration for our veterans and believe they should be honored accordingly. But instead of spending $450,000 on 24 statues that only a handful of people will appreciate, I have a better idea. How about we raise and spend $450,000 on 24 real-life veterans who actually need the money to survive? I'm pretty sure it wouldn't be hard to find them. Priorities, people. Priorities.
Hat tip to 15-year-old Noah Denny: The student at J.W. Mitchell High School in Trinity let state Sen. Ed Hooper and state Rep. Chris Sprowls have it at a town hall forum in East Lake recently, according to a report by TBN's Jeff Rosenfield. 
"It's been reported that the recent legislative session was the worst session in decades," Denny said, citing topics such as a failure to pass legislation to ban plastic straws and the implementation of Amendment 4.
That citizen initiative successfully demanded that the state restore voting rights to felons who have served their sentences, but lawmakers tacked on language that required them to pay all fines and fees before earning back their right to vote.
It takes a lot of guts to tell off state lawmakers in front of a heated crowd. Kudos to Mr. Denny for speaking his mind and proving that not all teens are apathetic.
Hat tip to Sprowls: For taking one on the chin during that forum and still applauding the process. 
"This is what America is — meeting in a local library and talking about important issues that affect the community," Sprowls said. "Even when we're disagreeing, this is how important decisions get made, by listening and taking action."
Hat tip to the city of Largo and its firefighters union: After negotiating for more than a year, the two sides came together and reached a compromise on enhanced benefits for firefighters that everyone was pleased with. "We took so much time to do it and to be able to collaborate and have that momentum and that shared belief that together we can make it happen," Largo Human Resources Director Susan Sinz said. "There's nothing like it."
Let's hope the city of Seminole, which has been at an impasse with its firefighters for more than a year, is taking notes.