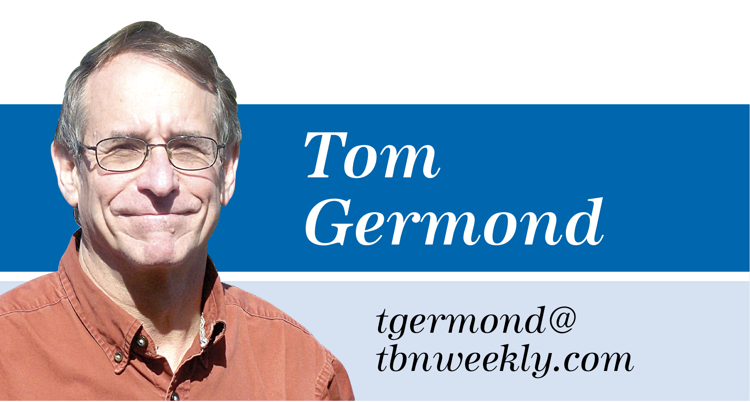 My kingdom for a hair stylist who makes house calls.
Yup. Any day now the jokes about my mop top will ensue. To wit:
"Stay away from Germond during a full moon."
"What's up with him? Halloween is still months away."
At least I'm not alone. I told my friend Val that I'm going to have to buy a hair trimmer. So I also should buy a first-aid kit.
"We're all going to look like we emerged from the '60s after this," she said.
"Or the Stone Age," I replied.
Guess it's time to start watching the online videos on do-it-yourself haircuts. As soon as I finish watching the online videos on how to get the most out of toilet paper.
I'm trying to stay home, but I always seem to be running out of household supplies, food, etc., even though I strive to inspect my refrigerator and cupboards and make a grocery list before I frequent the stores.
A few weeks ago, with the stay-at-home orders taking effect, I thought that this would be a great time to make some home improvements, such as painting my kitchen. The more I thought about it, the more I grew leery of the idea.
The last time I tried to paint anything other than my toenails I went to a home improvement store about four times in one day, either to get more paint or paint remover. That's probably frowned upon in the book on best practices for social distancing. Now if I could hire a real jack-of-all trades, somebody who can cut hair as well as paint, problem solved. References not required; just proof of virus testing.
Our parks: A breath of fresh air
Though I have hobbies, such as daydreaming for hours about what I'm going to write about in my columns, I, like legions of other stay-at-homers, desire exercise.
So almost every day, I try to visit one of our county or city parks — to walk, reflect, eat a sandwich or enjoy wildlife, except squirrels.
While I was relaxing under a pavilion at Walsingham Park and eating a taco, one of those fuzzy-tailed rodents kept circling me, expecting a handout.
"Get out of here, you car eater!" I said. "No food for you."
Still have a grudge against squirrels ever since September 2017 when during Irma one tried to seek refuge underneath the hood of my Hyundai and ate the wiring harness or whatever it is, causing $4,000 in damage. I had to rent a car for a month.
After a few minutes of watching the tail-twitching varmint, I tossed a crumb at the squirrel. Of course, he or she had friends, too.
"All you get," I said.
They didn't leave. Guess they're not afraid of werewolves.
Our parks: a breath of fresh air, part II
It takes all kinds.
Over the years I've seen a few unusual goings-on at our great parks in Pinellas. While I was walking along a park trail a few weeks ago, I noticed ropes dangling from a tall tree and heard some noise coming from above.
I looked up and I saw a guy on a branch. I thought he was a wildlife officer. He wasn't. So curiosity taking charge, I asked him what he was doing.
"I'm climbing a tree," he said.
Wasn't sure what to make of that, so I decided to leave well enough alone and continue my trek along the trail. At least he wasn't armed, and his actions didn't appear to be alcohol induced. Maybe, like me, he was practicing lycanthropy.
I also recently saw two young adults not indiscreetly drinking a beer on an upper level of a park observation tower.
I resisted the temptation to yell, "Citizen's arrest! Citizen's arrest!" Makes me wonder, though, how successful a beer garden would be in one of our larger parks, such as Walsingham Park, especially during a time when people can't visit their favorite water holes. Limit occupancy to 10 people at the beer garden while the virus remains a threat and strictly enforce social distancing. Feeding squirrels strictly forbidden.
On second thought, it might not be such a good idea. The park trails draw a lot of users, and I've seen how fast some bicyclists ride in that park when they're sober.
Grumpy old werewolf, ain't I?
Restroom protocol
If and when our restaurants are allowed to open, I hope the powers-to-be and proprietors will ensure that bathroom occupants give each other plenty of room to do their business, such as not crowding around the urinals.
In other words, people should practice what I call safe "social pisstancing."
Sorry. Couldn't resist. And I know what you're thinking. Somebody should wash my mouth out with hand sanitizer.