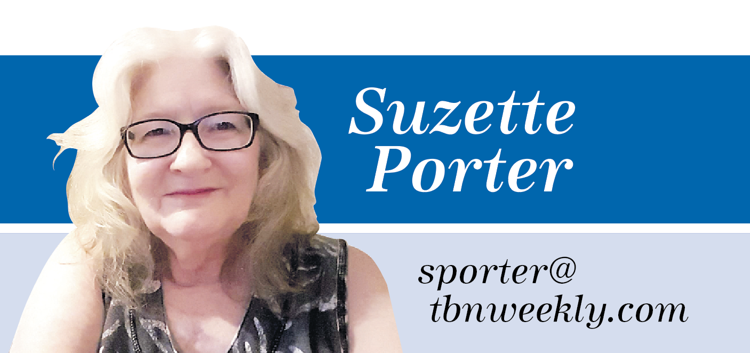 As people in other parts of the nation suffered through snow and ice, rain and flooding and other weather-related adversities this winter, those of us living here in Pinellas County mostly enjoyed beautiful blue skies and plenty of sunshine.
Our biggest complaint was running the air conditioner more than we wanted. Our friends from points north had no sympathy, of course.
But, now it's our turn to keep a close eye on the weather.
The National Weather Service considers the months of March through May as Florida's Spring Severe Weather Season. Thunderstorms bring deadly lightning, heavy rains and strong winds. Waterspouts and tornados are possible.
I moved to Florida just before Memorial Day in 1999. Not long after, I was in the waiting room of a dentist's office near U.S. 19 and Sunset Point Road when word began to spread that the area was under a tornado warning.
It quickly got dark outside. The lightning was terrifying, seeming to hit just outside the window. The wind blew debris through the parking lot and even some of the cars were rocking. Then came the rain, and you could no longer see outside.
The sitting area was in front of a wall of windows. I waited for people to move — to take cover. But everyone just sat in his or her seats. Finally, I couldn't stand it anymore and I asked if maybe we should move away from the glass and into an interior room.
They looked at me as if I had two heads. One man turned to me with a bit more sympathy and told me not to worry. He said tornados weren't a big deal and it was probably just a little waterspout.
I probably looked at him as if he had only one eye. The notion that tornados weren't a big deal just didn't ring true. And what the heck was a waterspout? I briefly considered going to the bathroom. At least that room had no windows. But almost as quick as it had rolled in, the storm began to pass.
I went home and researched Florida tornados and waterspouts. I learned that most of the time — not always — tornados weren't as strong as the ones in Arkansas, where I spent the first 40-plus years of my life.
I learned there were two kinds of waterspouts — fair weather and tornadic. They both form over water and can move onto land. As the name implies, fair weather waterspouts aren't necessarily associated with severe thunderstorms. They usually don't last long. They can do damage to boats, so sailors beware.
A tornadic waterspout is associated with severe thunderstorms. When it moves onto land, it becomes a tornado. And unlike what that gentleman told me in the dentist's office that day, tornados can be deadly even here in Pinellas County, Florida.
The other thing I had to learn about was tropical storms and hurricanes. Hurricane Charley in 2004 provided the best lesson. Anyone who was living in Pinellas at the time will tell you, we got lucky.
Tampa Bay Newspapers had recently launched a website. I was excited to be able to post stories as often as needed. My husband and I lived in a non-evacuation zone. And silly us, we thought we would be safe. All we needed was extra water and snacks, some flashlights and batteries, and we were good to go.
We took a crash course in hurricanes, learning about the different categories and potential damage. We learned to translate "weather-talk" into plain English. We posted every notice put out by the National Hurricane Center, which didn't allow for much sleep. We kept in touch with Pinellas County about evacuation notices and other public safety news.
I remember getting a little worried we might be in trouble when the forecast showed a major hurricane headed toward the mouth of Tampa Bay. The county's emergency director was begging people to go to shelters. Progress Energy (now Duke Energy) announced it was cutting power to the barrier islands. The bridges were closing.
Hours before Charley was forecast to make landfall in Tampa Bay, the hurricane turned. It came ashore about 3:30 p.m. Aug. 13, 2004, near Captiva Island in Lee County as a Category 4 storm packing winds in excess of 145 mph.
Fortunately for us, we never lost power. We didn't need anything in our meager hurricane kit, but for the people where Charley made landfall, the damage was devastating.
We only have to look at the Panhandle and the destruction left from Hurricane Michael, a Category 5 hurricane that made landfall Oct. 10, 2018, near Mexico Beach, to remember what could be.
Hurricane season begins June 1 and it continues until Nov. 30. That's a long time to worry about the weather.
I'll pass on some advice from a former county emergency director, who told me what she does. Prepare ahead of time and then don't worry. You've done all you can do.
You'll have no need to rush to the store for water and emergency supplies. You won't need to worry about getting to the home supply store before all the plywood is gone. The most you might have to do is put up your shutters, and pick up the loose items in your yard. Gas up the car. Grab some cash from the ATM. Fill the tub with water and start making ice.
If an evacuation order is given, go immediately to a safe place. You should already know where that would be and have everything you need ready to take with you. Don't forget the pets.
For resources on preparing for a hurricane, visit www.pinellascounty.org/resident/disasters.htm.