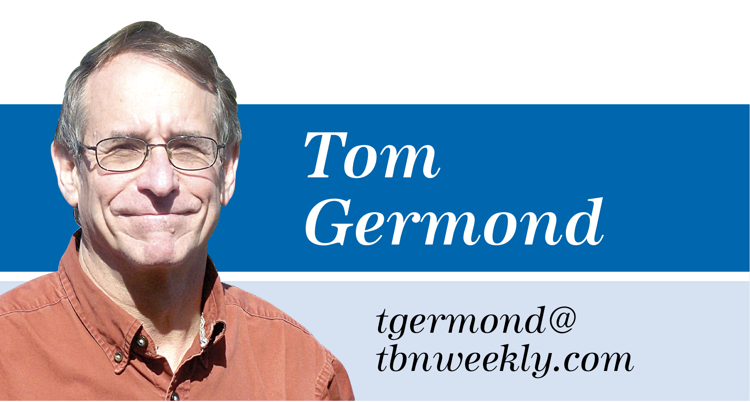 Looking for something to read, I pulled a yellowing paperback, "All the President's Men," off my bookshelf.
It had been probably two decades since I last read the former Washington Post staffers Bob Woodward and Carl Bernstein's account of the Watergate story, which involved numerous interviews and fearless reporting in exposing corruption during the Nixon presidency.
Published in 1974, "All the President's Men" has received outstanding reviews and is on the All-TIME 100 Non-fiction Books list.
"Maybe the single greatest reporting effort of all time," said Gene Roberts, former managing editor of The New York Times.
Since the burglary of the Democratic National Committee's headquarters occurred almost 48 years ago — June 17, 1972 — I thought rereading the 368-page story of the scandal was timely in this era of political divisiveness and media bashing.
Though I had read the book at least twice over many years, I had forgotten many of the details and the names of the president's men as well as some of the Washington Post's editors and reporters who had leading roles in the paper's coverage of the highly publicized burglary and subsequent events. The Post won the 1973 Pulitzer Prize for Public Service for its investigation of the Watergate case.
At the onset of their coverage of Watergate, Woodward was 29 years old. Bernstein was 28. At the age of 28, I was still trying to find my way around city halls and was writing photo captions for submitted photos of kids' Halloween costumes.
I can only imagine the pressure Woodward, Bernstein and other journalists faced as their papers, such as the Post and the New York Times, competed fiercely to break news on the scandal under tight deadlines.
Interviewing informants repeatedly, at their homes, in parking garages, on the phone. Checking leads, seeking public records, quarreling with editors and each other about details in a story. Woodward and Bernstein pissed off a lot of people, including their sources.
They acknowledge in the book that at times their reporting wasn't perfect. There were missteps as they tried to get information and confirm facts through their multiple sources. Sometimes playing guessing games with them.
The Post staff writers and others put themselves at risk of being prosecuted, bugged or maybe worse. Here's a snippet from an exchange between Woodward and Bernstein after Woodward put his fingers over his lips to indicate silence in an elevator at his apartment building.
"At his dining room table, Woodward typed out a note and passed it to Bernstein.
Everyone's life is in danger.
Bernstein looked up. Has your friend gone crazy? he asked.
Woodward shook his head rapidly, indicating to Bernstein not to speak. He typed another note.
Deep Throat says that electronic surveillance is going on and we had better watch it.
Who is doing it? Bernstein wrote.
C-I-A, Woodward mouthed silently."
In fact, after being told to watch out for surveillance, Bernstein and Woodward met with their tough-minded executive editor, Ben Bradlee, at 2 a.m. at his house, with Bernstein suggesting they go outside.
"Bradlee said with a touch of mockery it was unlikely that his front yard was bugged," the authors wrote.
On several occasions, some of the president's men, goons if you ask me, blasted the Post, saying the paper's reporting was inaccurate, fabricated. In today's buzzwords, some would falsely label it "fake news," a term I've come to hate and scowl at.
Fake news, in too many conversations I've heard, comes from the lips of people who just don't like what they see or hear from the press, often because a news story offends their political or other beliefs even if the information is accurate, objective and reported by many news outlets.
Having supervised and competed against numerous journalists who put their reputations on the line over the years, I can assure you that the vast majority I've known take pains to be fair and accurate. They're just not perfect.
Commentary, whether it's from newspaper opinion pages or mouths of the national media's talking heads or politicians, is a whole different matter. It may be considered fake news because it is intended to be biased, sometimes even acidic in tone. But commentary should not be confused with news stories.
I was hoping to put my "All the President's Men" back on the shelf, but it's binding is weak and it began to fall apart as I was reading the last several pages. Maybe I'll get another copy. The work is on Tom Germond's top 50 book list. I highly recommend it. There's some dialogue that may make you laugh out loud, too.
You can take issue with some of the means Woodward and Bernstein used to get their stories. Maybe you think the Post went too far. On the other hand, maybe the Post's reporting will lead you to believe that Nixon should have gone to jail.
Whatever your opinion of "All the President's Men" is, I defy you to call it fake news.