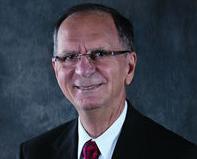 Despite the political rhetoric that has begun, Clearwater remains a community of which all residents should be proud. Over the last eight years, the city has invested taxpayer funds wisely. The budget is, and has been, in balance, the city's bond rating is excellent, the pension fund is the envy of most, and the city's reserves account has increased from $22 million on Sept. 30, 2012, to an anticipated $39 million at the end of fiscal year 2019/2020.
The Morningside Recreation Center was finally constructed. Residents of Countryside celebrated the opening of a new library and fire station. An updated Emergency Operations Center is ready, and Clearwater's beach was named the No. 1 beach in the country for the second consecutive year.
Work on the Imagine Clearwater plan for Coachman Park is progressing. The groundbreaking for improvements at Crest Lake Park is scheduled for this month, and work at the Seminole Boat Ramp district is being finalized.
While other communities have struggled with stormwater and sewage overflows, Clearwater's infrastructure functions without similar, repeating occurrences. The city has become more aware of its responsibility to care for the environment through recycling, by converting vehicles to natural gas, by changing over 11,000 streetlights to LED lights, and by being one of three Florida cities selected by the state of Florida to develop strategies to combat coastal flooding.
The city has also worked with partners to bring national and international softball tournaments to town, to provide additional workforce housing, to reach out to minority communities, and to promote economic development along the US 19 corridor and downtown.
Of course, public safety remains the city's primary responsibility. The Clearwater Fire and Rescue Department and the Clearwater Police Department have been recognized for their efforts and training programs. Crime also saw a significant decrease throughout the city last year.
The foundations set by this and previous councils, as well as the city's staff, are solid. Clearwater is on track for the next decade; it has not lost sight of its core mission. Council and staff have stayed focused on its responsibilities that serve the people first, not on making headlines. Thus, the new mayor and council will be in position to continue those services and programs that have made Clearwater a great place to call "home."