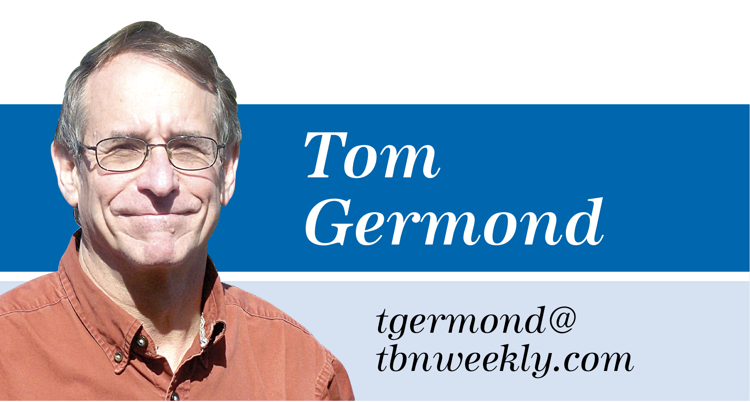 With retirement looming in a few weeks, many thoughts and memories are dancing in my head.
First of all, what am I going to do with my 1941 typewriter, which has been a shelf decoration in my office for 15 years?
Would be hard to part with my old buddy, whose keys I pounded while I was journalism school and at my first job in Vero Beach as a reporter.
My father, also a career journalist, gave me the old Underwood. Rusty and dusty, it's of no use to a newsroom, except as a conversation piece. Same goes for my early 1960s twin-lens reflex camera. No, powder didn't disperse when you took a picture with it; it's safe. Guess I'll find room for the relics in my condo somewhere. I'm a victim of nostalgia.
After about 42 years as a reporter, columnist and editor, I'm grateful to all my bosses, co-workers, news sources, readers, friends and others who placed their trust in me. Many of us in the business have known or heard about countless journalists who were forced to pursue different career paths because of the challenges facing the newspaper industry, especially in recent years.
And here I am — still doing at this moment what I love to do the most — writing. It's humbling, to say at the least.
As a journalist, you learn so much by just listening. Years ago, a circuit court judge, a very good one, and I chatted about the people we've encountered in our profession. He put it in perspective.
"It takes all kinds, Tom," he said.
Still chewing on that.
Covering local governments, probably about four dozen since the 1970s, made me realize that most of our elected officials generally mean well. The ones who shrug off criticism, though it's sometimes hurtful and unfair seem to rise to the top.
Back to the 1970s. A longtime county commissioner in Vero Beach, after listening to other officials complain about media coverage on an issue, smiled.
"You win some and lose some with the press," he said.
Simple but true.
The memories — such as riding an elephant in a small circus. Being a judge in watermelon seed-spitting contest. Flying in a triplane.
Will never forget being on the trail of an escaped lioness from a roadside attraction in Kissimmee. A headline said she "terrorized the tourism corridor" near Disney World. As it turns out, poor Nala was found near the place she escaped. Probably scared to death.
Riding a donkey during a school pep rally; the damn beast kicked me in the rear. Some of my colleagues probably thought I had it coming.
Being shoved by a hot-headed young adult because he thought I showed favoritism toward a government agency in covering a park controversy. It takes all kinds.
Mistakes I've made. Too old to remember how many. Also, have dealt with libel threats, but I never was an editor at a paper that lost a lawsuit stemming from a news story. Sleep is all I've lost.
Have had my fill of sad stories, too. Seeing a pool of blood where a middle school student had been killed by a motorist. Interviewing a tearful police captain about a young officer who had been shot to death while responding to domestic violence. Talking to victims of storm damage and sleeping in the office in the aftermath of Hurricane Charley.
On the bright side, as an editor, I've had the privilege of overseeing some remarkable talent, such as the young reporter who won a coveted investigative reporting award for her story about a county judge who was a martinet on the bench. Lawyers and court officials said he suffered from robitis — "love of the robe."
I've made a few enemies, but I always tried to remember what a mentor told me: "Never be afraid to do your job."
Speaking of my mentors, four of them stand out:
• My late father, Garth Germond, who retired in the 1980s after a long stint as the Tampa Tribune's Polk County bureau chief. Dad edited my stories for my community college school newspaper, constantly reminding me to check my facts. He was revered by his staff.
When he died in 1992, a colleague paid tribute to him in a column. Among her anecdotes, she remembered him saying, "None of you can spell, but at least you know how to use a dictionary."
• My mother, Virginia Germond, who met my dad while she was working for the Orlando Sentinel in Ocala. When I was complaining about a government-affairs reporting class and a tough-minded professor at the University of Florida, she met me for lunch in Gainesville and scolded me for whining. Put simply, she told me to work harder. That college class was probably the most valuable course I've ever taken. Thank you, Mom and Dad. I've given it all I have.
• Bill Orben, a co-worker at the Vero Beach Press-Journal who went on to be editor of the Osceola News-Gazette and held the position for more than 20 years. Though we disagreed sometimes on what positions we would take in our editorials and endorsements, he was always willing to listen to me — with great patience — and believe in me. He remains a friend and we try to get together and reminisce.
• My boss and friend, Dan Autrey, Tampa Bay Newspapers publisher, who hired me in 2004 and has put great trust in me ever since then. His positive attitude, knowledge of the business and leadership has served this company well.
One of Dan's slogans that I've taken to heart is "when you lose your cool, you lose." Words of wisdom in any profession. I first met Dan when he was on the sales staff at the News-Gazette in Kissimmee; we've known each other for 37 years.
Meanwhile, I strongly believe that my staff at TBN will continue to excel. They love what they do and it shows. Though I look forward to not having to set an alarm clock, I plan to do some freelance work for TBN. The presence of ink in my blood continues show up in lab reports when I have my annual physical.
And I guess I'll shove some books over to make room on the entertainment center in my condo for the old typewriter — someplace close to my dad's withered 1,000-page dictionary.