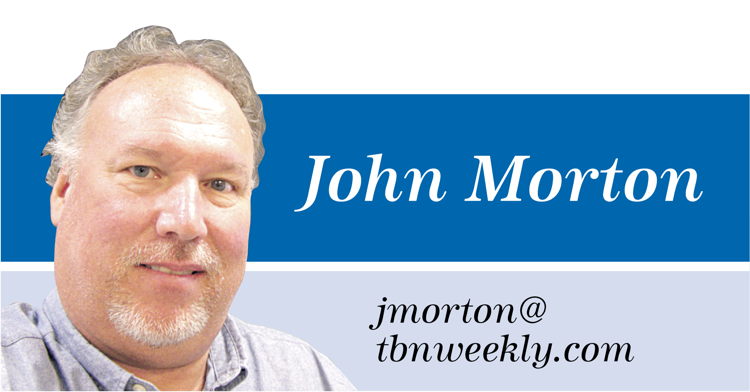 Buy me some peanuts and Cracker Jack.
No, really. This is what I eat year-round and I'm getting low. It has nothing to do with that song nor the fact that spring training has arrived.
But since we are now on the topic, isn't it great that Pinellas County's own Blue Jays and Phillies host their first games on Saturday, kicking off a month and more of high hopes and licorice ropes.
In Dunedin, it marks the final year of a sleepy little stadium doing its thing with just the basics to offer. Come this time next year, an $81 million upgrade to it and its facilities will likely be complete. It includes additional seating to accommodate 3,000 more fans, with private suites as part of that, and a Key West-inspired facelift of its exterior. Upgrades notwithstanding, at least the ballpark will continue to rise out of nowhere in a modest little neighborhood. The existence of VFW Post 2550 across the street only reinforces that small-town charm, and last Sunday it was the perfect setting to ask those on hand for their views of the splendor of it all and the changes that await.
"I wish it would stay the same," said Jack Isaac, a Kentucky transplant who has resided in Dunedin the past four years. "Dunedin is old school and this should be as well."
He pulled out his cell phone and snapped a photo of the stadium from the VFW's front porch.
"I'm sending this to my friends. We got to many of the parks around Florida, but this is the one that always makes everyone back home comment on how lucky we are," Isaac said.
Indeed, seeing as the stadium's seating capacity of 5,500 is the lowest among all Major League Baseball spring training sites, getting in the door does make you feel fortunate.
You need only be within earshot of it to soak up that special energy, as far as Bobby McKinley is concerned. Twelve years ago, he bought a home just a block away on Colonial Court. He liked the way the neighborhood mirrors the setting in which he was raised.
"I grew up near Wrigley Field, so I am used to all the noise and commotion," he said. "And I just love it. It's music to my ears to hear the organ, the crowd cheering is, the crack of the bat hitting the ball."
McKinley especially likes the postgame fireworks on Saturday nights.
"I don't know if my neighbors like it, and I sure know my Dobermans don't like it, but I swear to you that my chickens seem to like it because they run around like crazy," he said. "Oh, and my cockroaches do too. They come out of the woodwork like mad."
McKinley often lets people park their cars in his yard, oftentimes for free if the people are nice.
"And I'll tell you this, we get the nicest people that come to our games," he said. "There is never a problem. The Canadian people are awesome. Now, I'll have you know I've discovered that they are a bit cheap. Not the best tippers. But darn nice and respectful."
The only incident he can recall at the park actually involved himself.
"I was volunteering outside the gate and a police dog latched onto my arm. I was going to punch it to get it off, but an officer warned me that if I did it would be seen as no different than punching a cop," McKinley said, showing off the scars on his forearm.
Meanwhile, knowing the VFW post benefits tremendously is an added feel-good part of the package.
"We can park as many as 120 cars here if we do it right," said Ken Sheehy, the post's senior vice-president. "The impact the games have on us is phenomenal. We have cookouts, we sell drinks, and we provide the perfect place to be before and after the games. And the sales are astronomical. Just you wait to see how jumpin' this place will be on Saturday."
Also fortuitous is Toronto's Bev Boyes. Fifteen years ago, he and his wife inherited a property from a member of his wife's family right here in Dunedin — a place that just happened to be home to his beloved Blue Jays.
"I just love the intimacy of the place. I enjoy seeing the new names and watching to see how they develop, to see if they can make the big-league roster, Boyes said. "I also like how you could go up to the practice fields on Solon Avenue and literally interact with the players. But I know they are limiting that kind of access now. I guess it's another sign of the times changing."
Along those lines, he's all for the planned expansion.
"The more the merrier. Let's have as many people enjoy this as possible. We'll have about the same as the Phillies hold (8,500) at (Clearwater's) Spectrum Field," Boyes said. "That's not too many to lose that intimacy."
True. Out in Arizona, many parks hold in excess of 10,000. In Mesa, the Cubs seat 15,000. It's the Cactus League that has stolen many a Florida Grapefruit League team with promises of slick and sweet new stadium deals. Among those to flee the Sunshine State for browner pastures are the Dodgers, the Reds, the White Sox, and the Royals.
That's not to say those left in Florida have always been true to their town. St Petersburg lost the Cardinals to the east coast, lord help them, Ed Smith Stadium in Sarasota has always been a revolving door, and the Braves will be setting up camp in North Port next year in brand-new silly-named CoolToday Park.
Yet the Blue Jays have stuck with Dunedin since the stadium was built in 1990 and thanks to the relationship between the club and the city we can look forward to the same for the foreseeable future.
I also like the fact it is simply called Dunedin Stadium — how nice that sounds compared to the corporate-sounding Florida Auto Exchange Stadium moniker that has recently been shed.
"That means a lot to me. It's a tribute to the town," said Boyes, who said he wasn't thrilled when the team's regular-season home was changed in 2005 from SkyDome to Rogers Centre when a communications company bought the stadium.
Let's hope things here stay as non-corporate as possible. The only sign of such a thing I see is that the place you buy tickets out front is called the BayCare Box Office. I can live with that.
What I don't want is someone to come in dangling dollars for naming rights that can't be refused. Imagine the Blue Jays suddenly playing at a place named after a certain grocery chain, where they no doubt would install a concession stand in the form of a deli. It would be manned by just one person, and the lady in front of me would be ordering a customized sub sandwich even though the exact same thing is currently available in the pre-made cooler, but oh no she likes her turkey sliced one-tenth-of-an-inch thinner, and without not quite so much mayo, and now that it's finally done "WHAT ON EARTH IS WITH THE SESAME SEEDS ON THIS BUN?" she'd cry out, demanding a total do-over.
Meanwhile, I'm quite certain that she never even tore off a number like the rest of us civilized people did but instead just walked right up to the counter like she owns the place.
Okay, I'm exhaling. I'll be fine. And what better way to recover then in to enjoy the Nation's Pastime at wonderful Dunedin Stadium this weekend.
And I don't care if I ever get back.
As for those obnoxious world-champion Red Sox fans that are now congregating down in Fort Myers, please be careful when you type in "Fenway" on your GPS for your return trip home to Boston. We don't want you ending up hogging our favorite rooftop bar along Edgewater Drive.