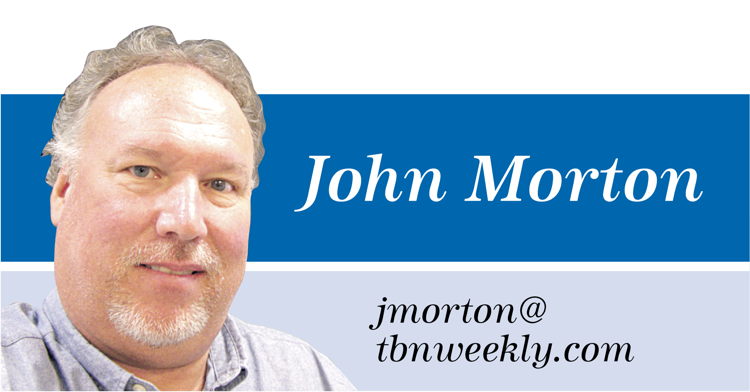 The pop band the Waitresses got right to the point in 1982 when they declared "I know what boys like, I know what guys want."
Have you noticed that no one has had the courage to respond to that with a song representing the opposite sex? Of course not. Guys simply don't know what girls want and they don't dare even ask.
OK, shortly thereafter we were told that "Girls just want to have fun," but we need more than that. Something deeper.
As your fearless columnist, I'll take a shot at this one. I feel like I'm off to war.
When I Googled "what do women really want?" the first thing that appeared was an article in "Psychology Today" by Dr. Noam Shpancer that addressed the sexual mindset of a woman. In the interest of keeping my job, I'll paraphrase here in noting that he says heterosexual men are mostly one dimensional. If something works for them, they're ready to go.
For women, however, "the story is different," he writes, eventually explaining that their "physiological arousal occurs in viewing most any type of sexual activity."
He lists assorted combinations not fit for print, and then drops this bomb shell: "Even watching sex among Bonobo monkeys stimulates physiological arousal in women."
("Oh, and THAT was fit for print?" you ask.)
And with this troubling finding, I do hereby throw up my hands (and more than that) and give up. Meanwhile, so much for that afternoon at the zoo you and your sweetie were planning.
As always, the internet doesn't help. While dabbling on and off over the years in the online dating scene, I've come across women whose profiles say they are "sapiosexual." What on earth does that mean? Well, it means they are turned on by intelligence. So that doesn't bode well for a guy who had to look it up, does it?
One gal said she is "demisexual." Wondering if that was some sort of affliction only Bruce Willis and Ashton Kutcher could suffer, I later learned it's when someone needs an emotional connection to be satisfied. Well, isn't that normal? Did we really need some fancy word here?
Truth is, those who think the World Wide Web can find you love must remember that cupid rhymes with stupid.
Additional research revealed that many women want a nice house more than anything. Last week, local real-estate developer Ben Mallah bought former Phillies slugger Ryan Howard's Belleair Shore mansion for $16.5 million. He called it an anniversary gift for his wife, Karla. That said, come Valentine's Day next week I presume the White House Rose Garden will be on its way in an FTD truck.
Speaking of Valentine's Day, it is a wonderful day for guys because as long as you make some overture you're guaranteed some romance. A nice card is fine, flowers are lovely and a dinner at a nice place all fit the bill. Easy-peasy. No need to worry about "the right" birthday gift or the "symbolic" anniversary gift. But remember, the company that made the chalky little candies with the messages has called it quits. Thus, you'll have to say "be mine" in some other way. May I suggest a banner off the back of a bi-plane over the Gulf, Mr. Mallah? That way we can all say to our gal, "Yep, there it is! It cost me a few bucks, but you are soooo worth it!"
To verify my belief that Valentine's Day is a freebie, I decided to look up "Pinellas County women's groups" and I'll be darned if I didn't find one in Largo called Women of the Moose. Needless to say, that's who I called, and poor Patricia Wolfe answered the phone.
She told me she was bartending at the local Moose Lodge chapter like she often does, and I awaited some line about how the guys there are such Elkoholics. She exercised great restraint, instead telling me that it was the place where she not only met her husband, Dan, but where they got married. This New Year's Eve will mark their 25th wedding anniversary.
The lodge serves great food, she noted, so with that backstory would she find it the perfect spot for a Valentine's dinner next week?
"No," she said, "I'd rather go to Bascom's Chop House."
And once again, showing that restraint, she didn't say anything about ordering Moose-a-leani.
By the way, I once dated a Moose Lodge gal until I found out she had a bad case of Kiwanis.
So, in conclusion of another cohesive column, I offer you no conclusions whatsoever. The mystery remains for now, and it will stay that way forever. There's a reason Freud so famously pitched the question of "What do women want?" and then offered no answer, instead moving on to his side business of designing undergarments for them.
You know, Freudian slips.