Florida Fish and Wildlife Conservation Commission has been reporting a patchy bloom of the red tide organism, Karenia brevis, for the past several weeks. Concentrations in Pinellas had not been worrisome.
But a report released June 4 showed signs that red tide was increasing in local waters. Water samples taken May 28-June 3 found red tide at background and low concentrations. In addition, Pinellas was one of four counties where a fish kill suspected to be related to red tide was reported. Red tide may also be the cause of respiratory irritation reported in Pinellas and Collier counties.
Only two of nine water samples taken from May 27-June 3 in Pinellas had red tide concentrations. Low concentrations were found alongshore/inshore Mullet Key, Gulf Pier at Fort De Soto Park and background concentrations were found alongshore/inshore Vinoy Park in the Middle Tampa Bay.
Water samples from neighboring Hillsborough County had very low to medium concentrations.
The latest report released June 9 showed red tide in low to medium concentrations in five samples. No information was available about exact locations in the mid-week report. More information will be provided in a full report to be released on June 11. Fish kills suspected to be caused by red tide and respiratory irritation in Pinellas also were reported.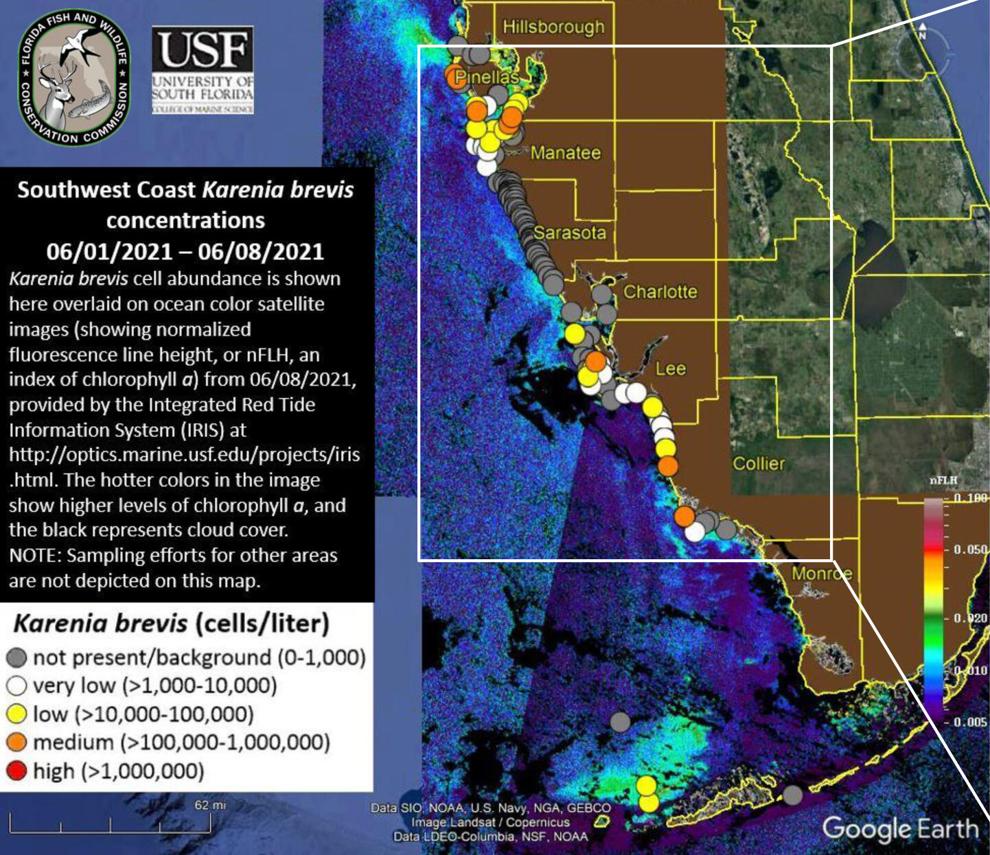 According to FWC, Very low concentrations are enough to cause possible respiratory irritation. Low, Medium and high concentrations can cause respiratory irritation and fish kills.
Mote Marine Laboratory's beach conditions website, visitbeaches.org, was reporting slight respiratory irritation at Pass-a-Grille Beach on June 6. No respiratory irritation was reported at any location tracked by Mote on June 10.
About red tide
Red tide is a bloom of higher-than-normal concentrations of a microscopic alga. In Florida and the Gulf of Mexico, the species that causes most red tides is Karenia brevis, or K. brevis. Red tide has been documented in the southern Gulf of Mexico as far back as the 1700s and along Florida's Gulf coast since the 1840s. Fish kills near Tampa Bay show up in records of Spanish explorers.
According to FWC, "Karenia brevis produces brevetoxins that can affect the central nervous system of fish and other vertebrates, causing these animals to die. Wave action can break open K. brevis cells and release these toxins into the air, leading to respiratory irritation. For people with severe or chronic respiratory conditions, such as emphysema or asthma, red tide can cause serious illness."
Toxins can also accumulate in oysters and clams, which can lead to Neurotoxic Shellfish Poisoning in people who eat contaminated shellfish.
In past years, red tide has caused devastation to the county's marine life and the tourism industry. It is naturally reoccurring and may or may not become a problem in any given year. It forms offshore and moves closer to shore due to wave action. The cause of the bloom is not known.
FWC's Fish and Wildlife Research Institute has a fish kill hotline. Call 800-636-0511 to report fish kills, diseased fish, or fish with other abnormalities.
Call 866-300-9399 from anywhere in Florida to hear a recording about red tide conditions throughout the state. Callers outside of Florida can dial 727-502-4952.
The state will release a complete report on June 11.
Suzette Porter is TBN's Pinellas County editor. She can be reached at sporter@tbnweekly.com.