A patchy bloom of red tide offshore Pinellas County has resulted in reports of respiratory irritation and dead fish coming in from locations stretching from Fort De Soto in Tierra Verde north to Honeymoon Island in Dunedin, as well as in the Intracoastal Waterway and Boca Ciega Bay.
Pinellas County and its municipalities are doing what they can to keep dead fish and other marine life off local beaches. The county's contractor had three boats in the Intracoastal Waterway in Clearwater and Dunedin on Friday. A portion of the beach on the Dunedin Causeway was closed on Thursday as workers cleaned the area. County and municipal crews have been cleaning the beaches by hand with tractor-pulled rakes.
Jay Gunter, DRC Emergency Services regional manager for Florida, was the contractor that worked with the county for the red tide clean up in 2018. DRC started this year's cleanup efforts June 16 using nine of the same crew members that spent three months in the county in 2018.
Gunter said they were using the lessons learned in 2018 to respond to the county's needs this year.
"The goal is to keep tourists, visitors and residents happy," he said.
DRC is staging equipment throughout the county and will bring it to locations as needed, he said.
Current conditions
Recent water samples leave no doubt that red tide is the reason for the respiratory irritation and dead fish. Samples taken June 17 by county environmental management staff found concentrations ranging from very low to high. The highest concentrations were found at Madeira Beach and Honeymoon Island State Park in Dunedin.
Very low levels were found at Pass-A-Grille, Treasure Island and Fred Howard Park with low levels detected at Fort De Soto Park in Tierra Verde.
The county's residents and guests can find the latest conditions at local beaches by visiting https://www.visitstpeteclearwater.com/current-beach-conditions.
As of Sunday afternoon, beaches south of Treasure Island were reporting no problems due to red tide. However, high levels of red tide were reported at Honeymoon Island and Madeira Beach with high respiratory irritation and some dead fish. Medium levels of red tide with respiratory irritation ranging from high to moderate with some dead fish were reported at Caladesi Island, Clearwater Beach, Sand Key, Belleair Beach, Indian Shores and Indian Rocks Beach.
Low levels of red tide with high respiratory irritation and some dead fish were reported at North Redington Beach and Redington Beach.
Officials advise beachgoers to check for the latest conditions as not all beaches will have problems at any given time.
For the latest on the level of respiratory irritation, visit https://habforecast.gcoos.org/.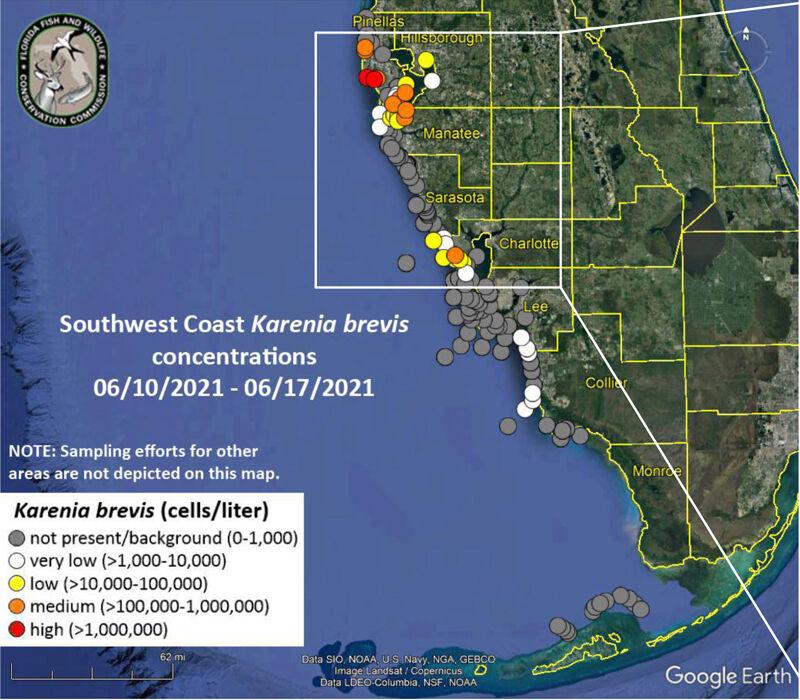 Florida Fish and Wildlife Conservation Commission released its latest red tide report on June 18, showing the largest concentrations along the southwest coast found in Pinellas County. Fish kills suspected to be related to red tide were reported in Pinellas, Hillsborough and Manatee counties.
In the past week, respiratory irritation was reported to FWC at Caladesi Island, Clearwater Beach, Indian Rocks Beach and Indian Shores.
Red tide was found in 16 samples collected by FWC June 10-17 in Pinellas. Highest concentrations were found alongshore/inshore at La Contessa Pier in Redington Beach and War Veterans Memorial Park on Boca Ciega Bay.
The bloom has been moving north along the beaches for the past few days. The University of Florida-FWC Collaboration for the prediction of red tide says that the bloom will move northwest in surface water in most areas for the next four days.
Health advisories
Florida Department of Health Pinellas notified the public of possible health issues from red tide on June 11. Officials say the most prevalent problem is respiratory irritation that could include eyes, nose or throat irritation with symptoms similar to a cold.
Individuals with chronic breathing problems, such as asthma, could have more severe symptoms and should consider staying away from areas with red tide, officials said. The symptoms usually go away when a person leaves the area or goes inside.
DOH-Pinellas issued several recommendations for the public to follow in locations with red tide:
• Residents who live in beach areas are advised to close windows and run the air conditioning.
• If outdoors, residents might consider wearing a paper filter mask, especially if onshore winds are blowing. Weather forecasts show onshore winds continuing for the next week or so.
• Do not swim around dead fish
• Keep pets away from the water, sea foam and dead fish.
• Do not harvest or eat molluscan shellfish or distressed or dead fish. If fish are healthy, officials advise rinsing fillets with tap or bottle water. Throw out the guts.
About red tide
Red tide is not new. It has been documented in the southern Gulf of Mexico as far back as the 1700s and along Florida's Gulf coast since the 1840s. Fish kills near Tampa Bay show up in records of Spanish explorers.
Red tide is a bloom of higher-than-normal concentrations of a microscopic alga known as Karenia brevis, or K. brevis. It forms offshore and moves onshore due to wave action. It is naturally reoccurring and may or may not become a problem in any given year.
The cause of the blooms is not known and no one knows how long any bloom may last.
Red Tide blooms produce of brevetoxins that affect the central nervous system of fish, causing them to die, according to FWC. The toxins also affect birds, sea turtles, other marine animals and people.
"Wave action can break open K. brevis cells and release these toxins into the air, leading to respiratory irritation. For people with severe or chronic respiratory conditions, such as emphysema or asthma, red tide can cause serious illness," FWC says.
Toxins can also accumulate in oysters and clams, which can lead to Neurotoxic Shellfish Poisoning in people who eat contaminated shellfish.
In past years, red tide has caused devastation to the county's marine life and the tourism industry. A red tide bloom in southwest Florida persisted for more than a year in 2018. It resulted in massive fish kills and deaths of other marine life. It cost millions statewide to clean up the mess. It also had a big economic impact, especially for those in the tourism industry as visitors shunned the state's beaches — even the ones clear of red tide.
Residents can report fish kills to FWC's Fish and Wildlife Research Institute fish kill hotline. Call 800-636-0511 to report fish kills, diseased fish, or fish with other abnormalities. Residents can dispose of dead fish with their regular trash.
If you see a sick bird, a bird off balance or unable to walk or stand, call Birds in Helping Hands at 727-365-4592 or the Seaside Seabird Sanctuary at 727-391-6211.
For current conditions statewide, visit https://myfwc.com/research/redtide/statewide/. Call 866-300-9399 from anywhere in Florida to hear a recording about red tide conditions throughout the state. Callers outside of Florida can dial 727-502-4952.
Suzette Porter is TBN's Pinellas County editor. She can be reached at sporter@tbnweekly.com.