For the first time in since June, Florida Fish and Wildlife Commission reported zero water samples with bloom concentrations of the red tide organism taken offshore or alongshore Pinellas County.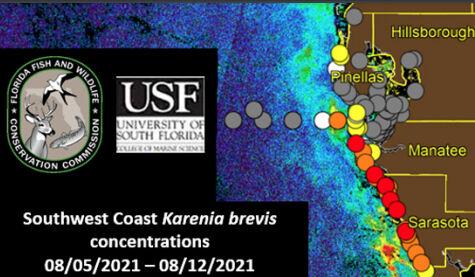 Samples taken Aug. 5-12 found concentrations of red tide, scientific name Karenia brevis, ranging from background to low. Water samples taken by Pinellas County Environmental Management staff on Aug. 12 found medium concentrations in Honeymoon Island.
Beach conditions reported at beachsupdate.com included medium levels of red tide at Honeymoon Island and Caladesi Island. Low levels were found at Clearwater Beach, Madeira Beach, Treasure Island, St. Pete Beach and Pass-A-Grille. Low levels of red tide with moderate respiratory irritation were found at Shell Key, Fort De Soto and Egmont Key.
These results were a vast improvement after so many weeks with results showing high concentrations. Still FWC reported that some fish kills and respiratory irritation had been noted over the week, but not to the extent of past weeks. In addition, winds remained out of the east last week, which helps keep red tide off shore. East winds are forecast for most of the coming week as well.
Public Works Director Kelli Levy updated the County Commission during the Aug. 10 meeting. She said when water samples showing high concentrations of red tide were found starting in June, Public Works had quickly enacted plans put in place in 2018.
She talked about the importance of having a good partnership with beach municipalities since the county doesn't own a lot of property out on the beach that can be used to stage equipment, dumpsters and other necessities.
The county used a contractor to supplement the cleanup efforts by beach municipalities and Public Works staff on its own properties, such as Sand Key. The contractor was deactivated on July 26 as beach municipalities and county staff are now able to handle the cleanup needs.
As of Aug. 10, more than 18 tons, or 36,000 pounds, of dead fish and other marine debris have been disposed of by solid waste.
Levy thanked the sheriff's office for its assistance providing the "eyes" for their operation via aerial surveillance using the helicopter. And she praised the cooperative work between the county and Department of Health in Pinellas for getting out the word on the health risks due to red tide. She said more than 300 signs were printed and distributed alerting the public about the risks.
The state will be paying for much of the expenses, she said. Florida Department of Environmental Protection has agreed to pay $902,000 for the $2.1 million spent thus far on red tide. Levy said FDEP has assured her that more money is available.
The county's marketing arm, Visit St. Pete/Clearwater, says that tourism has not been impacted with hotels still reporting record numbers of reservations. Levy said the biggest issues were with water-based businesses, such as kayakers, glass bottom boats, dolphin tours and the like.
She said everyone keeps asking her, 'when will it end?'
"I don't know," she said.
She said she had been optimistic just before Hurricane Elsa passed by, "but then it came back with a vengeance."
"We'll just keep monitoring and stay prepared," she said.
Suzette Porter is TBN's Pinellas County editor. She can be reached at sporter@tbnweekly.com.
Corrected number of pounds of red tide debris collected.