Pinellas County commissioners thanked staff for its work during a special meeting the morning of Aug. 31 where they unanimously declared a state of emergency ahead of Hurricane Dorian's expected arrival in the state of Florida.
Commission Chair Karen Seel attended by phone and Commissioner Kathleen Peters was in Miami and unable to attend. The state of emergency gives the county administrator the authority to waive purchasing requirements and order evacuations if necessary in advance of the storm. The declaration remains in effect until Sept. 6.
The decision to declare the emergency occurred about two hours before the National Hurricane Center released its 11 a.m. advisory showing that Pinellas County and Tampa Bay was no longer in Dorian's forecast cone.
As it turns out, Dorian ended up being nothing more than an exercise in hurricane preparedness for Pinellas.
But the county was ready to open shelters and order evacuations if hurricane-force or tropical-storm-force winds, heavy rains, flooding and power outages had occurred.
By that Saturday morning, Pinellas had been in Dorian's five-day forecast cone for six days and officials expected it to remain there for at least two more days.
County Administrator Barry Burton pointed out that Dorian was still a "very dangerous hurricane."
"We don't know the effect it will have on Pinellas County," he said. "It could be anything from tropical-storm-force winds and long periods of heavy rains to something even more severe depending on the path of the hurricane."
Burton was speaking during a 9 a.m. meeting before the latest forecast was released from NHC.
On Saturday morning, NHC said the area has a 30% chance of experiencing tropical-storm-force winds beginning sometime late Sunday or early Monday morning. Rainfall totals of about 2 inches are expected. On Friday, the local area had a 70% chance of wind impacts and 6-inches of rain were expected.
"The only thing certain about this storm is the uncertainty," Pinellas County Sheriff Bob Gualtieri said at the Saturday morning special meeting of the County Commission.
Gualtieri and Pinellas County Emergency Management Director Cathie Perkins supported the decision to declare an emergency in advance of the storm.
Perkins had asked that everyone be "good neighbors." She said while it is good to be prepared, people should not buy more than they need, especially when it comes to water, gas and nonperishable food.
Reports started coming in Thursday afternoon of bare shelves at local grocery stores and water shortages. Many gas stations had lines as people filled up ahead of the possible tropical weather. AAA was reporting gas shortages occurring throughout the state.
The county opened its Citizen Information Center soon after Pinellas was included in NHC "cone of uncertainty. As of Sept. 3, more than 1,800 calls had been received. The county distributed more than 31,000 sandbags were distributed. Several municipalities also provided sandbags to residents trying to prepare.
Pinellas County Schools, which host most of the hurricane county's shelters, as well as local colleges and universities, were closed on Tuesday and many events were canceled, including city meetings, due to Dorian. Most everything returned to normal on Wednesday.
Rip current risk
National Weather Service has issued a high rip current statement in effect through the evening of Thursday, Sept. 5. NWS says increasing onshore winds will create rip currents along area beaches today through Thursday evening.
Rip currents are powerful channels of water flowing quickly away from shore. They occur most often at low spots or breaks in the sandbar and near structures such as groins, jetties and piers. For maximum safety, NWS advises to swim near a lifeguard and don't swim alone. Also, pay attention to flags and signs.
If you get caught in a rip current, yell for help. Remain calm. Do not exhaust yourself and stay afloat while waiting for help. If you have to swim out of a rip current, swim parallel to shore and back toward the beach when possible. Do not attempt to swim directly against a rip current, as you will tire easily.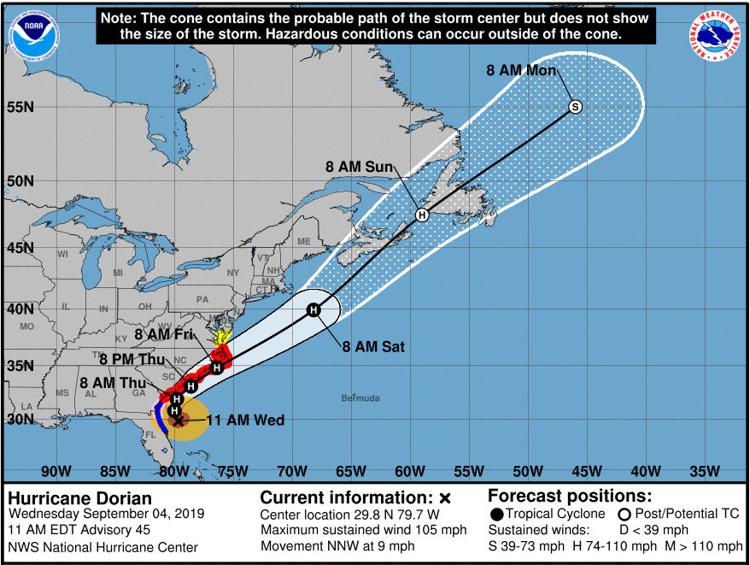 Latest from National Hurricane Center
At 11 a.m. Sept. 4, Dorian was starting to move north of Florida. It was located about 90 miles east-northeast of Daytona and about 205 miles south of Charleston, South Carolina. Maximum sustained winds were 105 mph, making Dorian a Category 2 on the Saffir-Simpson Hurricane Wind Scale. It was moving north-northwest at 9 mph.
Dorian is expected to turn toward the north tonight and then turn toward the northeast on Thursday. NHC says the hurricane will move parallel to the Florida east coast and the Georgia coast through tonight before moving near or over the coast of South Carolina and North Carolina on Thursday-Friday.
Hurricane-force winds extend outward up to 70 miles from the center and tropical-storm-force winds extend outward 175 miles.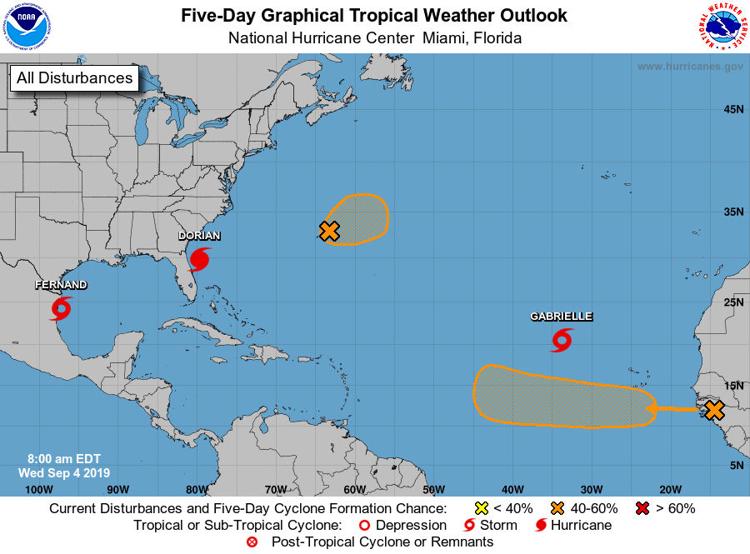 NHC also was tracking two other named storms. Tropical Storm Fernand with maximum sustained winds of 45 mph was located about 40 miles northeast of La Pesca, Mexico and was expected to spread wind and rain inland over northeastern Mexico and deep south Texas.
Tropical Storm Gabrielle was located about 715 miles west-northwest of the Cabo Verde Islands. Maximum sustained winds were 50 mph. Gabrielle is not expected to threatened land at this time.
NHC also was tracking a small area of low pressure located just east of Bermuda. Forecasters give that system a 50% chance of development with 48 hours. The last system was a tropical wave expected to emerge later today over the far eastern tropical Atlantic west of Africa. It has a 60% chance of developing into a tropical cyclone within five days.
How to help
Dorian was a record-setting storm. It is the strongest hurricane in modern records to hit the northwestern Bahamas. When the eye of Dorian made a second landfall Sunday afternoon on Great Abaco Island near Marsh Harbour, maximum sustained winds were 185 mph, which tied Dorian for the record of the strongest Atlantic hurricane landfall on record with the 1935 Labor Day hurricane.
Reports of devastation are coming in and many efforts to help are in progress.
Fire engine strike teams from Clearwater, Dunedin, East Lake, Lealman, Largo, Palm Harbor, Pinellas Park, St. Petersburg, Tarpon Springs and Treasure Island headed to the east coast in advance of Dorian's arrival to be ready to assist. Twenty-five of the county's long-term care facilities opened their doors to sister facilities along the east coast.
Many residents have been asking how they can help, especially in the Bahamas where Hurricane Dorian made landfall twice as a Category 5 storm and spent many hours stalled over the islands wreaking havoc.
It is not yet known what aid will be needed along the east coast of Florida.
The governor has activated the Florida Disaster Fund. Anyone interested in helping can visit www.volunteerflorida.org or text DISASTER to 20222 to make a $10 contribution.
The Salvation Army, American Red Cross and Florida Baptist Disaster Relief will be providing meals and other assistance to those in need. Save the Children, Team Rubicon, Convoy of Hope and Crisis Cleanup are all gearing to assist victims.
Pinellas County Consumer Protection is advising citizens to wary of solicitations for charitable contributions. Officials urge residents make sure charities are legit before making a donation.
"All charities soliciting within Florida — excluding religions, educational and government entities — are required to register and file financial information with the with the Florida Department of Agriculture and Consumer Services," Consumer Protection said in a press release.
To check whether a charitable organization is properly registered, visit Check-A-Charity, a resource that provides the information reported to the department.
Consumer Protection offers some additional advice:
• Always be wary of people soliciting on behalf of victims of natural disasters.
• Do not judge an organization based solely on its name. Many organizations have names that sound like those of reputable organizations but may be fraudulent.
• Ask for a copy of the charity's financial report to determine how much of your contribution is going toward the cause and how much for administrative and fundraising costs.
• Beware of pressure tactics to give immediately. Don't let emotional appeals or photos persuade you into giving. Make sure the solicitation is legitimate.
• Some charitable groups employ paid solicitors, in which case, not all of your donation will go to the charitable cause. Check to see if this is the case.
• Ask if donations are tax deductible.
• Never give cash. Contribute by check made payable to the organization, never to an individual's name.
• For more information on how to protect yourself after a storm, visit Pinellas County Post-Disaster Consumer Tips. To report suspected fraud, call 727-464-6200.
The Better Business Bureau's Wise Giving Alliance is encouraging donors to support experienced disaster relief organization, such as the American Red Cross, Direct Relief, Global Giving, Heart to Heart International, Salvation Army and Save the Children.
Visit Give.org for more information.
"Donors should watch out for newly created organizations that emerge that are either inexperienced in addressing disasters or may be seeking to deceive donors at a vulnerable time," BBB said.
BBB also expects to see price-gougers and "storm chasers" looking to make a quick buck off of preparation and clean-up efforts. Consumers can report suspected scams to BBB Scam Tracker at BBB.org/ScamTracker.
Preparedness information
Pinellas County officials are encouraging residents to finalize hurricane preparations as September is historically the most active month of the hurricane season.
Residents and businesses are urged to make sure they are following the three critical steps: Know your Risk, Make a Plan and Stay Informed. Registering for Alert Pinellas and downloading the Ready Pinellas app for iPhone and Android will help with the process.
Sunday, Sept. 1 marked the first day of National Preparedness Month, sponsored by FEMA to promote family and community disaster planning.
"It is important for everyone to be prepared in case our area is impacted by a hurricane this season," Perkins said. "This is the perfect time to look up your evacuation zone, get whatever supplies are needed to complete emergency Go Kits and Stay Kits and sign up for Alert Pinellas."
The county's free mobile application, Ready Pinellas, will help you create a personalized supply list to help you keep track of the supplies you need to finish a kit. You should gather enough supplies to last seven days.
Some essential items include:
• Water – at least 1 gallon of water per person per day
• Non-perishable food
• Non-electric can opener
• Medications and copies of prescriptions (you can get a 30-day refill once an Emergency Declaration is declared for Pinellas County.)
• Flashlight or lantern
• Battery-operated or hand-cranked radio
• Cell phone with charger, extra battery and solar charger
• Contacts in mobile device and in print for backup
• Extra batteries
• Cash
• Insect repellant
• Sunscreen
• Tarps
• First aid supplies
• Portable toilet
• Books, cards, board games
• Full tank of gas in vehicle
• Gas tank; extra gas if you have a generator
• Emergency Access Permit (for beach residents and businesses. Obtain one at city halls or online at pcsoweb.com/emergency-access-permit.)
For more information on disaster preparedness, visit the Pinellas County Emergency Management website at www.pinellascounty.org/emergency, or email to ema@pinellascounty.org. The county sends urgent safety notification through Alert Pinellas. Residents can sign up at www.pinellascounty.org/alertpinellas.
Register for special needs shelters by calling the Citizens Information Center at 727-464-4333 or by contacting local fire department. Visit www.pinellascounty.org/emergency/specialneeds.htm for more information.
Mobile and manufactured homes residents must prepare to always evacuate when an evacuation is ordered. Mobile homes, manufactured homes and recreational vehicles are not strong enough to withstand the strong winds of a hurricane.
Sign up for pet shelters now by visiting www.pinellascounty.org/emergency/petpreparedness.
In addition, residents should clear their yards and patios of debris or loose items that could become projectiles in high winds. Such items should be secured or placed in a protected building or structure.
Florida Department of Health in Pinellas County urges residents to refill their prescription medications. It is not known how the hurricane will affect the region, but it's important to make sure required prescription medication is available.
For more preparedness information, visit www.pinellascounty.org/resident/disasters.htm.
Suzette Porter is TBN's Pinellas County editor. She can be reached at sporter@tbnweekly.com.