Hurricane Dorian showed some signs of weakening Monday morning as it inched its way westward toward the coast of Florida.
National Hurricane Center says the hurricane is still forecast to remain a "very powerful hurricane while it moves near the southeastern United States Coast."
Pinellas County officials are asking residents and visitors to stay tuned to the weather. Local forecasts call for rainy and breezy conditions on Tuesday into Wednesday. NHC gives the local area a 30% chance of tropical-storm-force winds and rainfall totals of about 2-4 inches are possible.
At 2:16 p.m. Monday, National Weather Service announced that gusty showers and thunderstorms can be expected throughout the afternoon and early evening across all of west-central and southwest Florida. The storms will be capable of producing locally heavy rain and brief wing gusts of 40-50 mph.
The county's Citizen Information Center will remain open today from 8 a.m.-8 p.m. Operators are standing by that can speak to people in both English and Spanish. Call 727-464-4333 if you need assistance. People who need help also can use the live chat available at www.pinellascounty.org. Chat operators also are available that speak English and Spanish. The Emergency Operations Center opened at 8 a.m. Sandbag operations has closed.
The county declared a state of emergency Aug. 31, which will remain in effect through Sept. 6.
Schools remain closed on Tuesday, as well as the Courts and the Tax Collector's office. Pinellas County Schools will be open on Wednesday, Sept. 4, as normal and school-related activities will resume as normal.
Visit St. Pete-Clearwater has activated a distressed traveler portal that shows real-time hotel availability. Visit vspc.info.
Dorian has already proven to be a record-setting storm. It is the strongest hurricane in modern records to hit the northwestern Bahamas. When the eye of Dorian made a second landfall Sunday afternoon on Great Abaco Island near Marsh Harbour, maximum sustained winds were 185 mph, which tied Dorian for the record of the strongest Atlantic hurricane landfall on record with the 1935 Labor Day hurricane.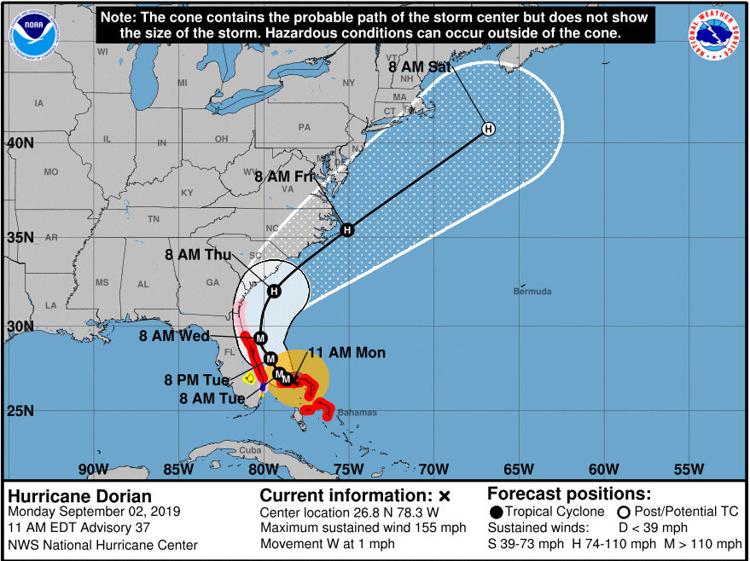 As of 11 a.m. Monday, Dorian was about 30 miles northeast of Freeport on the Grand Bahama Island and about 110 miles east of Palm Beach, Florida. Maximum sustained winds were down to 155 mph. Dorian was moving west at only 1 mph.
A hurricane warning is in effect for Grand Bahamas and Abacos Islands in the northwestern Bahamas, and from Jupiter Inlet to the Flagler/Volusia County line in Florida.
A hurricane watch is in effect for north of Deerfield Beach to Jupiter Inlet and from Flagler/Volusia County line to the Altamaha Sound in Georgia.
A tropical storm warning is in effect from north of Deerfield Beach to Jupiter Inlet and a tropical storm watch is in effect from north of Golden Beach to Deerfield Beach, Lake Okeechobee, including Highlands and Polk county.
A storm surge warning is in effect for Lantana to the Flagler/Volusia County line.
NHC says Dorian is expected to continue moving very slowly toward the west followed by a slow westward to west-northwestward movement for the next couple of days. Dorian should then make a gradual turn to the northwest and north.
NHC says the hurricane's core will continue to "pound" Grand Bahama Island through much of the day and tonight. Dorian will move "dangerously close" to the Florida east coast late tonight through Wednesday and then move "dangerously close" to the Georgia and South Carolina coasts on Wednesday night and Thursday.
Maximum sustained winds were 155 mph with higher gusts. Dorian was a Category 4 on the Saffir-Simpson Hurricane Wind Scale. Gradual weakening if forecast; however, Dorian is expected to remain a powerful hurricane for the next couple of days.
Hurricane-force winds extend outward up to 45 miles from the center and tropical-storm-force winds extend outward up to 140 miles.
Mandatory evacuations are in effect for some residents, including Martin, Palm Beach, St. Lucie, Brevard, St. Johns, Volusia, Duval and Nassau counties.
Voluntary evacuations are in effect for residents in Flagler, Nassau, Osceola, Glades, Hendry, Okeechobee and Highlands counties.
Gov. Ron DeSantis has issued an emergency declaration for the entire state.
"Due to Hurricane Dorian's uncertain projected path, I am expanding the state of emergency to include all 67 counties throughout Florida," the governor said in a press release. "All residents, especially those along the east coast, need to be prepared for possible impacts. As it increases strength, this storm has the potential to severely damage homes, businesses and buildings, which is why all Floridians should remain vigilant. Do not wait until it is too late to make a plan."
For hurricane preparedness information, visit www.pinellascounty.org/resident/disasters.htm.
Suzette Porter is TBN's Pinellas County editor. She can be reached at sporter@tbnweekly.com.
Revised to add updated information.