ST. PETERSBURG — Last on a list of capital projects not funded in Pinellas Suncoast Transit Authority's five-year spending plan is operator safety initiatives.
Bus operators and union representatives filled PSTA's Board of Director's meeting room May 29 to deliver a message that safety needed to become an immediate priority.
Board Chair Janet Long asked to a moment of silence to begin the day's meeting to pay respect to the family of Thomas Dunn, 46, of Ruskin. Dunn was a bus operator for Hillsborough Area Regional Transit Authority.
A rider on his bus in Tampa stabbed Dunn the afternoon of May 18. One of Dunn's last acts before he died was steering his bus to safety. Dunn is being hailed as a hero.
Tampa police arrested Justin Ryan McGriff, 35, May 19 and charged him with first-degree murder. Police say there was no apparent reason for the attack.
Bus operators in Pinellas, Hillsborough and across the nation are understandably concerned. Those who work for PSTA want the board to do more to protect them.
James Bradford, PSTA's chief operating officer, told board members that everyone was united in a belief that it was of utmost importance to protect bus drivers.
However, "there's no one solution to keeping them safe," Bradford said.
He talked about changes that had been made over time to make conditions safer for drivers and passengers, including installation of radios, computer technology, silent alarms and other measures.
A couple of years ago, PSTA formed a task force to address the problem of operator assaults. Two operators were assaulted in 2016, eight in 2017 and 10 in 2018. Thus far this year, no assaults have been reported. Of the 20 assaults in past years, three involved bus operators being struck in the face. In the others, operators were spit on or had drinks poured on them. Verbal assaults are common.
A 12-month action plan was put into motion. Bus operators underwent training to learn how to deescalate situations. They also trained on what to do in active shooter situations and how to practice "see something, say something."
A clear barrier made of a Plexiglas type material was installed in one bus as a pilot. The plan was to see how the barrier worked over a six-12 month period. Now, the union that represents local bus operators wants PSTA to work faster to get barriers in place.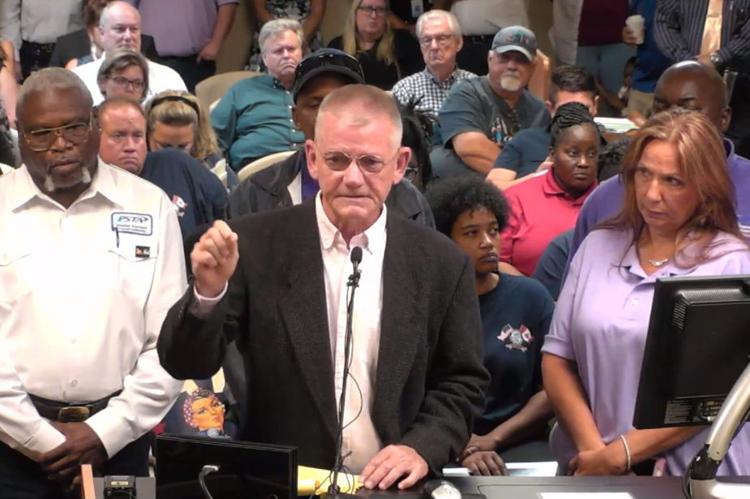 Service Employees International Union Chief of Staff Rick Smith said the events of May 18 changed things.
"We've always been working on safety, but more in the direction of the public and our riders," he said.
It is time to prioritize safety for bus operators. No one told bus operators that they would be risking their lives if they took the job, he said.
Smith said PSTA has told the SEIU it doesn't have the money to install enclosures all at one time and would need to do it gradually. He said Dunn's death showed why making the improvement in stages wasn't a good idea.
April Murphy, SEIU member and former bus operator from Clearwater, said it would take time to get enclosures installed. PSTA first has to decide which ones to order. Murphy said they shouldn't be the cheapest one. She also said she understood the one currently being used as a pilot was inadequate as someone could reach around the enclosure and still assault the operator.
CEO Brad Miller said PSTA currently had 210 buses in its fleet plus 35 trolleys. The one enclosure in use now cost $5,000. Estimated costs to do them all would be more than $1 million. PSTA has already asked the Florida Department of Transportation for funding, but it said no. The other option is looking at changing the capital spending plan. PSTA is already using reserves to fund its operating costs.
"I promise you, we're taking this issue very seriously," said board Chair Janet Long. "I apologize but we have no solution today. If it were easy, we would have already done it."
She asked Miller to call an emergency meeting of the finance and legislative committees to get things going. Miller said a decision needed to be made about what to buy.
Several other union representatives and bus operators currently employed and retired spoke to the board. They talked about being attacked physically and verbally and the danger from picking up strangers.
Bottom line, they all want to go home from their jobs unharmed at the end of their shifts.
"I've never been afraid to go to work before," said Karen O'Hara, a 37-year driver from St. Petersburg. "I'm afraid now."
Suzette Porter is TBN's Pinellas County editor. She can be reached at sporter@tbnweekly.com.