Labor Day plans may have to change for most Floridians due to Hurricane Dorian, according to the latest news from the National Hurricane Center.
"All indications are that by this Labor Day weekend, a powerful hurricane will be near or over the Florida peninsula," NHC meteorologists say.
In the 5 p.m. discussion notes, NHC says strengthening of the storm is more likely than not.
"Given the favorable environment of warm waters and low shear prevailing in the western Atlantic, the NHC forecast calls for a marked intensification, and brings Dorian to Category 3 intensity (maximum winds of 111-130 mph)intensity in 72 hours and keeps it at that intensity until landfall," meteorologist say.
The risk of dangerous storm surge and hurricane-force winds later this week and this weekend continues to increase in the central and northwestern Bahamas and along the Florida east coast, although it is too soon to determine where these hazards will occur, NHC says.
Residents should ensure they have their hurricane plan in place and not focus on the exact forecast track of Dorian's center. NHC continues to remind the public that the margin of error for the five-day tracking forecast is about 200 miles.
Heavy rains are expected to occur over portions of the Bahamas, Florida and elsewhere in the southeastern United States later this week and into early next week.
As of 5 p.m. Aug. 28, Hurricane Dorian was located about 45 miles northwest of St. Thomas. Maximum sustained winds were 80 mph. It was moving northwest at 14 mph.
A hurricane warning is in effect for Vieques and Culebra, U.S. Virgin Islands and British Virgin Island. A hurricane watch and tropical storm warning is in effect for Puerto Rico.
NHC says Dorian is expected to move away from the U.S. and British Virgin Islands during the next several hours and then move over the Atlantic well east of the southeastern Bahamas on Thursday and Friday.
Hurricane-force winds extend outward up to 15 miles from the center and tropical-storm-force winds extend outward up to 80 miles.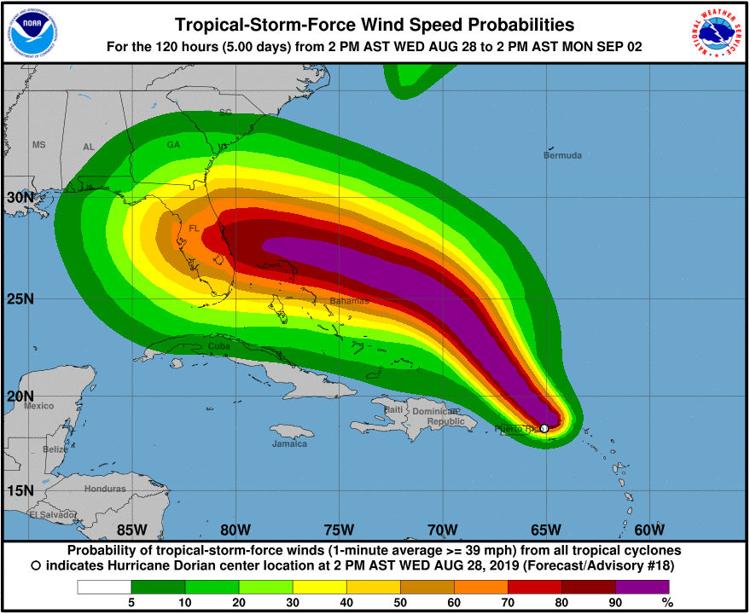 Local forecast
The National Weather Service in Ruskin says tropical storm conditions are likely in the Tampa Bay area, including Pinellas County, on Sunday and Sunday night. Tropical storm force winds are likely in the area beginning Saturday night. High chances of rain, 80%, are forecast beginning on Friday, increasing to 80% on Saturday and Sunday. Rain chances on Labor Day decrease to 60%.
Persons living in low-lying areas and other prone to flooding should be prepared.
Pinellas County officials are encouraging residents to finalize hurricane preparations not just for Dorian but because September is historically the most active month of the hurricane season.
Residents and businesses are urged to make sure they are following the three critical steps: Know your Risk, Make a Plan and Stay Informed. Registering for Alert Pinellas and downloading the Ready Pinellas app for iPhone and Android will help with the process.
Sunday, Sept. 1 marks the first day of National Preparedness Month, sponsored by FEMA to promote family and community disaster planning.
"It is important for everyone to be prepared in case our area is impacted by a hurricane this season," said Cathie Perkins, Pinellas County Emergency Management Director. "This is the perfect time to look up your evacuation zone, get whatever supplies are needed to complete emergency Go Kits and Stay Kits and sign up for Alert Pinellas."
The county's free mobile application, Ready Pinellas, will help you create a personalized supply list to help you keep track of the supplies you need to finish a kit. You should gather enough supplies to last seven days.
Some essential items include:
• Water – at least 1 gallon of water per person per day
• Non-perishable food
• Non-electric can opener
• Medications and copies of prescriptions (you can get a 30-day refill once an Emergency Declaration is declared for Pinellas County.)
• Flashlight or lantern
• Battery-operated or hand-cranked radio
• Cell phone with charger, extra battery and solar charger
• Contacts in mobile device and in print for backup
• Extra batteries
• Cash
• Insect repellant
• Sunscreen
• Tarps
• First aid supplies
• Portable toilet
• Books, cards, board games
• Full tank of gas in vehicle
• Gas tank; extra gas if you have a generator
• Emergency Access Permit (for beach residents and businesses. Obtain one at city halls or online at pcsoweb.com/emergency-access-permit.)
For more information on disaster preparedness, visit the Pinellas County Emergency Management website at www.pinellascounty.org/emergency, or email to ema@pinellascounty.org. The county sends urgent safety notification through Alert Pinellas. Residents can sign up at www.pinellascounty.org/alertpinellas.
Sandbags
The city of Pinellas Park is opening a self-service sandbag site for resident only. Residents can get up to 10 sandbags each. They must show a water bill and/or valid driver's license. Sandbags will be available at Helen Howarth Park, 6401 94th Ave. N. on Thursday, Aug. 29, and Friday, Aug. 30, 9 a.m.-7 p.m. For more information, call Public Works at 727-369-5617.
The Sandbag Station for Oldsmar residents and businesses will open at noon Friday, Aug. 30, in the east parking lot of City Hall, 100 State Street West. For more information, call 813-749-1136.
Suzette Porter is TBN's Pinellas County editor. She can be reached at sporter@tbnweekly.com.