Most Floridians can rest easy; Tropical Storms Fred and Grace will not be causing major problems as they continue their journey's through the Gulf of Mexico.
However, residents of the panhandle should beware as National Hurricane Center's latest tracking maps show that Fred could come ashore somewhere west of Panama City on Monday.
The maps also show that Grace could clip the Florida Keys as it takes a track toward the coast of Louisiana or maybe Texas next weekend.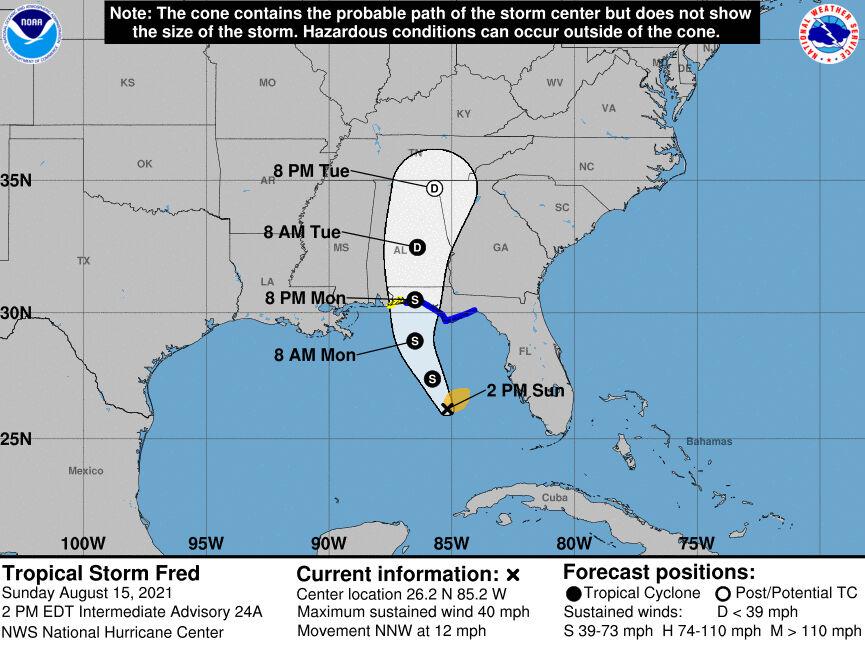 As of 2 p.m. Sunday, Fred was located about 205 miles southwest of Tampa and 320 miles south-southeast of Pensacola. Maximum sustained winds were 40 mph. Winds must be at least 39 mph for a system to be considered a tropical storm. Fred was moving north-northwest at 12 mph.
A storm surge warning is in effect for the coast of the Florida Panhandle from Indian Pass to the Steinhatchee River. A tropical storm warning is in effect for the coast of the Florida Panhandle from Navarre to the Wakulla/Jefferson counties line. A tropical storm watch is in effect for the coast of the Florida Panhandle from the Alabama/Florida border to Navarre.
NHC says the center of Fred should move across the eastern and northern Gulf of Mexico through Monday before it makes landfall in the western Florida Panhandle Monday afternoon or night.
Residents of Pinellas and Tampa Bay can expect little to no impact as Fred passes well off the coast in the Gulf of Mexico. Scattered thunderstorms are expected today, mainly along the coast. A rip current statement is in effect through Monday along area beaches. Hazardous boating conditions with wind speeds of 20-25 knots are possible. National Weather Service advises small craft operators to avoid offshore waters.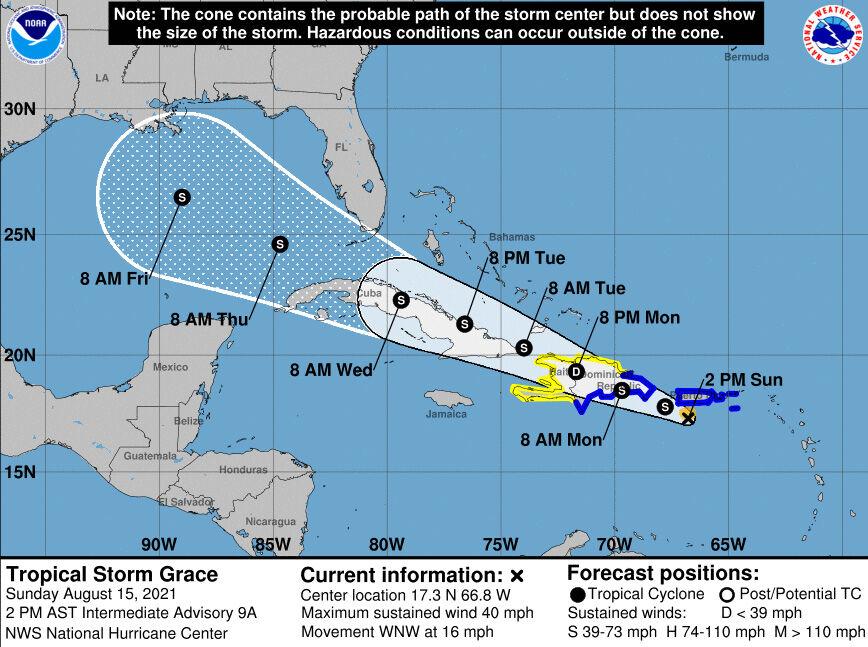 Tropical Storm Grace
At 2 p.m. Sunday, Tropical Storm Grace was located about 145 miles south-southwest of San Juan Puerto Rico and 220 miles east-southeast of Santa Domingo in the Dominican Republic. Maximum sustained winds were 40 mph. It was moving west-northwest at 16 mph.
Grace is expected to move over Hispaniola on Monday and Monday night. Some re-strengthening is possible as it moves over water on Tuesday.
Busy season forecast
The National Oceanic and Atmospheric Administration's Climate Prediction Center issued its mid-point outlook for the 2021 Atlantic hurricane season on Aug. 4.
Conditions remain favorable for an above-average season, said Matthew Rosencrans, lead seasonal forecaster at the Climate Prediction Center. However, they are not as favorable as they were during the 2020 record-breaking season.
"A mix of competing oceanic and atmospheric conditions generally favor above-average activity for the remainder of the Atlantic hurricane season, including the potential return of La Nina in the months ahead," Rosencrans said.
Atlantic sea surface temperatures are not expected to be as warm as last year, but reduced vertical wind shear and an enhanced west Africa monsoon could increase hurricane activity this year. In addition, conditions in place due to the ongoing warm phase of the Atlantic Multi-Decadal Oscillation, which has favored more active seasons since 1995, persist.
NOAA released its original outlook on May 20 just before the start of hurricane season on June 1. Experts predicted a 60% chance of an above-normal season, 30% chance of a near-normal season and 10% chance of a below-normal season. They said 13-20 named storms with winds of 39 mph or higher were likely to form, six-10 hurricanes with winds of 74 mph or higher and three-five major hurricanes which includes Categories 3, 4 and 5 with winds of 111 mph or higher.
An average season has 14 named storms, seven hurricanes and three major hurricanes.
Rosencrans said the mid-season outlook gave odds of 65% that this year would be an above-normal season, 25% of a near-normal season and 10% that it would be below normal. The experts say 15-21 named storms will form with seven-10 strengthening into a hurricane and three-five becoming a major hurricane.
The numbers include the named storms that have already formed as well as Hurricane Elsa, the earliest fifth named storm on record. With Fred and Grace now added, the total is up to seven.
Rosencrans advised everyone to stay vigilant and to be prepared as the busiest part of the season is here. The peak of the season typically runs from mid-August to late October. Hurricane season ends Nov. 30.
For preparedness information visit, www.pinellascounty.org/resident/disasters.htm.
Suzette Porter is TBN's Pinellas County editor. She can be reached at sporter@tbnweekly.com.