One of the largest law enforcement-organized holiday fundraisers has joined a growing list of events being canceled due to the COVID-19 pandemic.
Over the past 26 years, the annual Ride and Run with the Stars has raised about $700,000 to provide food and gifts for underprivileged and crime-stricken children and families through the Pinellas County Sheriff's Christmas Sharing Project.
"We look forward to this holiday fundraiser every year, which is why the decision to cancel this year's event was a difficult one," Sheriff Bob Gualtieri said in his announcement. "However, we must consider the health and safety of our community during these trying times."
Since 1993, Ride and Run with the Stars has raised funds in part using registration fees from several athletic events, including a 25-mile bike ride, 10K family ride, 5K chipped race, and a 1-mile fun walk or skate.
The event held at Fort De Soto Park also featured a silent auction and family-friendly activities, including the arrival of Santa, Mrs. Claus and the elves in the sheriff's helicopter. Generous sponsors also contributed to its success.
None of those in-person events will be happening this year. However, the need to help children and families in need of help over the holidays is greater than ever.
"We are extremely hopeful that our supporters will continue to help as we expect to see more families this year," said Sgt. Elizabeth Brady, with the Public Records Processing Unit. Brady is in charge of organizing the event and charity.
"We are reliant on monetary donations this year to help families over the holiday," she said.
In 2019, the event raised almost $90,000, which was enough money help 384 families and 862 children. The children and their families are recommended by members of the sheriff's office who interact with those who are homeless, economically stressed, victimized or abused.
The families are then reviewed using the project's guidelines. Eligible families fill out a form with information including number of children, ages, clothes sizes, hobbies and interests. They also get to list gifts they would like to receive. Usually the lists include things like clothes, shoes and other items that organizers say are really needs rather than a want.
Brady said items on the wish lists range from necessities such as jackets and socks to gifts of baby dolls and bicycles.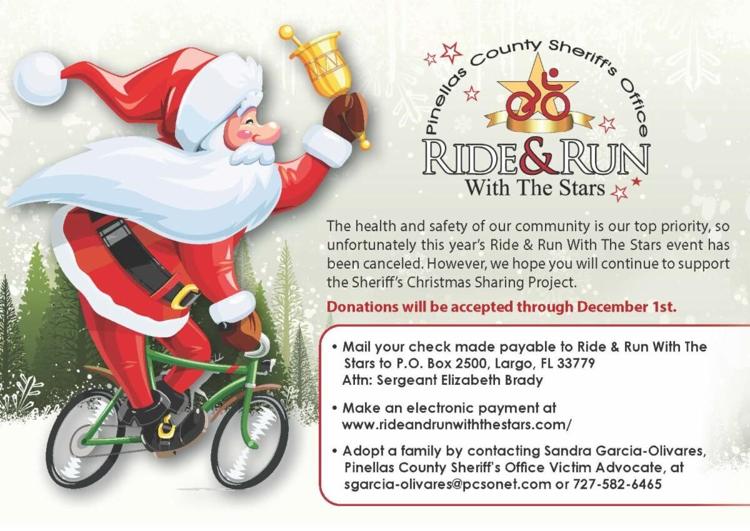 Anyone willing to help this year can donate online at https://www.rideandrunwiththestars.com/store-2/. Checks payable to Ride and Run with the Stars can be mailed to P.O. Box 2500, Largo, FL 33779. Attn: Sgt. Elizabeth Brady.
You can also adopt a family and help fulfill their individual wish lists, which are specific to each child. For information on how to adopt a family, email Pinellas County Sheriff's Office Victim Advocate Sandra Garcia-Olivares at sgarcia-olivares@pcsonet.com or call 727-582-6465.
Sponsorships are another way to help. Unlike past years, sponsors won't get their names on event T-shirts or posters, since there won't be an event. However, Brady said the Christmas Sharing Project "would love sponsors."
Visit https://www.rideandrunwiththestars.com/store-2/, or call Brady at 727-582-5729.
The deadline to donate or adopt a family is Tuesday, Dec. 1.
After the donations are collected and the budget is set for each age group, sheriff's office personnel, event sponsors and others will go shopping at Target. This year's shopping trip is set for Dec. 11.
The goal is to fulfill as many of the children's wish lists as possible. Of course, that depends on the communities' generosity.
Some families pick up their gifts, but others will receive special delivery from deputies playing the role of Santa Claus.
Charitable giving during the holidays doesn't just include the Christmas Sharing Project. Deputies assigned to the Community Policing Unit also will be making special deliveries of holiday dinners to other families throughout the county.
Last year, which was the 16th year of this program, 50 meals were delivered to families throughout unincorporated Pinellas thanks to Publix on Indian Rocks Road in Largo, as well as Pinellas Suncoast Fire & Rescue District, Beach Community Food Pantry at Calvary Episcopal Church in Indian Rocks Beach and the Indian Rocks Beach Rotary Club.
These organizations also partner with the sheriff's office to provide meals at Thanksgiving and Easter. For information on Calvary Episcopal Church's Holiday Meal Ministry, call 727-595-2374.
Brady pointed out that all the money raised for the Christmas Sharing Project goes straight back to families in Pinellas County.
"No matter the size, every contribution is valuable and a treasured holiday gift to the less fortunate families in our community, especially after this challenging year," Sheriff Gualtieri said. "Stay well, and I hope you find new ways for togetherness this holiday season."
Suzette Porter is TBN's Pinellas County editor. She can be reached at sporter@tbnweekly.com.