ST. PETERSBURG — Pinellas Suncoast Transit Authority's Board of Directors voted 10-3 on Feb. 26 to up its chief executive officer's pay rate, bringing it more in line with other transit agencies in the state.
Directors Richard Bennett, a North Redington Beach commissioner; Charlie Justice, a Pinellas County commissioner; and Joshua Shulman, a citizen member from St. Petersburg, voted no.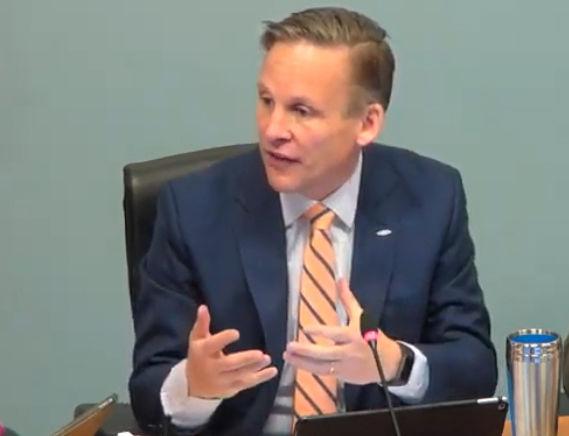 The personnel committee recommended a 3.5% wage increase, but in the end, directors approved a 3% increase for CEO Brad Miller that would take affect for the next pay period and another 0.5% if PSTA's financial goals have been met when staff begins preparing next year's budget in September.
A motion also was passed to ask the personnel committee to prepare a policy for making pay decisions in the future so it doesn't appear decisions are based on peer salaries instead of the work done by the employee.
Director Janet Long, a Pinellas County commissioner, said it was important to her that pay parity among peers exist within their own region. She said PSTA had moved so far in the future in part due to Miller's experience. She pointed out that he serves on several national boards and had put together an "excellent" team to support him and the agency.
She advised her fellow directors that if they were interested in "keeping Brad at the helm," they needed to stay on parity with his peers in the region. She said she had talked to PSTA's chief financial officer who had assured her the agency could afford the pay increase.
Miller currently makes $197,950, which is less than other transit CEOs make in the area, according to a chart prepared by the personnel committee. The Tampa Bay Area Regional Transit Authority's chief executive makes $204,140, the former Hillsborough Area Regional Transit Authority CEO made $210,000 and the South Florida Regional Transit Authority CEO makes $234,000.
In 2017, the average CEO salary of a transit system with 500-999 employees was $234,025.
A 3% increase would bring Miller's salary to $203,889 and a 3.5% increase would bring his pay to $204,878.
Board member Darden Rice, a St. Petersburg council member, said she had been swayed by Long's argument to give Miller a 3% hike plus the 0.5% discretionary bump, but she preferred to have a policy in place before the next evaluation and consideration of pay increases. She would like to see raises tied to outstanding performance reviews and kept separate from discretionary increases. She said she doesn't like to give raises just to keep up with peers.
PSTA Chair Joe Barkley, a Belleair Bluffs commissioner, talked about the challenges being faced by transit agencies throughout the industry. He said he was appreciative of Miller's strong ethical commitment and his ability to put together an outstanding team. He supported a 3.5% increase.
Bennett pointed out that a 3.5% raise was more than what had been recommended on individual director's review comments and wage recommendations. Of the 14 directors, 10 made wage recommendations and the average recommended raise was 2.38%-2.43%.
Board memer Ken Welch, a Pinellas County commissioner who returned to serve on the board Feb. 26, asked about pay increases for other employees and was told all had received a 3.5% raise except some administrative professionals who also were rated using a scorecard the same as Miller.
Welch wanted to ensure that PSTA could pay the increase without having to dip into reserves. Last year, the agency had said it would need to use reserves to balance its budget.
Miller said since last year's budget was adopted, staff had managed to pay its costs without having to use reserves, and the same was true thus far this year. He said PSTA's reserves currently totaled $40 million.
BRT funding update
Long asked Miller to provide an update on the Bus Rapid Transit project, which would link downtown St. Petersburg with the Gulf beaches. The project is the first of its kind in the Tampa Bay region to advance in the Federal Transit Administration Capital Investment Grants program.
Miller said design was 100% complete and PSTA had met a number of milestones required by the FTA. Construction has started on a bus turnaround facility in St. Pete Beach and the buses have been ordered.
Staff is waiting on an allocation announcement from the FTA. Miller said FTA wants shovel-ready projects, and PSTA's project is ready to go.
He said staff had asked FTA when an allocation announcement might be expected, but had been told "everyone was really busy."
"I'm very optimistic in the coming weeks we will receive the allocation announcement," he said.
The FTA grant would pay nearly 50% of the $44 million project with Florida Department of Transportation chipping in 24% and PSTA paying 26%.
Suzette Porter is TBN's Pinellas County editor. She can be reached at sporter@tbnweekly.com.