Hurricane Dorian was a Category 5 storm Sunday morning with maximum sustained winds of 180 mph, making it the strongest hurricane in modern records for the northwestern Bahamas.
National Hurricane Center reported that "catastrophic" conditions were occurring in the Abacos Islands and were expected to spread across the Grand Bahama Island on Sunday and Sunday night. Ham radio reports coming in report wind gusts of 100 mph at Hope Town in the Abacos.
At 11 a.m., Dorian was about 20 miles east northeast of the Great Abaco Island, 205 miles east of West Palm Beach and 300 miles east of Sebring in Florida.
A hurricane warning is in effect for the northwestern Bahamas, excluding Andros Island, which is under a hurricane watch.
A hurricane watch and storm surge watch was in effect for north of Deerfield Beach to the Volusia/Brevard County Line in Florida.
A tropical storm warning is in effect for north of Golden Beach to Sebastian Inlet and a tropical storm watch is in effect for north of Golden Beach to Deerfield Beach and Lake Okeechobee.
A tropical storm watch also is in effect for Highland and Polk counties.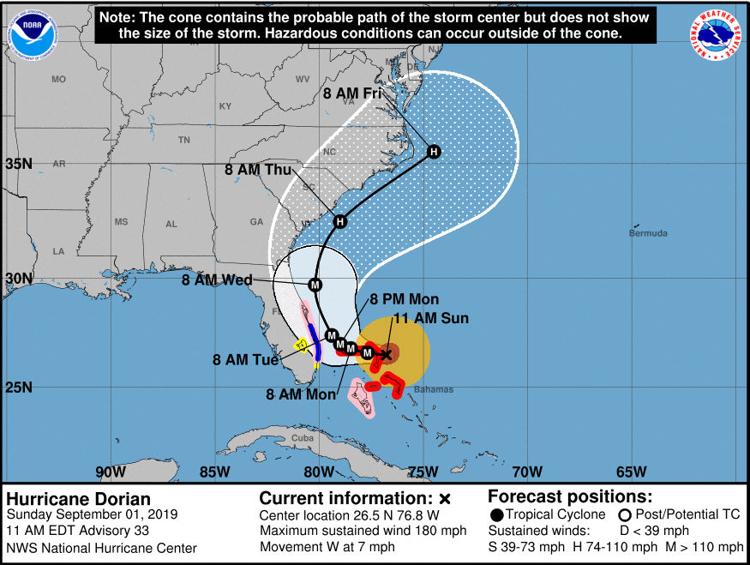 Dorian was moving west at 7 mph. NHC expects the hurricane to continue moving slowly westward for the next day or two followed by a gradual turn to the northwest. On this track, Dorian's core will continue to move over Great Abaco and move near or over Grand Bahama Island tonight and Monday. It should move closer to the Florida east coast late Monday through Tuesday night.
As Dorian moves northward along or offshore of southeast United States coast, wind shear is forecast to increase, resulting in a more distinct gradual weakening.
The official forecast track still shows Dorian staying offshore the east coast of Florida; however, computer models still do not agree on the path it will take.
"It is emphasized that although the official track forecast does not show landfall, users should not focus on the exact track. A small deviation to the left of the track could bring the intense core of the hurricane its dangerous winds closer to or onto the coast," NHC meteorologists say in the 11 a.m. discussion notes.
Dorian has not only grown stronger, it is also bigger with hurricane-force winds extending outward up to 45 miles from the center and tropical-storm-force winds extending outward up to 140 miles.
Pinellas County was still outside Hurricane Dorian's forecast cone in NHC's Sunday morning advisory. The National Weather Service is forecasting that tropical storm conditions are possible in the area on Tuesday and Tuesday night.
Pinellas County asks that residents and visitors remain vigilant and stay tuned to the weather.
Officials say even if the hurricane stays east of Florida, the county could experience windy conditions and heavy rains. If the storm shifts west, greater impacts could occur.
Pinellas County declared a state of emergency Saturday morning, which gives the county administrator the authority to waive purchasing requirements and order evacuations if necessary in advance of Hurricane Dorian. The declaration remains in effect through Sept. 6.
"The only thing certain about this storm is the uncertainty," Pinellas County Sheriff Bob Gualtieri said at the Saturday morning special meeting of the County Commission.
Pinellas County Emergency Management Director Cathie Perkins asked residents to keep a close eye on the weather, pointing out that the current forecast, which keeps the hurricane off the east coast, was dependent on Dorian making a sharp turn to the north on Tuesday morning. However, that forecast is not a certainty. By that time, Dorian will have slowed down to 3 mph, she said.
Gov. Ron DeSantis has issued an emergency declaration for the entire state.
"Due to Hurricane Dorian's uncertain projected path, I am expanding the state of emergency to include all 67 counties throughout Florida," the governor said in a press release. "All residents, especially those along the east coast, need to be prepared for possible impacts. As it increases strength, this storm has the potential to severely damage homes, businesses and buildings, which is why all Floridians should remain vigilant. Do not wait until it is too late to make a plan."
The county's Citizen Information Center is open from 8 a.m.-8 p.m. Operators are standing by that can speak to people in both English and Spanish. Call 727-464-4333 if you need assistance. The Emergency Operations Center also is operating from 7 a.m.-8 p.m. People who need help also can use the live chat available at www.pinellascounty.org. Chat operators also are available that speak English and Spanish.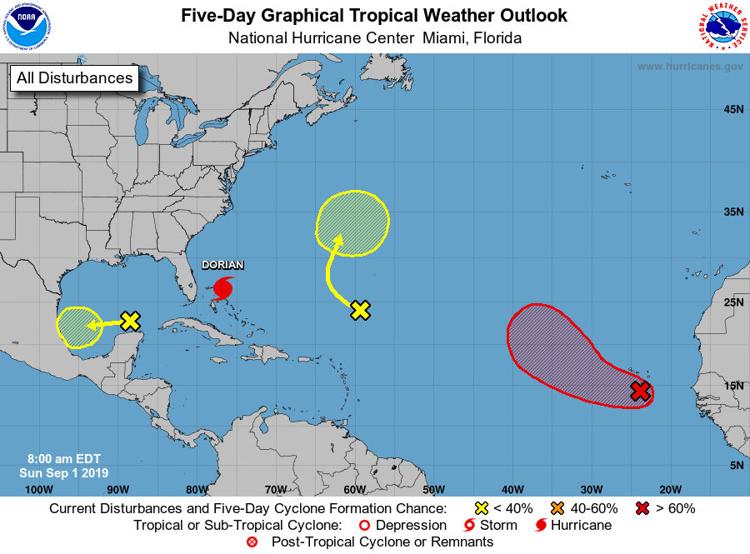 NHC watching three areas of disturbed weather
The first is a broad area of low pressure associated with a tropical wave located just south of the Cabo Verde Islands. Forecasters give it a 70% chance of become a cyclone.
The second is located over the south-central Gulf of Mexico and has a 30% chance of developing. The potential track shows it moving away from the United States and into Mexico. The third is located several hundred miles south-southeast of Bermuda and has a 20% chance of development.
Preparedness information
Pinellas County officials are encouraging residents to finalize hurricane preparations not just for Dorian but because September is historically the most active month of the hurricane season.
Residents and businesses are urged to make sure they are following the three critical steps: Know your Risk, Make a Plan and Stay Informed. Registering for Alert Pinellas and downloading the Ready Pinellas app for iPhone and Android will help with the process.
Sunday, Sept. 1 marks the first day of National Preparedness Month, sponsored by FEMA to promote family and community disaster planning.
"It is important for everyone to be prepared in case our area is impacted by a hurricane this season," Perkins said. "This is the perfect time to look up your evacuation zone, get whatever supplies are needed to complete emergency Go Kits and Stay Kits and sign up for Alert Pinellas."
The county's free mobile application, Ready Pinellas, will help you create a personalized supply list to help you keep track of the supplies you need to finish a kit. You should gather enough supplies to last seven days.
Some essential items include:
• Water – at least 1 gallon of water per person per day
• Non-perishable food
• Non-electric can opener
• Medications and copies of prescriptions (you can get a 30-day refill once an Emergency Declaration is declared for Pinellas County.)
• Flashlight or lantern
• Battery-operated or hand-cranked radio
• Cell phone with charger, extra battery and solar charger
• Contacts in mobile device and in print for backup
• Extra batteries
• Cash
• Insect repellant
• Sunscreen
• Tarps
• First aid supplies
• Portable toilet
• Books, cards, board games
• Full tank of gas in vehicle
• Gas tank; extra gas if you have a generator
• Emergency Access Permit (for beach residents and businesses. Obtain one at city halls or online at pcsoweb.com/emergency-access-permit.)
For more information on disaster preparedness, visit the Pinellas County Emergency Management website at www.pinellascounty.org/emergency, or email to ema@pinellascounty.org. The county sends urgent safety notification through Alert Pinellas. Residents can sign up at www.pinellascounty.org/alertpinellas.
Register for special needs shelters by calling the Citizens Information Center at 727-464-4333 or by contacting local fire department. Visit www.pinellascounty.org/emergency/specialneeds.htm for more information.
Mobile and manufactured homes residents must prepare to always evacuate when an evacuation is ordered. Mobile homes, manufactured homes and recreational vehicles are not strong enough to withstand the strong winds of a hurricane.
Sign up for pet shelters now by visiting www.pinellascounty.org/emergency/petpreparedness.
In addition, residents should clear their yards and patios of debris or loose items that could become projectiles in high winds. Such items should be secured or placed in a protected building or structure.
Florida Department of Health in Pinellas County urges residents to refill their prescription medications. It is not known how the hurricane will affect the region, but it's important to make sure required prescription medication is available.
Prepare now is the message of the day.
Suzette Porter is TBN's Pinellas County editor. She can be reached at sporter@tbnweekly.com.