Obviously, the coronavirus crisis dominated the headlines this year, with more than 300,000 American deaths, millions more infected and untold hardships and long-lasting ramifications resulting from the COVID-19 pandemic.
But despite the physical, financial and mental toll caused by the crisis, there were many stories filled with hope and happiness in 2020, and Pinellas County had more than its fair share.
Here's a look at 20 story lines from 2020 that stood out this year.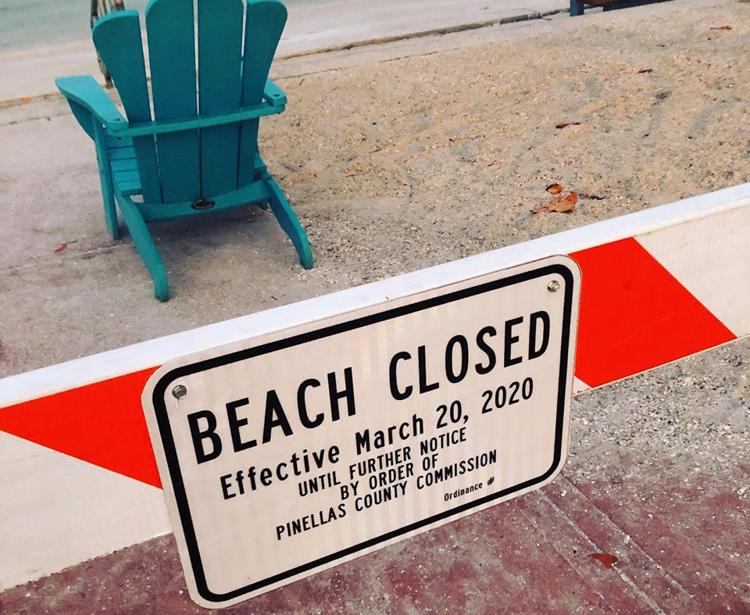 State and county response to COVID
Pinellas County's first two cases of COVID-19 were reported on March 11. Its first death was reported on March 23. The County Commission declared a local state of emergency March 13 and has extended it each week thereafter.
From there it has been a roller coaster ride of executive orders from Gov. Ron DeSantis and resolutions from the commission.
During the past nine months, long-term care facilities, schools, beaches, bars and nightclubs were among the businesses and facilities closed and then slowly reopened as the virus ebbed and flowed. Restaurants were also forced to close indoor dining rooms and were restricted food service to take-out or delivery.
Both the state and county issued stay-at-home orders requiring the public to maintain a distance of 6 feet from others and prohibited groups of more than 10. The state order said non-essential activities should be limited, sparking debate on what was considered essential.
DeSantis began the first phase of Florida's recovery plan May 4 statewide and reopenings slowly commenced from there.
In Pinellas, commissioners also enacted a mandatory face mask order on June 24. The countywide ordinance requires that facial coverings be worn in indoor public places except when social distancing, keeping 6 feet apart, is possible. Bars and restaurants can only serve people who are seated and social distancing of 6 feet must be maintained.
The ordinance, which has fueled contentious debate from some residents, remains in effect.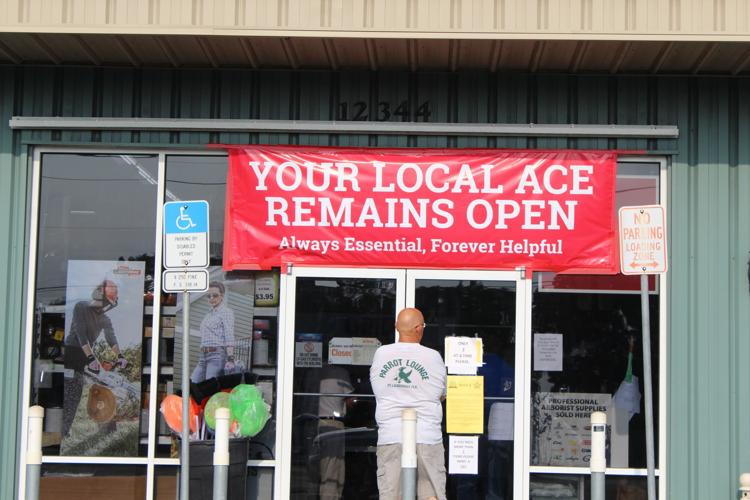 Local governments dish out dollars
Pinellas County received $170.1 million from the federal Coronavirus Aid, Relief, and Economic Security Act to address the community's most pressing needs related to COVID-19.
As of Dec. 18, $130.54 million of that has been allocated through a variety of means.
Most notably, $24.3 million has been given to 8,569 households for overdue rent, mortgage and utility bills.
About $50 million has been distributed to more than 5,000 local businesses via $5,000 grants, and more than $17.7 million has been given to nonprofits.
The cities of Clearwater, Largo and Tarpon Springs also came to the aid of small businesses in the form of grants.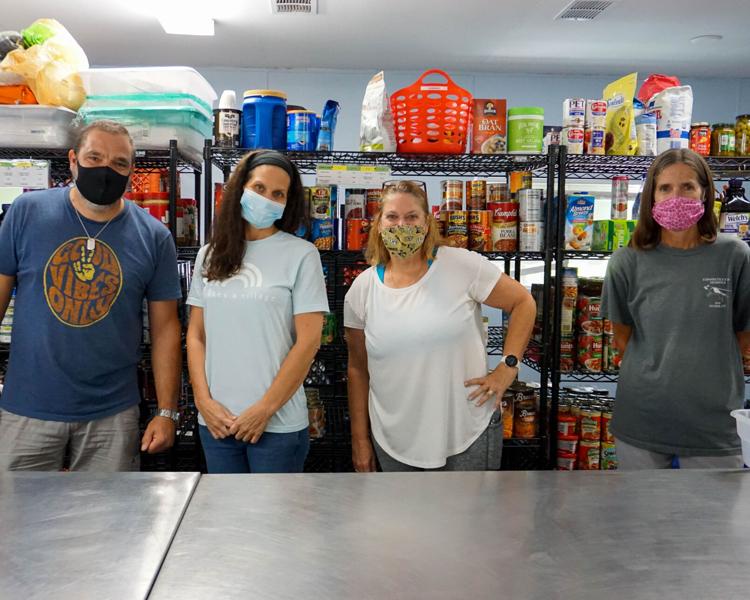 Community comes together
Soon after the coronavirus crisis started, many people and groups sprang into action to help those struggling with the repercussions.
Local distilleries turned their booze-making operations into hand-sanitizer factories; restaurants
donated meals to front-line workers; students, retirees and civic clubs started making masks for friends and neighbors; and the list goes on and on.
Local food pantries saw a huge surge in demand. And while donations were up at the start of the pandemic, they quickly tapered off, hurting nonprofits like FEAST Food Pantry in Palm Harbor. "Initially people were excited to donate but they don't realize a lot of people are still struggling in our area," FEAST executive director Tamara Black said in early August. "It's really hard for a lot of people right now. They need help and I don't anticipate it stopping any time soon."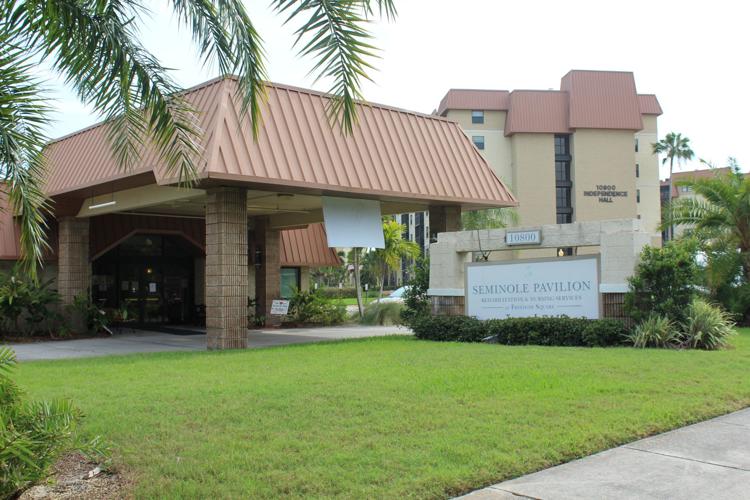 A tragic outbreak
Freedom Square of Seminole, which is at 7800 Liberty Lane directly east of Seminole City Center, became the epicenter of COVID-19 concerns in Pinellas County in April when the novel coronavirus found its way inside the facility's rehabilitation center.
By April 21, a total of 54 residents and patients had tested positive at the building at the source of the outbreak, Seminole Pavilion Rehabilitation. In response to the rapid spread of the disease, officials evacuated all 95 patients of the building to area hospitals and facilities.
In total, 39 residents and one staff member have died at the sprawling Seminole campus that includes independent living, assisted living and skilled nursing facilities. According to the Florida Department of Health, the death toll would be the fourth-highest of long-term care facilities in the state.
Freedom Square wasn't alone. At least 660 of the county's 1,000-plus deaths were residents or staff at one of the county's long-term care facilities. Pinellas is No. 3 in the state with reporting 8% of deaths at these facilities.
Vaccine brings hope
A pilot program that included Pinellas and Broward counties to provide vaccines to patients and staff at nursing homes launched in December.
Local paramedics and the National Guard have partnered with the Department of Health to administer the vaccine, which began Dec. 17, on a voluntary basis to residents and staff. The county received just over 10,700 doses of Pfizer-BioNTech COVID-19 Vaccine.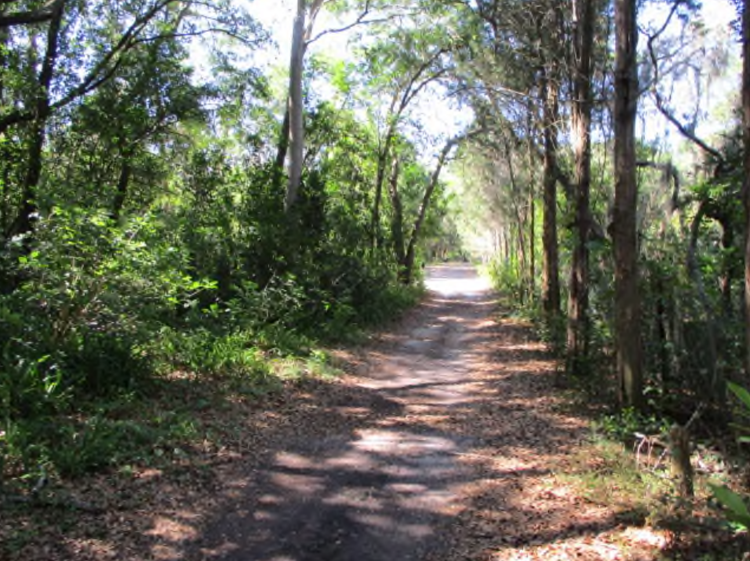 Green space battles
Developers looking to build on rare pieces of available green space in Pinellas County faced stiff opposition from several grassroots movements.
• The most recent push is underway in Dunedin, where the county, city and community are joining in an effort to purchase the 44-acre Douglas-Hackworth property at the northeast corner of Virginia Avenue and Keene Road.
A housing developer had made an offer on the property, but later dropped its bid after an outpouring of support to preserve the site that, combined with the neighboring Jerry Lake, would result in about 100 acres of passive recreation.
A trustee for the estate has now given the city and county until Jan. 18 to make an offer. The city has already pledged $2 million and an anonymous couple has pledged $2 million more.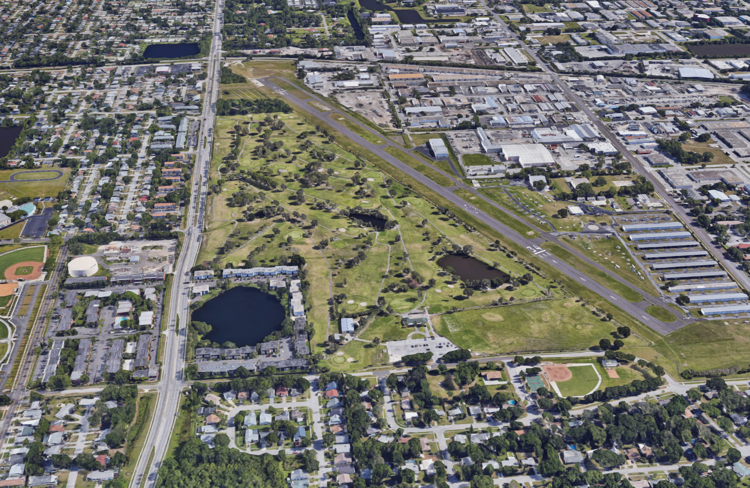 • In Clearwater, voters Nov. 3 soundly rejected a bid to transform the Landings Golf Course into a light industrial complex.
Just over 61% of voters voted no on a referendum question on whether the city could lease approximately 58 acres of city-owned property across the street from the Clearwater Airpark to Harrod Properties, which planned to construct a $120 million, 710,000-square-foot multibuilding industrial center.
City economic development officials say redeveloping the underused golf course into an industrial park would've brought major financial benefits, including generating $9.735 million for the city during its first 10 years and also creating 3,281 jobs with an average salary of about $47,000.
Council member Kathleen Beckman and many neighbors of the project led the charge against it, claiming it wasn't compatible with the area and expressed concerns about traffic and the environmental impact of eliminating the green space.
• Opponents of two other major Pinellas County golf course redevelopment projects got good news in August, with plans for about 1,000 homes and other amenities at the former Tides Golf Club and Bardmoor Golf and Tennis Club both being withdrawn.
Wheelock Communities and partner Gentry Land proposed to turn the 150-acre Bardmoor site into an 800- to 1,200-home subdivision with a village center, hotel, office space, shops and restaurants.
The group, however, decided to cancel the purchase and redevelop the property, citing "challenges related to transportation planning and the access from Bryan Dairy Road."
The owner of the property of the former Tides golf course and applicant for the "Restoration Bay" project, with 273 detached single-family homes, received a negative review from county staff, so it will redesign and resubmit the proposed project.
In March, county planners, citing environmental and other concerns, recommended the county deny a land-use change needed for the project. In 2014, another developer suffered the same fate and walked away from the golf course.
The land is in unincorporated Seminole at 118632 66th Ave. N. The Tides golf course closed in the summer of 2018.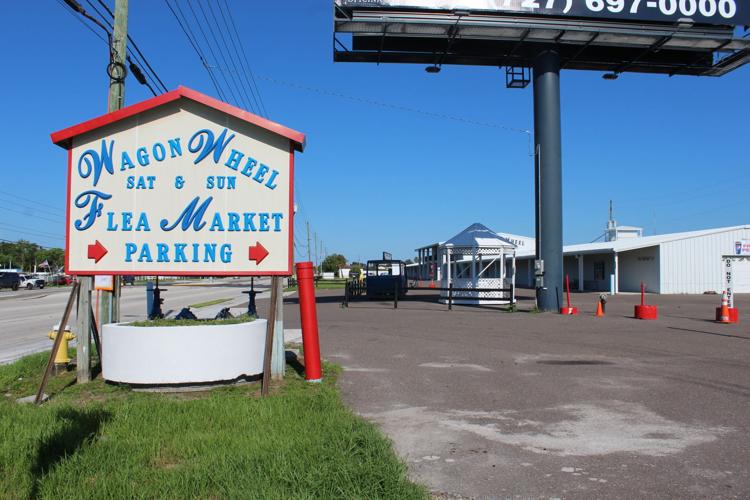 Farewells
A pair of Pinellas County landmarks and several well-known businesses didn't survive 2020.
The Huntley family announced June 10 on Facebook that the Wagon Wheel and Mustang flea markets off Park Boulevard were closed for good.
The market, which is in unincorporated Pinellas County, had been closed since March as a result of the COVID-19 outbreak.
Created in 1966 by Hardy Huntley who arrived here in 1958 in a beatup Oldsmobile, the market has gravitated into a place where young and old and the rich and the poor congregate.
The market's name is not the work of a marketing genius. Huntley had an old wagon wheel he'd found on the property, affixed it to a pole and, hence, the Wagon Wheel moniker.
The 150-acre property was purchased piecemeal over a number of years.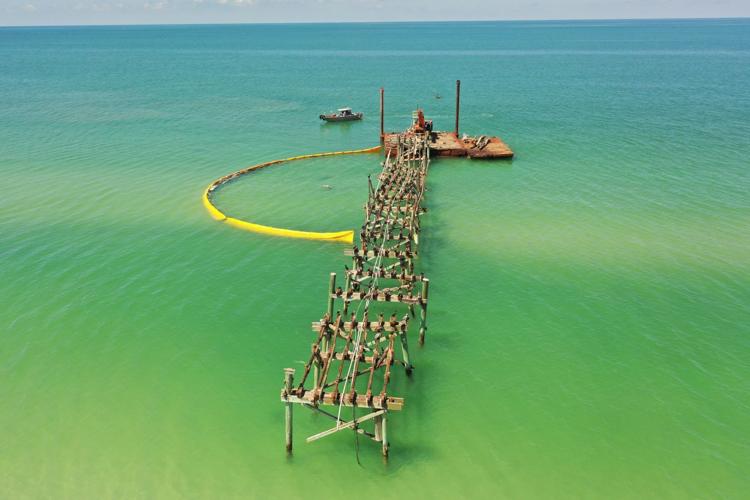 The Redington Long Pier is another piece of Pinellas history that is no more.
In May, a contractor hired by the Florida Department of Environmental Protection wrapped up a $589,000 project to demolish the pier.
The demolition brought an end to what has been considered a historic treasure. The wooden pier dates to 1962 and was the last of what used to be many such structures along Pinellas beaches. According to news reports from the St. Petersburg Times archives, the pier was built by motel owner K.E. Andrews as part of a project that cost $200,000.
Several restaurants also didn't survive the pandemic.
Among them were longtime favorites Gators Cafe at John's Pass, which has been open for more than 30 years, and the Seahorse Restaurant in Pass-A-Grille, which has been opened since the 1930s.
Newer, but still popular eateries that also had to close included the Waypoint 6 Tavern & Geekery and Sweet Tomatoes, both in Largo.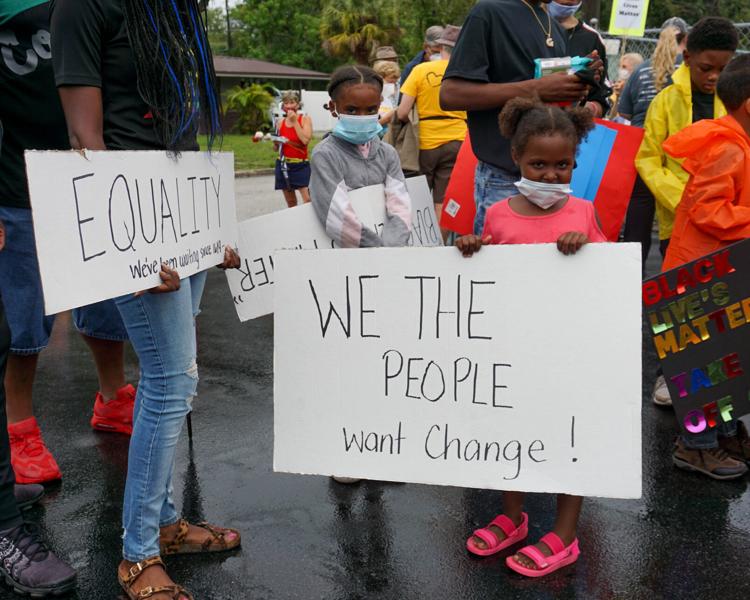 Law enforcement changes
The death of George Floyd on May 25 while in police custody in Minneapolis roiled the entire country. The ripple effects were also felt in the Tampa Bay area.
Numerous protests were held — most were peaceful, some were not.
But the biggest result of the outcries were several changes in protocols and equipment from law enforcement agencies throughout the county.
Before Floyd's death, the Gulfport Police Department was the only agency in the county to utilize body-worn cameras.
That is no longer the case, as the Sheriff's Office, and police departments in St. Petersburg, Clearwater, Tarpon Springs and Pinellas Park have all approved or are testing body camera programs.
Pinellas County law enforcement agencies also now have a new method for conducting investigations involving the use of deadly force.
For at least the past 40 years, area agencies have conducted the investigations the same way it is done in many other parts of the state and the nation.
Sheriff Bob Gualtieri said the new process, which began in July, was a "pretty drastic change" from the previous model in which law enforcement agencies conducted their own investigations when one of their members was involved in an incident involving deadly force.
Now, if an incident needs examination, a task force will be in charge and a different agency will investigate.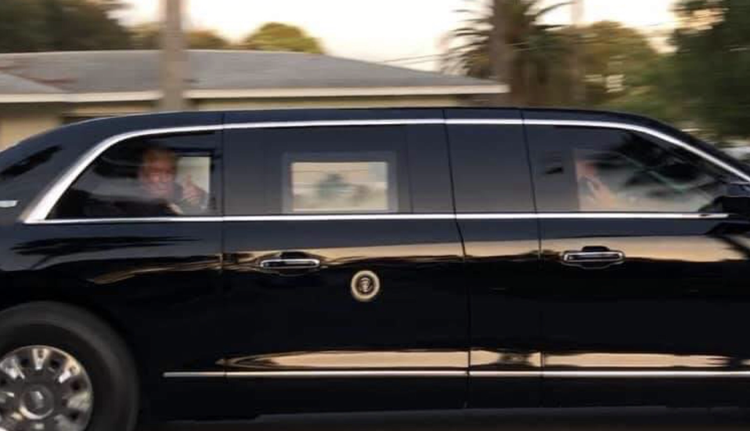 Election season
It's not every day that a small town of about 4,000 people gets thrust into the national spotlight, but that's exactly what happened when President Donald Trump visited Belleair on July 31.
The Pelican Golf Club hosted a number of dignitaries including Trump and Gov. Ron DeSantis, who participated in a COVID-19 Response and Storm Preparedness roundtable followed by a fundraising event.
Hosting the president was a rare experience for Belleair. Doyle said Gerald Ford and Jimmy Carter were the only two sitting presidents before Trump to visit the town.
Vice President Mike Pence also made a stop to Seminole in early August when he spoke to members of the Susan B. Anthony List, a national pro-life group, at Starkey Road Baptist Church.
• In local elections, area voters favored the incumbents in most county races. Incumbents that kept their posts included Sheriff Bob Gualtieri, Property Appraiser Mike Twitty, Tax Collector Charles W. Thomas, Supervisor of Elections Julie Marcus, and County Commissioners Janet Long and Charlie Justice. Rene Flowers also won a seat on the board that was left vacant after longtime commissioner Ken Welch decided not to run for re-election.
Municipal boards did see several changes this past year, however.
Eric Gerard replaced incumbent Curtis Holmes on the Largo City Commission, and Tom Christy took over Jim Quinn's seat on the Seminole City Council. In Dunedin, Mayor Julie Ward Bujalski fended off a challenge from Commissioner Heather Gracy to keep her post, and John Tornga returned to the commission.
In March, the Clearwater City Council was shaken up when Frank Hibbard returned to the post he once held before terming out. Kathleen Beckman and Mark Bunker also scored victories in a contest that included 13 candidates.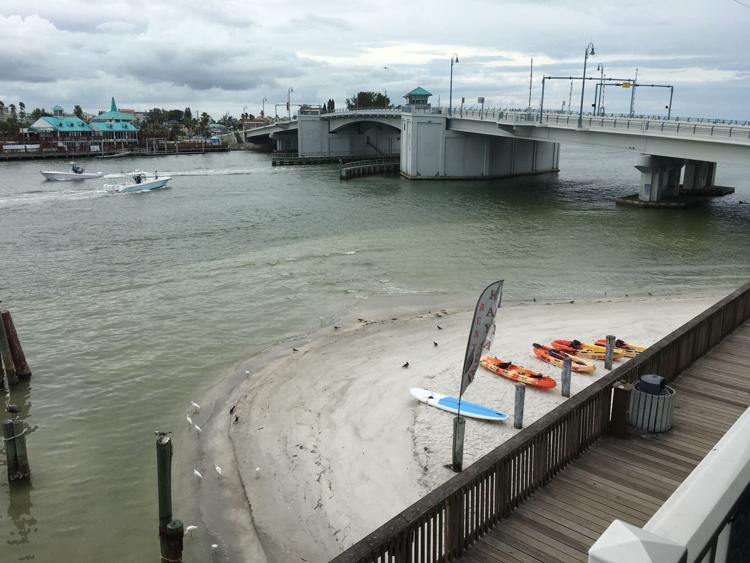 Too much and too little sand
• The continuing clogging up of John's Pass with sand is creating growing concern over the impact on tourism as well as public safety. City leaders say they have been soliciting help from county, state and federal officials in trying to solve the problem.
As more sand comes in, the channel gets narrower and the current becomes swifter and becomes dangerous. John's Pass is now the No. 1 place in the county for water rescues, Mayor John Hendricks said.
In November, Hendricks said the issue will be getting a study by a USF professor to find the exact cause of the problem.
The study will take about six months to complete and will cost $30,000 to $35,000.
• Officials delivered some bleak news in November when they reported that the entire $40 million-plus Sand Key beach nourishment project was in doubt after the county failed to secure the needed easements from property owners in three of the seven municipalities seeking sand.
The project area consists of nine miles of the beach in Clearwater, Belleair Beach, Indian Rocks Beach, Indian Shores, Redington Shores, North Redington Beach and Redington Beach.
However, more than 200 property owners in Indian Rocks Beach, Indian Shores and Redington Shores have resisted providing the permanent easements that would allow public use of the area being replenished.
Levy said the county would ask the Corps to proceed in the area where easements were secured, which constitutes 55% of the project. She added that staff at the Corps were supportive, but they said it's unlikely those who make the final call will agree.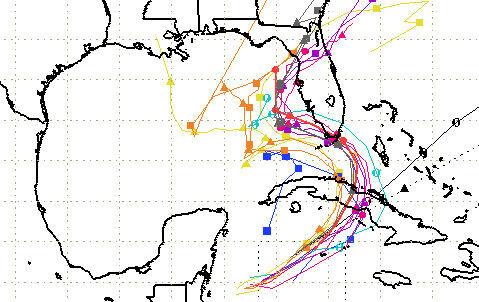 More storms than names
The Atlantic hurricane season was so busy this year that all the names set aside for storms were used and the National Hurricane Center started using the Greek alphabet.
The record-breaking season came to a close with 30 named storms, 12 of which made landfall in the continental United States.
Oddly, a tropical storm in mid-November, Eta, proved to be the most problematic for Pinellas County.
Flooding was the biggest problem as Eta moved through the area. The Pinellas County Sheriff's Office responded to calls for help throughout the night it hit and ultimately rescued 33 people from homes and roadways. Many residents along the beaches in the Redingtons and Madeira Beach are continuing to deal with the aftermath of flood damage to their homes.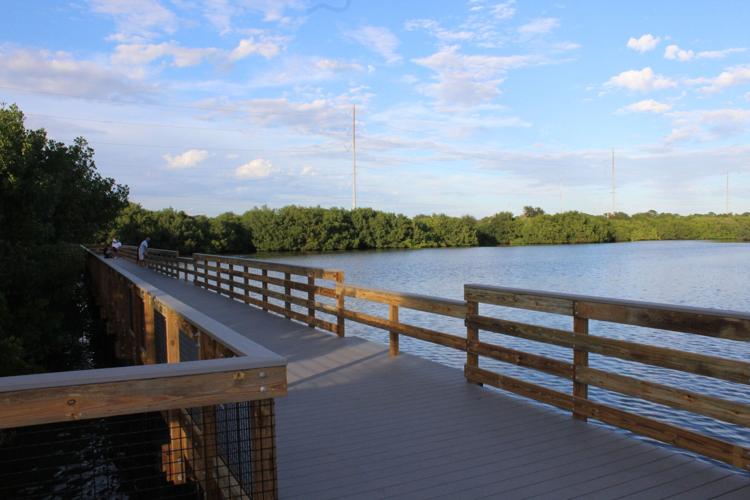 Embracing parks
If there was any doubt that Pinellas residents are passionate about their parks, the pandemic proved otherwise.
For example, county officials said total county park attendance in August was up to 1.77 million compared to 1.32 million in August 2019.
All those park lovers also had some new and improved ones to enjoy.
In Seminole, Waterfront Park along Park Boulevard began to take shape piece by piece. Among the upgrades have been a new boardwalk, kayak launch, storage facility and bathroom, and a playground under construction.
Farther north, county officials announced the opening of the Wall Springs Coastal Addition in Palm Harbor in September. The original park, consisting of 210 acres, is at 3725 DeSoto Blvd.
The coastal addition's amenities include a picnic shelter, wooded areas with natural trails, and a winding paved trail that leads to the water, where an elevated observation deck allows visitors to enjoy a coastal view. The addition protects native habitats and associated plant and animal life, including 18 species of fish, 148 species of plants and 127 species of birds.

Cities finding new headquarters
Largo, Dunedin, Clearwater and Treasure Island are all in the process of relocating to a new City Hall.
In Largo, the first portion of a three-phase project is complete and city commissioners learned the cost to buy land, design, build and furnish a mixed-use City Hall and parking garage along West Bay Drive is now up to just over $51 million, which is more than twice of the original cost estimate.
Officials are not beginning to seek out public input as the design state progresses.
City officials in Dunedin are also moving forward with plans to make their proposed $22 million city hall project shovel-ready. The design of the building is essentially complete, and they expect to seek bids toward the end of the year.
Treasure Island is further along in its process of transforming the former Allied Insurance building at 10451 Gulf Blvd. into its City Hall Center. Officials said the city hopes to have plans and specifications completed by January, a contract awarded in March, and move-in by December 2021.
Clearwater is still on the hunt for the right spot for its new City Hall, but council members have targeted the Park Street PSTA terminal and Pinellas County parking lot for a new facility that also includes a much-needed parking garage for downtown.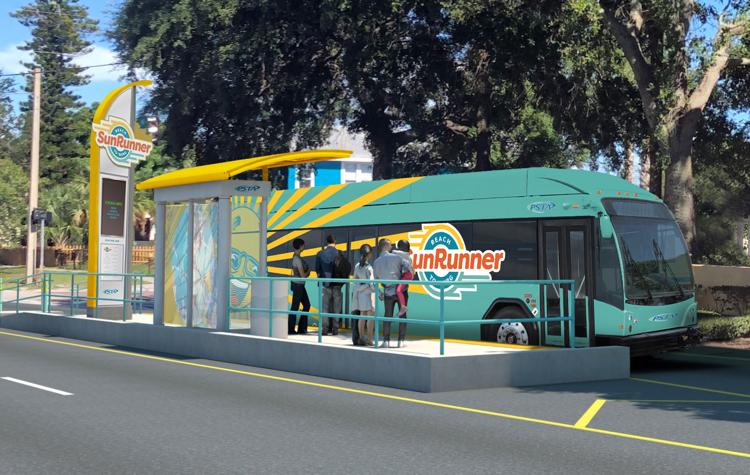 Buses made some big headlines
Transit advocates throughout Pinellas were thrilled when the President Donald Trump delivered the news that the federal government was providing $21.8 million in funding for the PSTA's Bus Rapid Transit project, which is now known as the SunRunner and will connect downtown St. Petersburg to the Gulf beaches.
The SunRunner will feature semi-dedicated lanes, limited stops and safety enhancements for riders including level boarding platforms and crosswalks. The 10.3-mile line will include 16 stops with buses running every 15 minutes.
St. Pete made news again when the PSTA announced in November the launch of one of the first autonomous vehicle programs in the state to operate in mixed-use traffic.
During a three-month pilot program, the driverless bus will travel between from the Dali Museum and Vinoy Hotel and gain feedback on how the community feels about the possibility of using autonomous vehicles as a transit option in the future.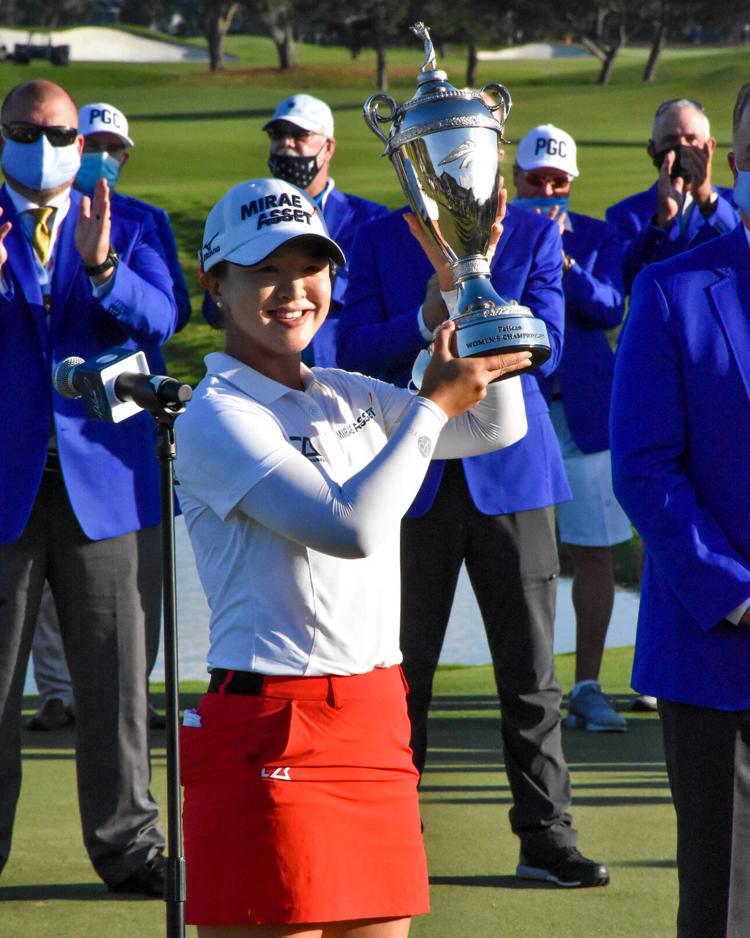 Tournament, stadium are big hits
Belleair was in the spotlight when the inaugural LPGA Pelican Women's Championship paid a visit to the Pelican Golf Club on Nov. 19-22.
Not even the lack of paid spectators because of the coronavirus pandemic could dampen the enthusiasm surrounding the event, as a large group of members, volunteers and tournament officials greeted winner Sei Young Kim of South Korea with a rousing round of applause after she tapped in a short bogey putt on the 18th hole to complete a three-shot victory.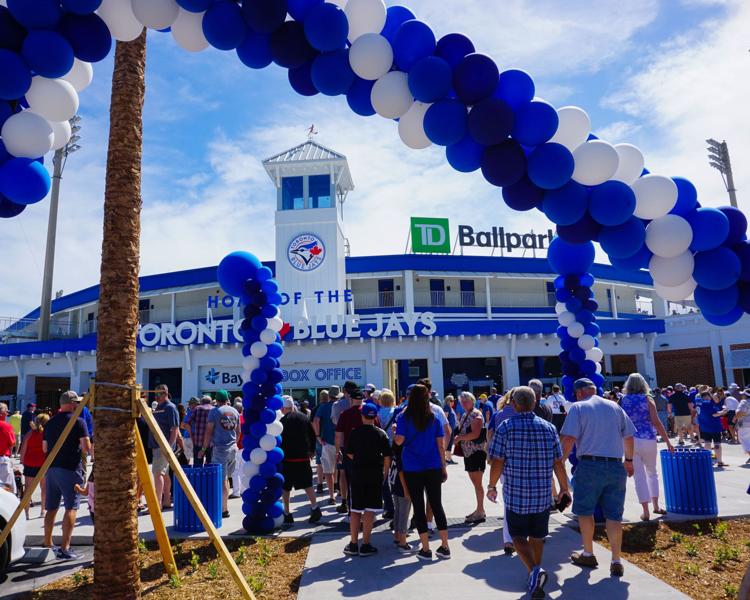 In February, the city of Dunedin was also abound with optimism as the Toronto Blue Jays entered their spring training home opener at a new ballpark.
The game marked the debut of TD Ballpark, part of a $100 million overhaul of the venerated Douglas Avenue stadium and nearby training facility that's been the spring home of the Jays since the team's inception in 1977.
Unexpected gifts
This summer, the city of Belleair Bluffs received a $50,000 grant for improvements to the playground next to City Hall. In November, that money tripled, thanks to "a very generous gift" that honors David Berolzheimer, longtime owner of the Bluffs Plaza shopping center on Indian Rocks Road, who died in 2019.
The $100,000 contribution is to be used for playground and park improvements.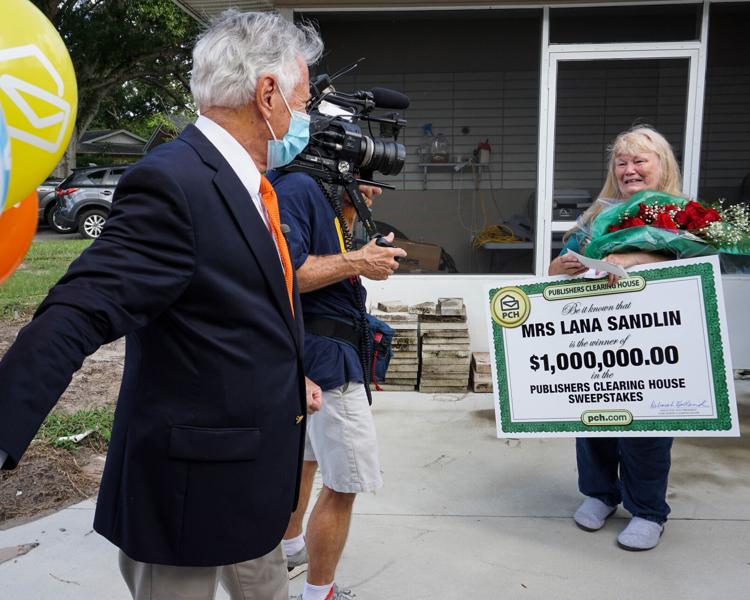 A Largo woman received an even bigger surprise in August when the Publishers Clearing House Prize Patrol came knocking on her door.
Lana Sandlin had been participating in the sweepstakes ever since she moved to the Largo area more than 40 years ago, but the retired longtime Honeywell employee never thought she'd win one of their famous cash prizes.
But on the morning of Aug. 31, Sandlin received a knock at her door, stepped outside and was handed a bouquet of roses, a bottle of champagne and one of the company's signature "big checks" in the amount of $1 million, making her the company's latest million-dollar winner.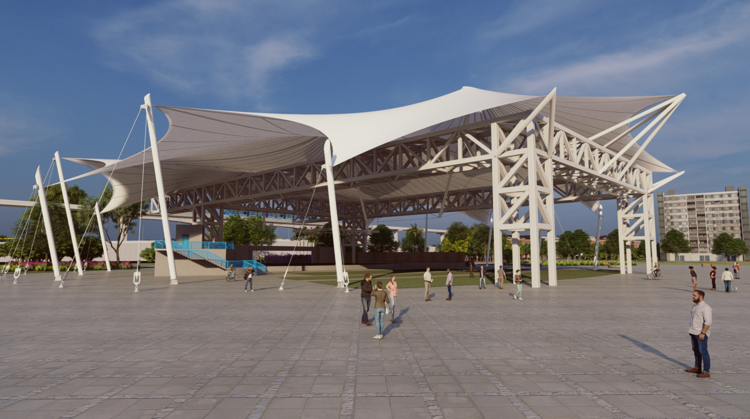 Reviving downtown Clearwater
• The $64 million Imagine Clearwater project to redevelop Coachman Park took several twists and turns this past year. Many of those turns were the result of three new City Council members who had some different visions for the plan that included a new amphitheater and renovated Main Library.
The growing budget, however, made council members increasingly uncomfortable. It came to a head in early December when the council voted to abandon $6.42 million in renovations to the library, which had already been closed in preparation for construction.
The remainder of the project includes a new amphitheater with a canopy made of industrial fabric that will provide 65,000 square feet of coverage — enough for 4,000 seats. It also includes a new bandshell building, dockmaster building, splashpad, restrooms, boathouse renovations, new landscaping and hardscaping, new lake, green lawn area, parking upgrades, and gateway entrance to the park.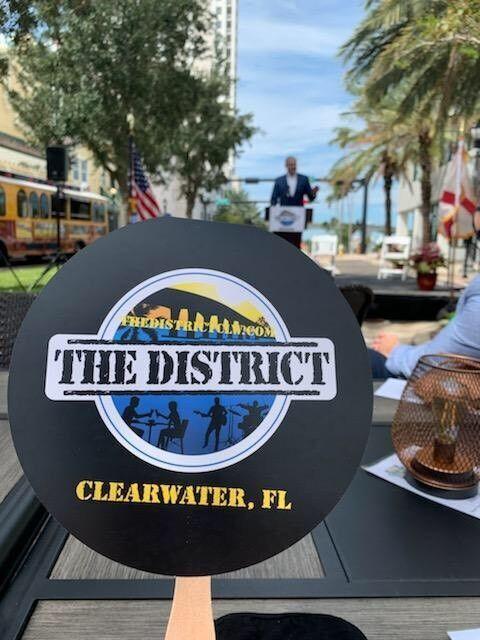 • The word closed is typically not a good one for businesses. But for the merchants along the 400 and 500 blocks of Cleveland Street in downtown Clearwater, it's been the magic word.
In May, the city closed the two blocks to thru-traffic in a bid to expand outdoor dining and help restaurants struggling to survive the effects of the pandemic.
It worked. In fact, it was so successful that the Downtown Clearwater Merchants Association started a petition to permanently convert the stretch into a pedestrian plaza.
The City Council took notice and decided to move forward with a pilot program to collect information on the impact of a permanent closure.
The merchants, however, looked to capitalize right away, and the DCMA has rebranded the area as "The District" with a focus on outdoor dining and live entertainment.
On Sept. 30, elected officials and community and business leaders gathered for a ribbon-cutting ceremony officially celebrating the launch of The District.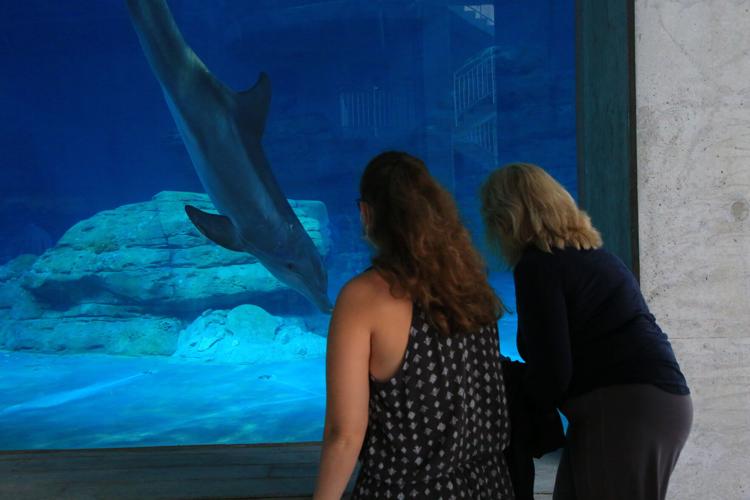 Aquarium expands
There aren't many dolphins who can call a 1.5 million-gallon state-of-the-art habitat home, but Clearwater has several that can.
Clearwater Marine Aquarium hosted a ribbon-cutting ceremony July 29 to unveil the Ruth and J.O. Stone Dolphin Complex, which includes nine windows offering underwater viewing of Winter, Hope, PJ, Nicholas and Hemingway — five rescued and rehabilitated dolphins who call the facility home.
The expansion has tripled the habit, and will allow for the care of twice as many animals.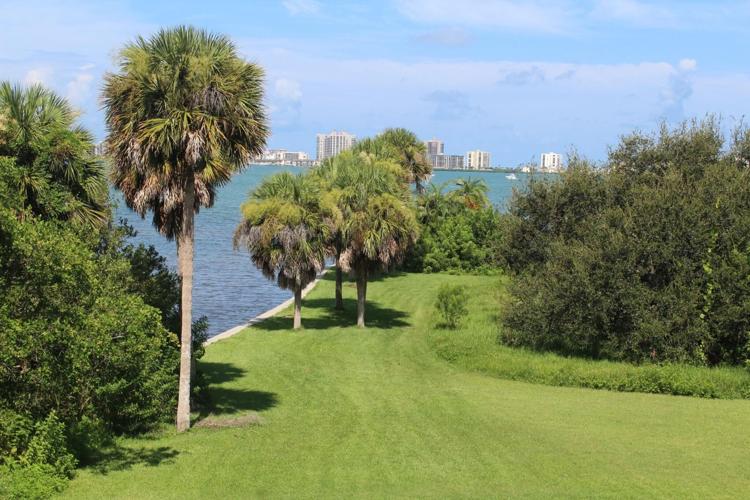 Belleair Country Club land lease
In July, Belleair town commissioners approved a 30-year lease for Belleair Country Club that will bring in more than $1 million to the city, including an upfront payment of $350,000 from the club, which wants to create a new hole overlooking Clearwater Bay that one member says will compare to Pebble Beach's No. 7.
However, the project has been delayed after arrowheads and Native American artifacts were found on the property, leading city officials to wonder what the U.S. Army Corps of Engineers will say about the planned renovation.
Club attorney David Phillips told city commissioners Dec. 15 he's waiting for the Army Corps to conduct its archaeological study of the property and no permits have been issued or approved yet.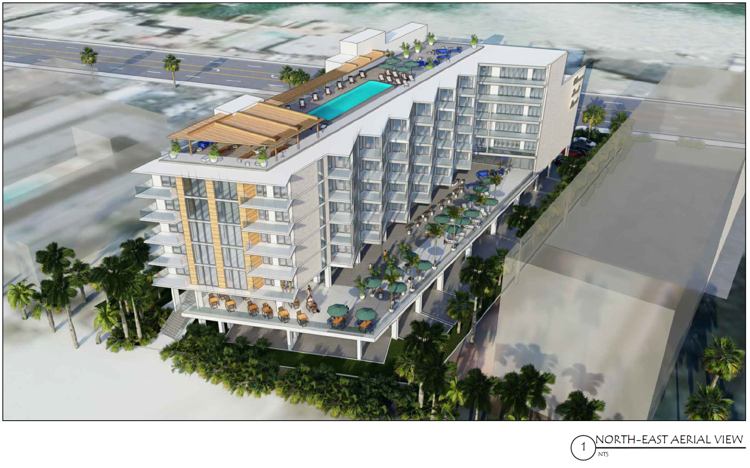 Development in St. Pete Beach
City, county and state leaders gathered for a groundbreaking ceremony of a $12.5 million sewer improvement project that has been six years in the making in St. Pete Beach.
In 2014, the city was ordered by the Florida Department of Environmental Protection to improve its inadequate sewer system that was causing sewage to overflow into streets and into Boca Ciega Bay. In 2016, city leaders adopted a moratorium on new development that could increase sewer flow.
The project, which was expected to last 18 months, aims to both cut down on sewer overflows and expand the system's capacity, allowing the city to lift the moratorium.
Some of that new development is already in the works.
Recently, the Miramar Beach Resort unveiled plans to demolish the hotel that's been on site since 1953 to make way for a six-story, 54-room luxury resort.