Schools, as well as the courts and tax collector's office remain closed Tuesday, but most things were business as usual in Pinellas as the east coast continues to wait and see what Hurricane Dorian will do.
Word is most everything closed in Pinellas today will reopen tomorrow.
Hurricane and tropical storm warnings and watches, as well as storm surge warnings were in effect along Florida east coast. Mandatory and voluntary evacuations had been ordered in many counties, including Highlands and Polk, which are not too far from Tampa Bay.
The local weather forecast calls for a 60% chance of rain today and tonight with a north wind of 14-16 mph with gusts up to 24 mph. National Weather Service gives odds of rain on Wednesday of 30% with west northwest wind of 16-18 mph with guests as high as 28 mph. West winds of 16-18 mph with gusts of 21 mph are expected on Wednesday night.
NWS issued a high rip current risk statement that is in effect from noon today through Wednesday evening.
The county declared a state of emergency Aug. 31, which will remain in effect through Sept. 6. The county's Citizen Information Center will remain open today from 8 a.m.-5 p.m. Operators are standing by that can speak to people in both English and Spanish. Call 727-464-4333 if you need assistance. People who need help also can use the live chat available at www.pinellascounty.org. Chat operators also are available that speak English and Spanish. The Emergency Operations Center opened at 8 a.m.
Visit St. Pete-Clearwater has activated a distressed traveler portal that shows real-time hotel availability. Visit vspc.info.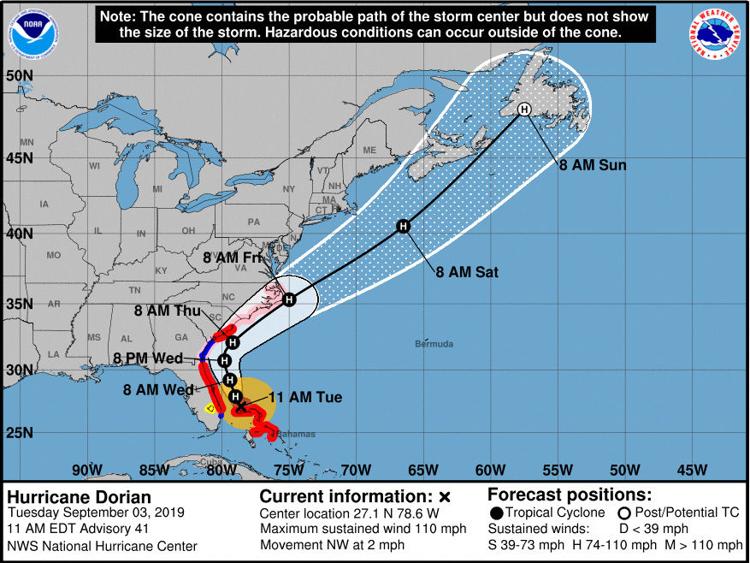 Hurricane Dorian
At 11 a.m. Sept. 3, Dorian was about 45 miles north of Freeport on the Grand Bahama Island and 105 miles east of Fort Pierce, Florida. Maximum sustained winds were down to 110 mph, making it a Category 2 on the Saffir-Simpson Hurricane Wind Scale. It was moving northwest at 2 mph.
NHC says Dorian is expected to speed up as it moves northwest or north-northwest today and tonight. A turn to the north is expected on Wednesday night, followed by a turn to the north northeast on Thursday morning.
Dorian's core should move gradually north of Grand Bahama Island through this evening and then move "dangerously close" to the Florida east coast later today through Wednesday evening. Dorian is forecast to be very near the Georgia and South Carolina coasts Wednesday night and Thursday, and near or over the North Carolina coast late Thursday or Thursday night.
Data from aircraft and buoys show that the hurricane is growing in size. Hurricane-force winds extend outward up to 60 miles from the center and tropical-storm-force winds extend outward up to 175 miles.
NHC says that although the official forecast does not show Dorian making landfall along Florida's east coast, the increasing size of the wind field along with any changes in the track toward the west would bring hurricane-force winds to areas along the east coast.
A number of changes were made to watches and warnings in the 11 a.m. forecast. Dorian is expected to remain a Category 2 hurricane with winds of 110 mph for the next 48 hours.
Dorian has already proven to be a record-setting storm. It is the strongest hurricane in modern records to hit the northwestern Bahamas. When the eye of Dorian made a second landfall Sunday afternoon on Great Abaco Island near Marsh Harbour, maximum sustained winds were 185 mph, which tied Dorian for the record of the strongest Atlantic hurricane landfall on record with the 1935 Labor Day hurricane.
Gov. Ron DeSantis has issued an emergency declaration for the entire state.
"Due to Hurricane Dorian's uncertain projected path, I am expanding the state of emergency to include all 67 counties throughout Florida," the governor said in a press release. "All residents, especially those along the east coast, need to be prepared for possible impacts. As it increases strength, this storm has the potential to severely damage homes, businesses and buildings, which is why all Floridians should remain vigilant. Do not wait until it is too late to make a plan."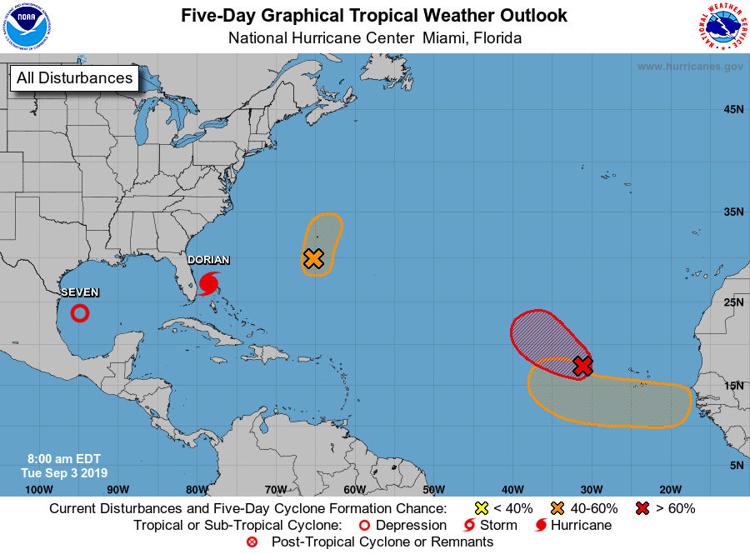 Tropics heating up
NHC was watching four other areas of disturbed weather, including Tropical Depression 7 located over the southwestern Gulf of Mexico. It is likely have an effect on the weather in Mexico and south Texas.
The second system, a trough of low pressure located several hundred miles south of Bermuda. NHC forecasters say a tropical depression could form by Thursday. Interests in Bermuda are advised to monitor the storm.
The third system is a tropical wave expected to emerge off the coast of Africa in a couple of days. NHC says it could become a tropical depression later this week or weekend.
This is the busiest time of hurricane season, which continues until Nov. 30.
For hurricane preparedness information, visit www.pinellascounty.org/resident/disasters.htm.
Suzette Porter is TBN's Pinellas County editor. She can be reached at sporter@tbnweekly.com.