LARGO — A million twinkling LED lights will beckon visitors to come take a stroll along the pathways in the Florida Botanical Gardens from Friday, Nov. 29, through Saturday, Jan. 4.
One of Pinellas County's favorite winter events, Holiday Lights in the Garden, is ready for a 19th season of fun. Hours are 5:30-9:30 p.m. Admission is a suggested donation of $5 for persons over the age of 13.
This will be the most nights ever that the gardens will be open for Holiday Lights.
"We are trying something different this year," said Vernon Bryant, FBG Foundation executive director. "We are excited to add the nights after New Year's Day."
In past years, Holiday Lights went dark on Jan. 1 with the last night to visit being Dec. 31.
In addition, for adults who want to get an exclusive first look at the displays, Florida Botanical Gardens Foundation has a new event this year – Hops Night in the Gardens is Friday, Nov. 22, 6-9 p.m. It is open to ages 21 and up.
Tickets are $40 and includes appetizers, live music, craft beer from local breweries and a commemorative beer glass. Tickets are non-refundable. Rain date is Saturday, Nov. 23. Enter through the main entrance at 12211 Walsingham Road, Largo.
For tickets and more information, visit flbgfoundation.org/hopsnight.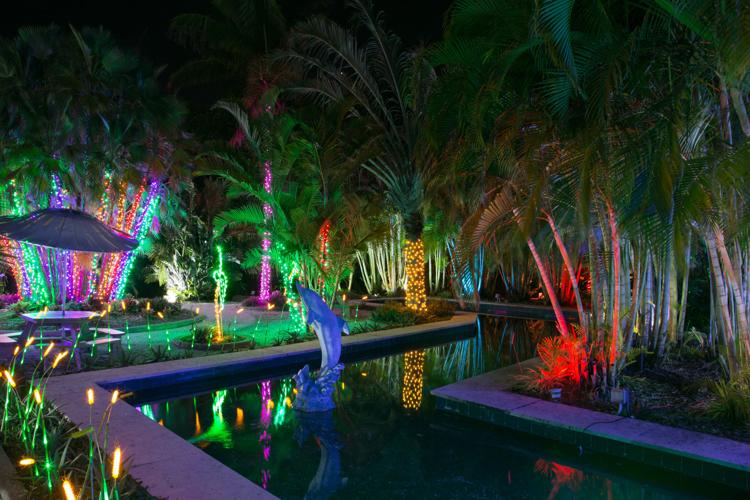 Whether you go early, on or after the official opening, prepare to be dazzled by the many lights that illuminate the gardens, outlining trees, plants, walls and buildings. Prepare to be amused and delighted by the lighted figures, including butterflies, flamingos, alligators, snow people and more.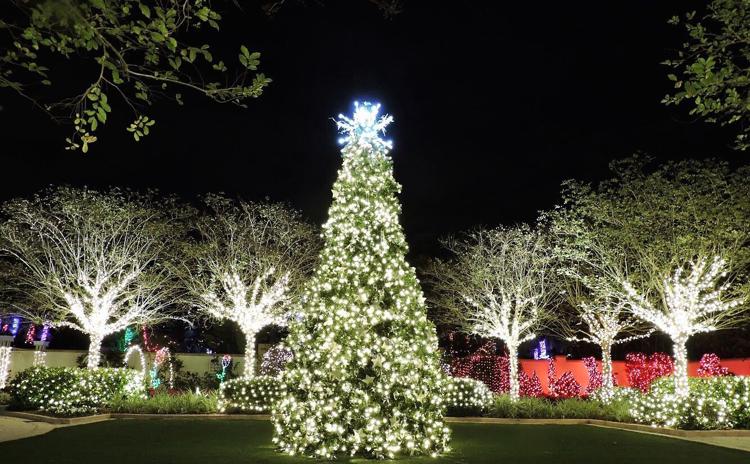 And don't miss the 18-foot evergreen tree all aglow in the Wedding Garden with its gazebo awash in beautiful white lights. If you attend on the opening weekend, model trains will surround the tall tree, thanks to the Train Guys.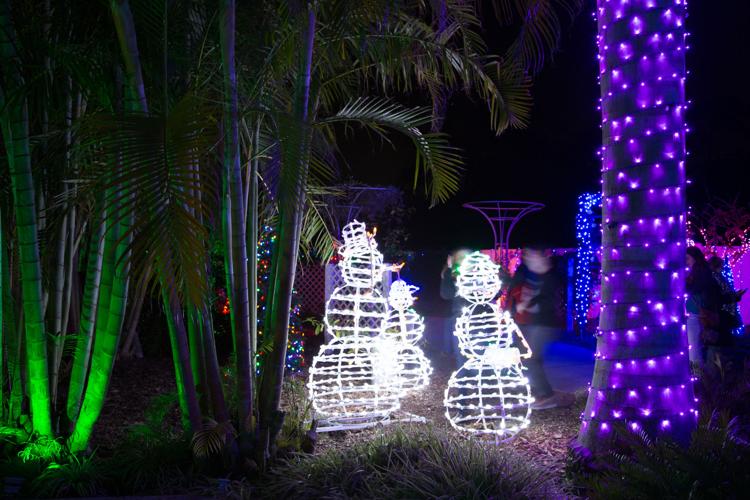 Local volunteers entertain nightly. And Santa is there most nights through Dec. 23. See the schedule of events at the Florida Botanical Gardens Foundation's website, www.flbgfoundation.org or call the hotline at 727-582-5800. If you would like to be an entertainer, visit the website for more information.
St. Pete Concessions will be selling food, drinks and ice cream again this year. Don't miss the Botanical Bounty Gift Cart, which will be located on the main plaza, to find light-up items for purchase. Seasonal gifts and décor will be available in the Botanical Bounty Gift Shop, located in the main building.
Organizers have some advice for those who want to avoid the crowds — arrive early and attend on a weeknight. According to Emily Bloxam, the Foundation's communications coordinator, 90,000 attended last year's event.
Everyone is welcome. The gardens are handicapped accessible. Most walkways are ADA Compliant allowing access for wheelchairs, walkers and strollers. Please note, no wheelchairs or scooters will be available. Well-behaved dogs that don't mind a crowd also are welcome, but organizers suggest they attend on a weeknight.
Parking, including handicapped parking, is available at the entrance at 12211 Walsingham Road. Additional parking will be available at the Ulmerton entrance, 12520 Ulmerton Road, but parking is limited so organizers again urge visitors to come early or on a weeknight. Groups are encouraged to contact the office in advance. Call 727-582-2117.
New this year
Bloxam said visitors could expect even more lights on the trees this year. New additions include six large rebar turtles by artist Rebecca Austin of Parlor City Arts in Binghamton, New York.
"We also have wonderful displays made of grapevine, hay, burlap and greenery to bring a horticultural touch to the gardens," she said.
Volunteers have been working for months planning and organizing this year's Holiday Lights, Bloxam said. Parks staff and garden volunteers have been making sure the landscape is in top shape for visitors during the day and night.
Xmas Lights Install, the contractor that installs the lights, has been on the job since the end of September to get the lights up in time.
Proceeds help the gardens
"This is our biggest fundraiser," Bloxam said. "And it all goes back to the gardens."
Bryant said the biggest use of funds raised during last year's Holiday Lights was to advance design concepts for the proposed Children's Discover Garden.
Bloxam said the Foundation hired Coyle & Caron Landscape Architects in Orlando to draft the design plans for the potential children's garden.
"We are excited about this proposal and are currently working on approval through Pinellas County," Bloxam said.
Money raised by the Foundation during Holiday Lights and other events also goes to purchase plants and to fund other garden improvements and renovations. It also helps pay for staffing.
How to help
The Florida Botanical Gardens Foundation is happy to host this event each year, with assistance from Pinellas County. But community support is important.
Local businesses and individuals can help by becoming an event sponsor. For more information, visit www.flbgfoundation.org. Click on the Events tag on the top of the page and then choose Holiday Lights from the dropdown menu. Read the information until you find the sponsorship links.
Volunteers are critical to the success of the annual event and more are still needed for a variety of tasks. For more information, visit www.flbgfoundation.org/volunteer.
Looking ahead
On Jan. 4, the Foundation will kick off its next big project — a yearlong 20th Anniversary for Florida Botanical Gardens, Bryant said.
"Lots of great things are planned as part of the celebration," he said.
But more Foundation members and volunteers are needed to ensure its success.
For more information, visit www.flbgfoundation.org.
For general information on the botanical gardens, visit the Foundation's Facebook page at www.facebook.com/FlBotanicalGardens.
Florida Botanical Gardens is open daily from 7 a.m.-5 p.m. The Welcome Center is open from 8 a.m.-5 p.m. Monday-Friday. The center is closed on the weekend and on county holidays.
Suzette Porter is TBN's Pinellas County editor. She can be reached at sporter@tbnweekly.com.