When asked what kept them up at night, two of the nation's top emergency managers had the same answer: complacency.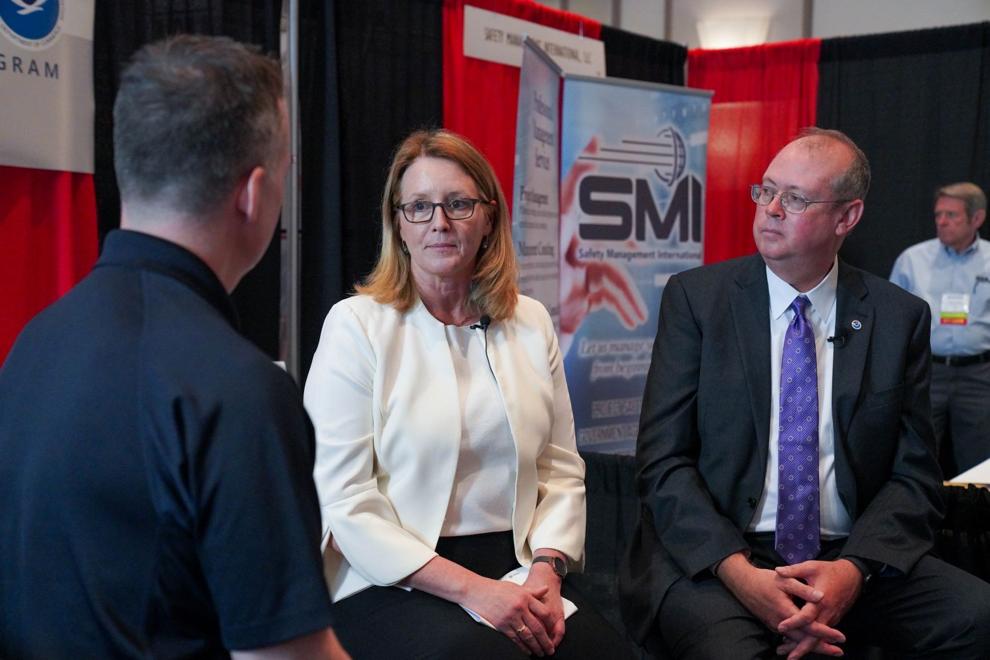 Federal Emergency Management Agency Administrator Deanne Criswell and National Hurricane Center Director Ken Graham with the National Oceanic Atmospheric Administration spent about an hour the morning of April 13 answering questions from the media during a National Hurricane Conference at the Rosen Centre Hotel in Orlando.
They confirmed that the 2022 hurricane season for the Atlantic basin was expected to be above average, as it has been for the past two years. Meteorologists at Colorado State University, well known for seasonal predictions and expertise on the subject, released their first extended range forecast for 2022 on April 7.
"We anticipate that the 2022 Atlantic basin hurricane season will have above-normal activity," wrote Professor Philip J. Klotzbach and research scientist Michael M. Bell.
Colorado State's predictions call for 19 named storms, nine hurricanes and four major hurricanes, category 3 or above, to form from the start of the season June 1 through the official end on Nov. 30.
The historical average is 14 named storms, seven hurricanes and three major hurricanes.
The 2021 season was the third most active on record with 21 named storms, seven hurricanes and seven major hurricanes. The 2020 season was most-active with 30 named storms, 14 hurricanes and seven major hurricanes. It broke the record previously set in 2005 with 28 named storms, 15 hurricanes and seven major hurricanes.
During the presentation, Criswell and Graham talked about the importance of preparedness and said predictions and records would make no difference to a community affected by a hurricane.
"All it takes is one to make it a bad year," Graham said.
He worries most about areas that have never been impacted by a hurricane and places that have not been affected by tropical weather in many years. He said it was important to realize that conditions could change at any time.
Criswell agreed. She worries about locations which are targeted every year, only to have the storm go someplace else. People begin to have the mindset that storm don't come to their area, she said.
"Disasters do not discriminate," she said. "Just because it hasn't hit doesn't mean it won't."
She pointed out that hurricanes were intensifying more rapidly while out in the Gulf, getting stronger and lasting longer. In addition, they weren't just having an effect on coastal communities.
Pinellas County's Emergency Management Director Cathie Perkins also worries about complacency.
"What keeps me up at night is knowing that we are the most densely populated county in a vulnerable area with many at-risk communities," Perkins said in an email to Tampa Bay Newspapers.
Intensification is another concern for those involved in disaster planning. Graham said recent storms had been the strongest ever with nine having winds of 150 mph or greater. He also said some of those storms had been tropical storms with winds of 39-73 mph only three days away from landfall, meaning there was little time to prepare.
"You can't make plans during the storm. You have to be ready to go," he said.
Criswell agreed. She said everyone needed to take hurricane season seriously. The first step is to understand the risks and plan accordingly. People need to evacuate, need to know where they will go and how they will communicate with family and friends. She reminded everyone not to forget their pets when planning to meet their own needs.
Information on how to prepare in Pinellas County is available at http://www.pinellascounty.org/resident/disasters.htm.
One of the biggest challenges emergency managers face is how to motivate people who think it won't happen to them and do nothing to prepare, Criswell said. She said the best public response comes immediately after a disaster. Fewer are likely to prepare as time goes by without an incident.
She said the media could help get people to prepare and pointed out that words mattered. She said during Hurricane Laura in 2020 it had been imperative to get people to evacuate due to forecasts of very dangerous storm surge. However, the public wasn't responding to messages from officials. Finally, a decision was made to use the word "un-survivable" and people began to move to safer locations.
She said FEMA not only used physical scientists to get its work done, it also employed social and behavioral scientists. Cultural specific messages also are used.
"It can't be one size fits all messaging," she said.
Graham added that diversity also was important. He said FEMA had to retool during the pandemic and now was using what it learned for hurricane season. He said using virtual resources allowed them to reach more people than ever before.
This year emergency managers are focusing on educating the public on the fact that indirect fatalities are as big of a problem as direct fatalities. He said more people died in 2017 from carbon dioxide poisoning than storm surge. He said people needed to be aware of the dangers of generators, the risk of things such as cardiac arrest and take a look at the most vulnerable.
"Preparedness is everything," he said.
Klotzbach and Bell agree that urging everyone should prepare the same for every season regardless of how much activity is predicted.
"Everyone should realize that it is impossible to precisely predict this season's hurricane activity in early April," they wrote. … "We issue these forecasts to satisfy the curiosity of the general public and to bring attention to the hurricane problem."
This is the 39th year that the CSU Tropical Meteorology Project has made forecasts, which were developed by the late Dr. William Gray, who was lead author on these predictions for over 20 years and continued as a co-author until his death in 2016.
Suzette Porter is TBN's Pinellas County editor. She can be reached at sporter@tbnweekly.com.
2022 Atlantic Storm Names
• Alex
• Bonnie
• Colin
• Danielle
• Earl
• Fiona
• Gaston
• Hermine
• Ian
• Julia
• Karl
• Lisa
• Martin
• Nicole
• Owen
• Paula
• Richard
• Shary
• Tobias
• Virginie
• Walter