CLEARWATER — Keep Pinellas Beautiful has four focus areas: litter prevention, waste reduction, conservation, and beautification and community greening.
An affiliate of Keep America Beautiful, the local organization's mission is "to conserve and beautify our natural environment by means of community engagement and education."
Director Pat DePlasco updated county commissioners on the work Keep Pinellas Beautiful is doing during the Oct. 8 meeting. Her passion for her job was evident as she talked about the difference the organization is making, thanks to its volunteers, the public and her "hardworking" five-person staff.
DePlasco provided statistics from 2018, but told commissioners that 2019 had already surpassed them.
One way the public gets involved in KPB's mission is through the litter hotline, 727-210-4663. In 2018, KPB responded to 246 hotline calls, resulting in the elimination of 35,695 pounds of illegally dumped items.
In addition, KPB's recycling programs prevented 9,496 pounds of solid waste from entering the waste stream. DePlasco told commissioners about a special recycling project that allows Bright Future students to collect aluminum cans. The proceeds are used for scholarships. KPB also has a textile recycling program, which helps underserved communities.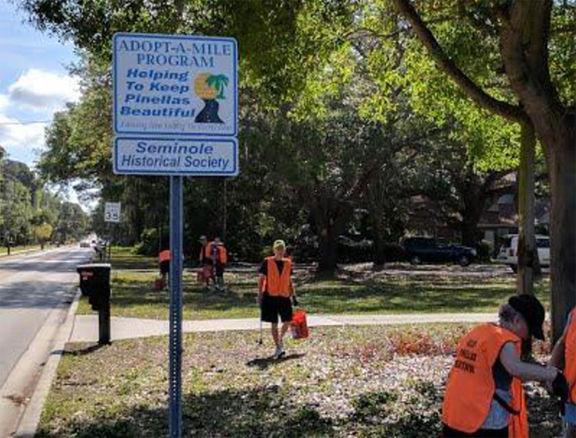 DePlasco bragged about KPB's adopt-a-mile program, describing it as "phenomenal" due to the dedication of those who are committed to cleaning up areas all over the county.
In 2018, the 4,774 volunteers that participated in adoption programs prevented 19,982 pounds of litter from entering the county's waterways. Volunteers have adopted almost 1,000 miles of roadways, trails and shorelines, which are cleaner because of the adoption program, she said.
Residents may be familiar with the two annual countywide cleanup events sponsored by KPB. The Great American Cleanup occurs the third Saturday in March and the International Coastal Cleanup takes place on the third Saturday in October.
In 2018, 10,124 volunteers participated in 229 clean-up projects and removed 502,259 pounds of litter from public lands and waterways, DePlasco said.
Education and outreach is another big part of the work done by KPB. Last year, it sponsored 459 educational presentations and reached 47,062 residents.
As part of KPB's beautification and community greening efforts, 3,940 children and adult volunteers planted 221 trees and 1,776 shrubs and flowers, as well as establishing five gardens. The volunteers also removed 99,936 pounds of invasive plants.
DePlasco said KPB also had started an urban fruit garden in the Tyrone area. She said all the trees have been adopted by people who are responsible for their care. She said the trees are thriving and the fruit is shared throughout the community.
Volunteers are extremely important to KPB. Last year, KPB had 18,873 volunteers and 1,141 community projects were done. All told, KPB received 57,681 hours of free labor thanks to those volunteers, which saved taxpayers nearly $1.3 million in labor for those community projects, DePlasco said.
The work of the local affiliate has received recognition from the national and state organizations. KPB has received the Excellence Award as the top affiliate in the United States three years in a row, which DePlasco said was a "very big accomplishment."
In addition, the local affiliate received a Keep Florida Beautiful Leading the Way award, as well as a national President's Circle Recognition Award.
DePlasco thanks commissioners for their support.
"I'm grateful for every penny Pinellas County gives us," she said, adding, "Every penny is put to good use."
For more information or to volunteer, visit https://www.kpbcares.org.
Suzette Porter is TBN's Pinellas County editor. She can be reached at sporter@tbnweekly.com.