CLEARWATER — On Aug. 5, dignitaries, veterans and scuba enthusiasts gathered to dedicate Circle of Heroes touted as a first-of-its kind diving site in the United States.
Ten-miles off the Pinellas County coast in 40-feet of water, the memorial at Veteran's Reef currently features 12 life-size concrete statutes of men and women representing all branches of the U.S. military — Air Force, Army, Coast Guard, Marines and Navy.
John David White, president of Brighter Future Florida, recently updated Pinellas County Commissioners about what has been happening since the August dedication.
Circle of Heroes created about $350 million in value from media exposure in the first 72 hours after the dedication, White said. It was featured on CNN Travel, ABC News, NBC News, CBS News, The Weather Channel, Apple News, Scuba Diving, Military Times, U.S. News and World Report, Associated Press and all the local media covered the event.
It made a big splash on social media, reaching more than 52,000 on the Tampa Bay Times' Facebook page. The Circle of Heroes' Facebook page has nearly 1,500 followers.
White said the memorial has the potential to make an impact on the county's tourism and economy. Scuba diving is the fourth fastest growing sport in America, he said. Local dive shops are already reporting more sold out dive trips, White said. New divers from all over the world are visiting Circle Heroes.
The memorial site also has a special purpose — providing therapy for disabled veterans.
Pinellas County provided $50,000 in seed money in 2017 to get phase 1 started. Bright Futures raised an additional $100,000 and used the money to buy out what White described as "off-the-shelf" statues. That supply is now exhausted, he said.
The goal is to add 12 more statutes to complete the 100-foot Circle of Heroes by the end of 2020. The estimated cost is $350,000. The remaining 12 statues will be custom-made and more expensive, White said.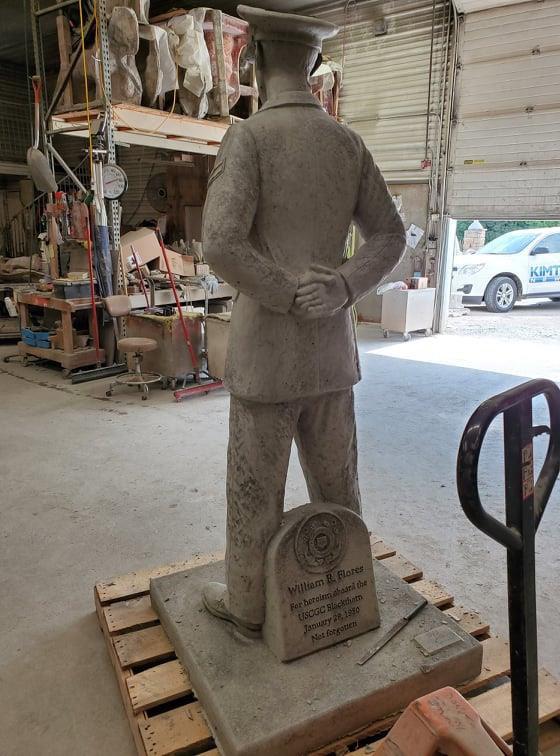 The 13th statue has already been made. It honors Seaman Apprentice William Ray "Billy" Flores, who sacrificed himself to save his shipmates after a collision between Coast Guard Cutter Blackhorn and the Capricorn, a 605-foot oil tanker, on Jan. 28, 1980 near the mouth of Tampa Bay.
According to a post by Lt. Connie Braesch made on Oct. 10, 2010 in the Coast Guard Compass, Flores was only 19-years-old and less than a year out of boot camp when he reported for duty on the ill-fated Blackthorn.
"As the boat became submerged, inexperience gave way to bravery as Flores and another crewmember stayed aboard to throw life jackets to some of his shipmates who had jumped into the water," Braesch wrote.
Flores used his belt to strap open the lifejacket locker door so more lifejackets could float to the surface.
Twenty-seven of Flores' shipmates survived and 22 others died. Flores was posthumously awarded the Coast Guard Medal, the service's highest award for heroism not involving combat, on Sept. 16, 2000.
White said plans called for adding the statue of Flores in January to commemorate the date of the tragedy.
White described his work on the memorial as a "labor of love" and thanked the commissioners for their support. He also talked about all the partnerships that made Circle of Heroes become a reality.
"Circle of Heroes is a true public-private partnership for the betterment of our community," he said. "Completing the circle will make history and can only be achieved by great teamwork."
Commissioners discussed potential funding sources to help raise the remaining $350,000, including money from Visit St. Pete/Clearwater, the county's tourism marketing agency. The issue is that Circle of Heroes doesn't fit into any existing funding category.
"Any tourism money would be appreciated," White said.
For more information or to donate, visit https://brighterfutureflorida.org/.
Suzette Porter is TBN's Pinellas County editor. She can be reached at sporter@tbnweekly.com.