The eight named storm of the 2019 Atlantic hurricane season is no longer expected to be a threat to Florida or any U.S. coastal area. National Hurricane Center says Tropical Storm Humberto will remain east of the United States.
Bermuda is the only landmass with any risk of impact within five days. At that time, Humberto is expected to be a Category 1 hurricane.
At 11 a.m. Sept. 14, NHC reported that Humberto was stationary and located 30 miles east north east of Great Abaco Island and 125 miles east of Freeport on Grand Bahama Island. Maximum sustained winds were 50 mph.
A tropical storm warning is in effect for northwestern Bahamas excluding Andros Island.
NHC said Humberto had been stationary for several hours, but it is expected to begin moving slowly to the northwest and north later today. A sharp turn to the northeast is expected on Monday.
On the current track, Humberto is expected to move away from the northwestern Bahamas later today or tonight and then move well offshore the east coast of Florida this weekend and early next week.
The latest intensity forecast shows Humberto strengthening into a hurricane by Sunday night.
Due to Humberto's new forecast path, weekend weather conditions around Pinellas are forecast to be much better. National Weather Service's forecast is calling for only a 20% chance of rain on Saturday and a 30% on Sunday, dropping to 20% by Monday. Breezy conditions are still expected on Saturday with a northeast wind of 14 mph and gusts as high as 23 mph. Heat index values as high as 99 are possible. The chance of tropical-storm-force winds in Tampa Bay and Pinellas is about 5%.
NHC says the system could bring tropical-storm-force winds and rain to portions of the Bahamas, some of which are already trying to recover from Hurricane Dorian, later. Significant storm surge is not expected.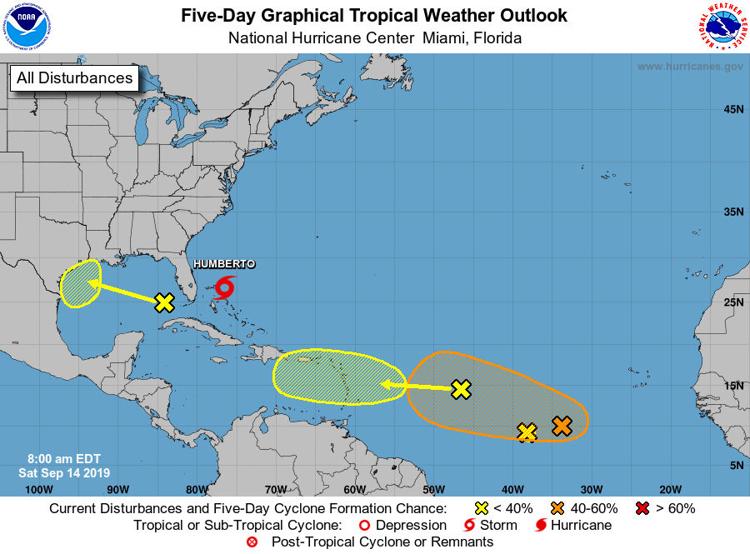 Other systems
NHC is also monitoring four other systems, including an elongated area of disturbed weather about 650 miles southwest of the Cabo Verde Islands. It has a 60% chance of developing within five days.
A large area of showers and thunderstorms over the eastern Gulf of Mexico has a 30 percent of development within five days. It is headed toward the Texas coast.
A fast-moving tropical wave is located about 950 miles east of the Lesser Antilles. It has a 10% chance of development within the next five days as it moves westward.
The fourth system is an area of disturbed weather located between Cabo Verde Islands and the Lesser Antilles. Forecasters say it has merged with the eastern-most tropical wave odds are now 0% it will develop into a tropical cyclone within five days as it moves westward over the tropical Atlantic.
Busiest part of the season
This is the busiest time of the Atlantic hurricane season. Forecasters with the National Oceanic and Atmospheric Administration predict an above-normal season for the Atlantic basin. Forecasters predict that 10-17 named storms will form this season. Humberto brings the count of hurricanes to eight.
Of those named storms with winds of 39 mph or greater, forecasters say five-nine are likely to strengthen into a hurricane with winds of 74 mph or greater and two-four could become major hurricanes with winds of 111 mph or greater.
Hurricane Dorian was the second hurricane of the season and the first major hurricane.
An average Atlantic hurricane season has 12 named storms with six hurricanes and three major hurricanes.
Hurricane season continues through Nov. 30.
For more information on hurricane preparedness, visit www.pinellascounty.org/resident/disasters.htm.
Suzette Porter is TBN's Pinellas County editor. She can be reached at sporter@tbnweekly.com.