Although former Pinellas County commissioner and state representative John Morroni no longer walks among us, his memory lives on — thanks to his legacy foundation.
The two-time cancer survivor died May 20, 2018.
One of the things he was most proud of was his annual appreciation dinner that began in 1995 to recognize the county's law enforcement community. In later years, he expanded it to include firefighters and emergency medical services personnel.
The dinner was started in memory of Belleair Police Officer Jeffery Tackett. The 28-year-old died from a gunshot wound on June 13, 1993, when he responded to a call alone and was shot with his own weapon.
Morroni, who was a state representative in 1995, co-sponsored the Tackett bill with Sen. Dennis Jones, R-Treasure Island. The state legislation requires two officers to be on duty at all times, unless mutual aid agreements with other law enforcement agencies are in place, so that law enforcement officers do not respond to calls alone.
This year's John Morroni Law Enforcement and First Responder Appreciation Dinner will be Saturday, Feb. 15, at the Hilton Carillon Park Hotel, 950 Lake Carillon Drive in St. Petersburg. The reception begins at 6 p.m. with dinner at 7.
The 25th annual event will continue the tradition of honoring local heroes and Morroni's legacy of support for law enforcement and first responders through donations.
Information on tickets and sponsorships is available at www.morronifoundation.org. Platinum sponsorship is $10,000; gold, $7,500; silver, $5,000; bronze, $2,500; and benefactor, $1,500. A single ticket costs $150.
For more information on a sponsorship or the dinner, call Jack Hebert at 727-560-3323 or email jhebert@morronifoundation.org, or call Doyle Walsh at 727-464-3365 or email dwalsh@Pinellascounty.org.
In addition, the Hilton has reserved a block of rooms at a special rate of $149 for event guests. To reserve a room, call the Hilton at 727-540-0050 and mention the dinner.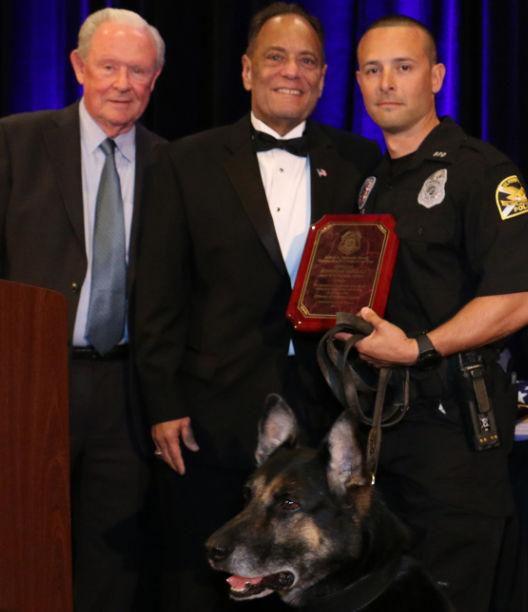 The last appreciation dinner attended by Morroni was the 23rd annual on Feb. 21, 2018.
"Even though it has been 25 years since the tragic death of Officer Tackett, through this dinner in his honor he continues to save lives," Morroni said at the time.
In his final remarks at the event, he said "I thank you for allowing me to be your state representative for eight years and your county commissioner for the last 18 years. I hope I have made you proud."
Morroni had announced he would be leaving office in November before he knew his cancer had returned.
John Morroni Legacy Foundation
Morroni's friends and family established the John Morroni Legacy Foundation in 2019. Its president is Eileen Morroni, who was married to John for 36 years. Pinellas County Commissioner Ken Welch serves as vice president and Mike Morroni, John and Eileen's son, is secretary.
Brian Lowack, who worked for five years as Commissioner Morroni's executive aid and helped plan the appreciation dinners, is treasurer. Commissioner Janet Long and Sheriff Bob Gualtieri are co-chairs of the annual appreciation dinner. Jack Hebert, a 40-year friend of the Morroni family, is executive director.
The purpose of the foundation is to memorialize and continue Morroni's good deeds, according to information about www.morronifoundation.org.
"For 24 years prior to his untimely death, among his many unselfish endeavors our fearless two-time cancer survivor championed an annual charity event honoring law enforcement, firefighters and first responders — even including their K-9 partners — who displayed extraordinary courage and conduct in the line of their duties," says the foundation's mission statement.
Over the years, more than $1 million has been donated through sponsorships and ticket purchases to keep the event going with proceeds also providing charitable gifts for community organizations.
The legacy foundation intends to keep the tradition going.
Founding memberships are available for $100 a year and include a priority invitation and seating at the annual dinner, as well as a complimentary invitation to the private VIP reception. Founding members also receive a special thanks listing in the program and on the website, and members-only updates and communications about activities.
Donations for founding memberships can be made at morronifoundation.org/founding-member, or call 727-560-3323.
Suzette Porter is TBN's Pinellas County editor. She can be reached at sporter@tbnweekly.com.