ST. PETERSBURG — Motorists traveling on Interstate 275 shouldn't be surprised if they see Pinellas Suncoast Transit buses traveling on the shoulders starting on June 6.
PSTA and Florida Department of Transportation launched the state's first bus-on-shoulder program to help buses get to their destinations on time regardless of traffic.
In advance of implementing the new program, FDOT widened and hardened northbound and southbound shoulders along the I-275 route.
"This is the first interstate highway bus on shoulder project in Florida and an outstanding collaboration with PSTA to improve the travel time and reliability of taking transit from St. Pete to Tampa," FDOT District Seven Secretary David Gwynn said in a press release.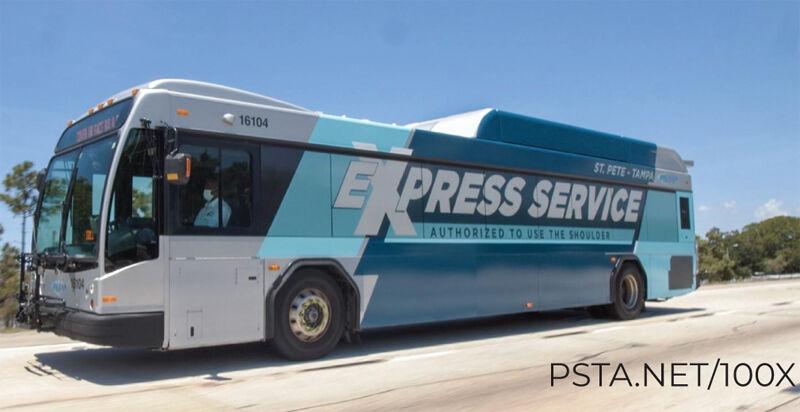 Specially wrapped PSTA buses are allowed to drive on the shoulders of I-275 from Fifth Avenue North to Gandy Boulevard in St. Petersburg when traffic speeds drop below 35 mph.
Buses using the shoulder will travel at a maximum speed of 35 mph and will never travel at a speed higher than 15 mph over general traffic.
"This enhancement will help riders safely arrive at their destinations on time, even during heavy traffic," said PSTA CEO Brad Miller. "Bottom line, this will improve the reliability of travel times for PSTA riders on I-275, especially those on Route 100X and this will make transit more appealing."
Route 100X runs from St. Petersburg to Tampa.
Vehicles entering I-275 via on-ramps will need to yield to the bus if it is riding on the shoulder. Bus-on-shoulder signals have been installed at the 38th Avenue and 54th Avenue interchange on-ramps in the northbound and southbound directions.
The signals are similar to traditional signals at an intersection; however, those for bus-on-shoulder have a red light only. When a bus is approaching on the shoulder, the signal will turn red, stopping oncoming ramp traffic for a few seconds. Once the bus safely passes the on ramp, the signal will go dark (turn off) and traffic can proceed as normal.
Private vehicles, including over-the-road-coaches and school buses, are not permitted to drive on any shoulder. However, the shoulders remain available for emergency use during and outside of bus-on-shoulder operations.
If shoulders are in use due to a crash or vehicle breakdown, the bus will merge back onto I-275.
Shoulder sweeping will increase from monthly to once a week. Debris and cleaning will be done by Road Rangers.
Bus-on-shoulder is already in use in cities such as Chicago, Minneapolis and Raleigh.
"PSTA continues to work in innovative ways to make sure our riders get to their destinations on time," said Pat Gerard, chair of PSTA Board of Directors. "No one likes to sit in traffic, especially on I-275, so this is a great way to entice new passengers to take the bus."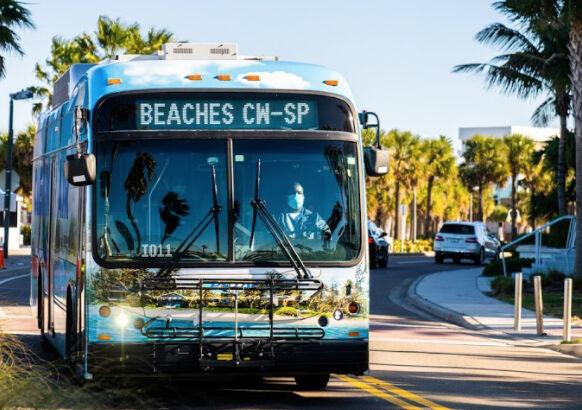 PSTA resumes pre-COVID bus service
Pre-COVID bus service resumes June 6 and buses will again be operating on routes past 10 p.m.
"PSTA has taken extraordinary efforts to keep both riders and employees safe, and we are so pleased that the community's collective efforts have enabled conditions to improve so that we can resume normal bus service to better serve everyone," Brad Miller, PSTA's CEO said in a press release..
As of June 6, passenger limits on buses will be lifted. Passengers will also resume boarding through the front door and exiting through the back door. Masks will still be required for every passenger, regardless of vaccination status, in accordance with Transportation Security Administration guidelines and federal law.
PSTA will also resume collecting fares starting July 5. To make payment of fares easier and safer, PSTA is launching a new contact-free pay option called Flamingo Fares to limit interaction.
With Flamingo Fares, passengers can purchase a card or use the Flamingo app that will work on PSTA buses as well as Hillsborough Area Regional Transit Authority and Pasco County Public Transportation vehicles instead of purchasing different passes for each system.
"This will remove the need for cash payments and improve the rider experience," Miller added.
Flamingo cards will be available at terminals that currently sell PSTA passes. Customers can also download a Flamingo Fares app via iPhone or android devices. Those who register their Flamingo card or register on the app, will be able to ride free from July 5 through Sept.1. After, passengers must load their account with money to pay for fares.
PSTA's Essential Workers Program, a paid program utilizing Uber and United Taxi to transport passengers from the bus stop to work or to home, also is ending. The program was used during the pandemic when PSTA services were limited.
Between March–September 2020, PSTA provided more than 1,400 trips through the program to ensure employees could get to essential jobs in manufacturing, food service, healthcare and the service industry.
To see full list of bus schedules, visit psta.net.