The Florida Legislature gathers in Tallahassee this month for its annual 60-day session, with lawmakers technically having just one constitutional duty — to pass a balanced budget for fiscal year 2020-2021.
The budget numbers, of course, seriously drive policy. How much will the state spend on affordable housing? How much of the nearly $1 billion voters demanded for land acquisition and protection will actually go to that purpose? Will teachers and/or state employees get raises?
Budget wrangling typically goes down to the final days of session, with the appropriations bill — a compromise between House and Senate budget writers — usually the last piece of legislation passed.
But the session is also the period where lawmakers, lobbyists and activists tear into the state statute books, filing bills looking to do everything from banning the declawing of cats to naming the state's official candy (a bill advocates for coconut patties, "including both chocolate-dipped and nonchocolate varieties").
As Florida's 120 representatives and 40 senators, including the seven representatives and three senators that make up the Pinellas legislative delegation, prepare for the Jan. 14 gavel, here are some issues to pay attention to.
The state budget
Traditionally, the governor rolls out his budget prior to the session to serve as a blueprint and to let lawmakers know where his priorities lie. Gov. Ron DeSantis released a $91.4 billion budget in November.
"The budget includes key investments in our K-12 education system, our environment and the well-being of our residents, while recommending over $480 million in savings and over $300 million in tax relief," DeSantis said in his budget message. "Although there is still more we can do to improve our state, which we hope to accomplish through this budget, Florida's future has never been bolder, brighter or better than it is today."
A couple of things stand out: DeSantis included more than $600 million to raise the starting salary for teachers to $47,500, an issue sure to be debated between advocates for the beleaguered profession and fiscal conservatives who think that tab might be a bit too steep.
"I think both chambers are very willing to have a conversation about teacher raises," said state Sen. Jeff Brandes, a Republican from St. Petersburg whose district covers the southern half of Pinellas County and the beaches. "I'm not sure what form that might take, but there is a consensus that teacher salaries are a key issue we want to take on this year and try to address."
Meanwhile, the state earmarks a certain percentage of the documentary stamp tax on real estate transactions to affordable housing. But lawmakers have notoriously raided this fund for other purposes, known as a "sweep." DeSantis wants the full $387 million expected to be collected for this purpose to stay on point; he said despite a strong economy, "finding affordable housing can still be a challenge."
Nonetheless, budget writers in the Republican-controlled House and Senate have traditionally shunned the issue.
Florida had a long history of land acquisition and protection under its Preservation 2000 program and its successor, Florida Forever. But Tallahassee has soured on the issue, prompting voters to pass a constitutional amendment designed to force the state to fund land acquisition. The 2014 initiative passed with 75 percent of the vote. Again, lawmakers have largely ignored the mandate.
Environmentalists are watching closely. At current budget levels, the constitutional amendment would provide $900 million for land acquisition this year; lawmakers are considering a bill this year to provide $100 million.
Visit Florida
Tourism is the state's largest industry, and it's also the economic bell cow in Pinellas County. Imagine the horror around these parts when House Speaker Jose Oliva, a Republican from Miami, circulated an op-ed column in state newspapers declaring Visit Florida, the state's tourism marketing agency, a waste of state money.
By statute, the tourism agency is scheduled to expire next year unless the Legislature acts to extend it.
In a response to Oliva published in the Beacon-Leader-Bee newspapers, the Tampa Bay Beaches Chamber of Commerce stressed that the state sees a $2.15 return for every $1 it spends promoting tourism. The group noted that Colorado legislators cut tourism marketing, concluding that people would come for world-class skiing no matter what; but the move backfired, and it took that state 10 years to recover the level of tourism it had before funding was cut.
Sen. Ed Hooper, a Republican from Clearwater, has filed legislation to extend Visit Florida to 2028.
"I would tell you all, you need not worry about Visit Florida," state Rep. Chris Latvala, another Republican from Clearwater, said at a recent Chamber of Commerce breakfast at the Clearwater Hilton. "Jose Oliva and Chris Sprowls (a Palm Harbor Republican slated to be the next House speaker) are very close, they work closely together, and I would remind you the incoming speaker is a Pinellas County guy and he understands Pinellas County issues."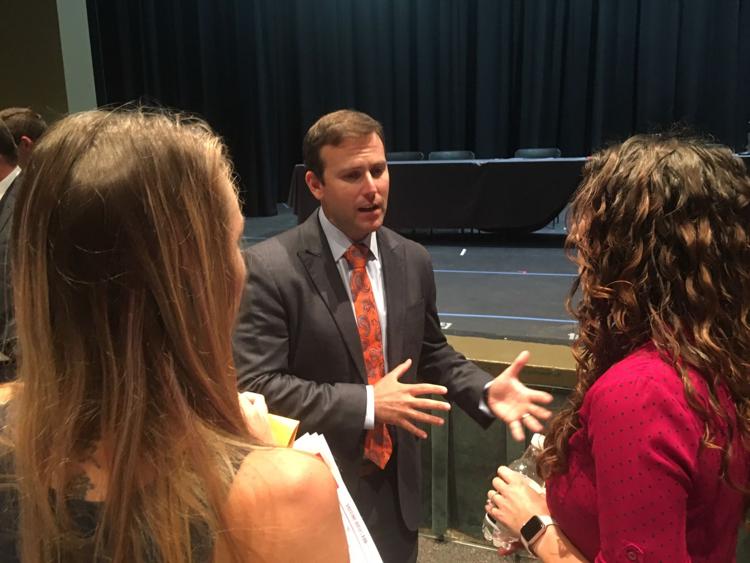 Power shift
On that issue of the incoming speaker: A quirk of the Legislature is that the chambers choose their leadership far in advance, and Sprowls is slated to ascend to speaker of the Florida House in 2021. It's one of state government's most powerful positions, and Tallahassee insiders say that with lobbyists, activists, legislators, and fundraisers jockeying to curry favor and set the future agenda, the run-up to the swearing-in can yield even more clout than the individual's actual tenure in the top spot.
It will be the first time a Pinellas lawmaker has wielded the gavel in the House since Peter Rudy Wallace in 1996. Meanwhile, Wilton Simpson, a Republican from Trilby in Pasco County, will run the state Senate alongside Sprowls in 2021.
Bringing home the bacon is something that lawmakers are loathe to acknowledge on the surface. But just consider on the federal level how many local buildings, roads and projects bear the name of U.S. Rep. C.W. "Bill" Young of Indian Shores — the powerful longtime chairman of the U.S. House Committee on Appropriations.
"It translates into an enhanced focus on the region. It's no secret that having the speaker and the Senate president from your backyard generally helps the region," Brandes said. "We would expect that to play out in a variety of ways, both in policy and in the budget. Because they understand the priorities in their region, and this is their one opportunity to make those outsized investments."
Jordan's Law
Latvala crafted a bill seeking to increase training for first responders and otherwise boost support for the child welfare system after Jordan Belliveau, a 2-year-old from Largo, was found dead in the woods at a sports complex in his neighborhood. His mother is accused of striking him in the head and leaving him for dead. She is awaiting trial for murder.
Law enforcement and others were unaware of the child's dangerous situation.
The bill passed the House unanimously last year, but died in the Senate in the waning moments of the session. It would reduce caseloads, streamline communication and increase training.
"The No. 1 big part of it is currently, law enforcement has no way of being notified if a parent is under a child-protective investigation," Latvala said. "So, if you have a domestic violence call … or any other kind of law enforcement call, the (officer) has an interaction with that parent, he doesn't know if there's a current child-protective investigation ongoing. And in Jordan's case, both of his parents had child-protective investigations a few weeks before.
"There have been similar cases where things like that have happened, where law enforcement has had that kind of interaction with parents right before a child has died. And law enforcement did not know the parents were being investigated. That's no fault of law enforcement, that's just the way the law is currently written."
Latvala said the bill has already started moving in so-called "committee weeks" in Tallahassee held prior to the formal session. "I'm very positive that it will pass both the House and Senate this year," he said.
Parental consent for abortion
Florida law requires parents or guardians to be notified before minors can obtain an abortion. A bill is moving through committees that would require not just notification, but parental consent.
What is likely to be the session's most controversial issue is being fast-tracked in the House, having breezed through a single committee stop. The lower chamber passed similar legislation last year, but it stalled in the Senate.
Florida had a parental consent law decades ago, but it was overturned by the state Supreme Court for violating the constitutional right to privacy. Proponents believe the current court, which is more conservative, could revisit the issue.
Gambling
This thorny issue typically revolves around an agreement, or "compact," between the state and the Seminole Tribe of Florida, which offers casino gambling on its sovereign reservations. It worked for a while. The state let the Seminoles offer more and varied games in their seven casinos, including "banked" card games such as blackjack, exclusively. The state took a cut of the proceeds, while horse and dog tracks were relegated to offering player games such as poker.
The two sides reached a tentative compact agreement early this year, but new governor DeSantis declined to sign it, saying the issue needed more study.
The Seminole Tribe subsequently pulled the state's $350-million-a-year slice of the pie.
Hooper, the Clearwater Republican, wants a deal.
"Last I looked, the Seminoles were building pretty nice hotel expansions in Fort Lauderdale and Tampa," he said. The state has "acquiesced that the Indian nation is going to be our casino operator, and for that exclusivity, they ought to pay a price," he said.
"They would love to have craps and roulette added to their menu, which could take the state's take annually to $750 million a year. And pretty soon you're talking about big money, real money. We just happen to have a $91 billion budget we have to sort out, and having $750 million of free money that we don't have to do anything about never hurts."
USF consolidation
Last year, the Legislature passed a bill merging the University of South Florida's Tampa, St. Petersburg and Sarasota campuses into a single accreditation unit. Early this year, an outline of the new organizational structure produced by USF President Steven Currall sparked local outrage. It stripped the St. Petersburg and Sarasota campuses of significant authority over academics and budgeting.
In September, revered USF-St. Pete professor Ray Arsenault asked the Pinellas delegation to "save us" from the heavy-handed Tampa plan. It's a USF issue — but the Legislature doles out higher education money. Brandes said the university is coming around on the local concerns.
"USF has made incredible strides over the last three months to make sure the Legislature is comfortable with their plan," he said. "They've made some significant proposals. The Legislature controls the purse strings of the university, so that's a tool that's always available."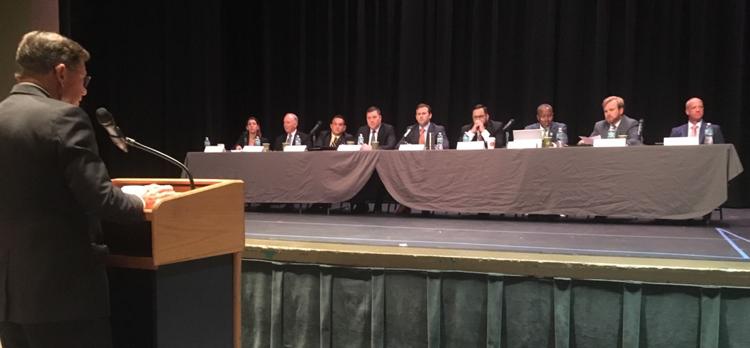 Local flavor
Most of the Legislature's work isn't of the headline-grabbing variety. Among the big-ticket items are dozens of bills and appropriation requests affecting local life.
Members of the Pinellas delegation have sponsored bills targeting Largo's Keene Park sanitary sewer improvements; dredging of the Anclote River turning basin in Tarpon Springs; beach groin replacement in Madeira Beach; Orchid Lake improvements in Pinellas Park; and additional sewer projects in St. Pete Beach and Gulfport.
The delegation is behind a bill being pushed in the Senate by Hooper and in the House by Latvala and Rep. Jennifer Webb, D-Gulfport, stiffening safety measures for residential swimming pools.
Hooper said drowning in home pools is the No. 1 cause of death for children 4 and younger.
"As a former firefighter who has pulled kids out of pools … that's unacceptable," he said. "For a second year, I have a swimming pool safety bill filed. (It) didn't quite get across the finish line last year; we'll try it again."
Responding to constituents' complaints, Hooper is also targeting homeowners' association rules that prohibit parking law enforcement vehicles in residential driveways. Those rules aggravate cops who take their work vehicles to and from the job.
"Those aren't real glamorous, but sometimes those are the hardest bills to pass, the common-sense, who-can-be-against-this," he said. "Folks, there's people up there that get hired to be against motherhood. Never underestimate the power of the lobby corps in opposing what can be good, common-sense legislation."