LARGO — A 35-year-old Seminole man with Down syndrome died May 9 after spending several hours in the back of a van that Pinellas County Sheriff's detectives described as "sweltering."
At a press conference the afternoon of Sept. 20, Pinellas County Sheriff Bob Gualtieri talked about the circumstances leading to the death of John M. LaPointe, who had lived at Crossroads of Pinellas group home, 12986 96th Ave. N. in Seminole.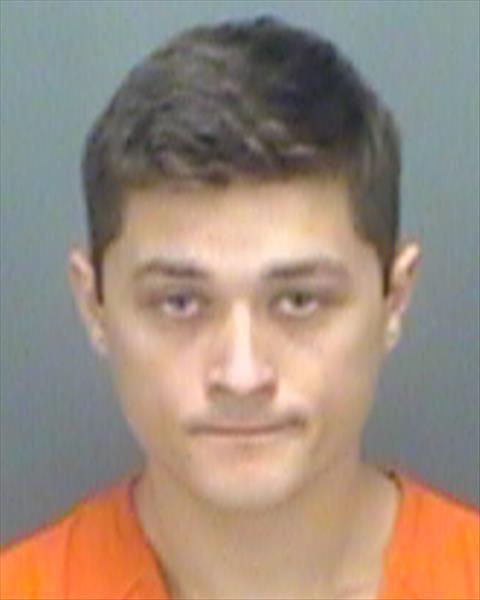 Detectives arrested an employee of the group home, Joshua D. Russell, 26, of St. Petersburg about 9:50 a.m. Sept. 20 and charged him with aggravated manslaughter of a disabled adult. Bail was set at $50,000. Russell was released on surety bond Sept. 21.
Deputies responded to a call about an unresponsive male in a vehicle at 5:35 p.m. May 9 near 82nd Avenue North and Oakhurst Road in Seminole. When they arrived, paramedics were there and had already pronounced LaPointe dead.
LaPointe was non-verbal, had the cognitive ability of a 1-year-old, and was unable to care for himself.
Gualtieri said Russell had driven LaPointe to a doctor's appointment in the group home's 2006 Toyota Sienna minivan at about 1 p.m. May 9. After leaving the doctor's office about 1:40 p.m., Russell decided to stop by his house on Bermuda Drive in Seminole.
Russell left LaPointe seat-belted in the back of the van while he went inside the home where he "parachuted" two large packages of kratom. Gualtieri explained that parachuting involved taking the powdered form of the substance, wrapping it in toilet paper and then swallowing it.
Russell went back to the van and began driving to the group home when he started to feel tired and nauseous. Russell returned to his home and parked the van in the driveway
Gualtieri said Russell told detectives the van had "poor air conditioning, and if he left it running it would overheat, so he turned the vehicle off."
Russell then pushed back his seat into a reclining position to take a nap while LaPointe was still seat-belted in the back seat.
About two to three hours later, Russell awoke in the hot van covered in sweat. Russell noticed LaPointe was slumped over and unresponsive.
Detectives say Russell unsuccessfully tried performing CPR on LaPointe. He then went back into his home and got a gun, with the intention of killing himself.
Russell told detectives he called his mother who also worked at Crossroads of Pinellas, and told her what happened and said he was going to kill himself. Gualtieri said his mother talked him out of committing suicide and told him to come meet her.
Russell then began driving to meet his mother with LaPointe still in the back of the vehicle. Detectives say Russell's mother convinced him to pull over and stop the van near 82nd Avenue North and Oakhurst Road. When Russell's mother got there, she called 911.
Deputies that responded to the scene that afternoon found out Russell had left the area on foot and that he had a gun. When they located Russell, he reportedly told them he was going to kill himself "because of what he had done," Gualtieri said.
Russell was arrested for carrying a concealed weapon.
Gualtieri said during the investigation, detectives simulated conditions inside the van at the time of LaPointe's death and estimated the temperature inside the van at 125 degrees Fahrenheit.
The Pinellas-Pasco Medical Examiner's Office determined that LaPointe's cause of death was hyperthermia, which is the condition of having a body temperature greatly above normal.
Dangers of substance abuse
During the press conference, Gualtieri took the opportunity to remind people about the dangers of irresponsible use of legal substances that have mind-altering effects.
Kratom is not a controlled substance. It is a plant material that comes from the Far East that is readily available in stores and online. Past efforts to make it illegal have failed, the sheriff said.
People use it to "feel good," and it reportedly relieves pain, he said. But it also makes people drowsy and has other side effects.
Russell told detectives that he had been falling asleep a lot because he was "coming off kratom" and that withdrawal symptoms caused him to become very sleepy.
"In this day and age, there's a whole bunch of people using a whole bunch of stuff including CBD now and other products," Gualtieri said, adding that other substances will likely become legal in the future.
Gualtieri said just because these substances are legal "doesn't negate the obligation to use them in a responsible way."
"It's one of the concerns I have," he said. "Alcohol had been legal a long time — forever — and people don't use that responsibly and now there's all that other stuff out there."
He said LaPointe's death should be taken as a lesson, especially to people who are caregivers and responsible for somebody else.
"I'm sure he (LaPointe) had to suffer," Gualtieri said, adding that the second cause of his death had been listed as asphyxiation. "It's terrible."
Gualtieri is worried about continued irresponsible use of legal substances and the potential consequences.
"The more stuff you have, the more prevalent it is, the bigger the opportunity for consequences like this," he said. "A license to use is not a license to do stupid stuff like this or a license to act in an irresponsible way to people, especially people you have a caregiver relationship over."
Suzette Porter is TBN's Pinellas County editor. She can be reached at sporter@tbnweekly.com.