Demolition of Hurley Building makes way for CCC's building project
CLEARWATER — Clearwater Central Catholic High School marked the end of an era Dec. 12 with a farewell ceremony for the Hurley Building, the first building constructed on campus in 1962.
Demolition of the Hurley building will make way for the final phase of CCC's $15 million building project.
In April 2018, CCC launched a $15 million capital campaign to replace three original buildings with new structures totaling 53,000 square feet increasing the number of classrooms, strengthening campus security and facilitating independent study as well collaborative learning.
These new structures include an athletic field house completed in October 2018; a learning and achievement building, the first wing of which was completed last April; a leadership center housing offices, meeting rooms and work spaces for the school's administrative, academic, student and alumni leadership; and a chapel which will provide our students and community with space for small group prayer services and individual reflection.
Within the learning and achievement building is the Joe and Jo Ann White Center for Entrepreneurship and Innovation, a gift from Tampa Bay area philanthropists and parents of CCC alumni, Joe and Jo Ann White. The CEI serves as an incubator for ideas with an emphasis on entrepreneurship and innovation to help aim all educational efforts to higher levels of learning.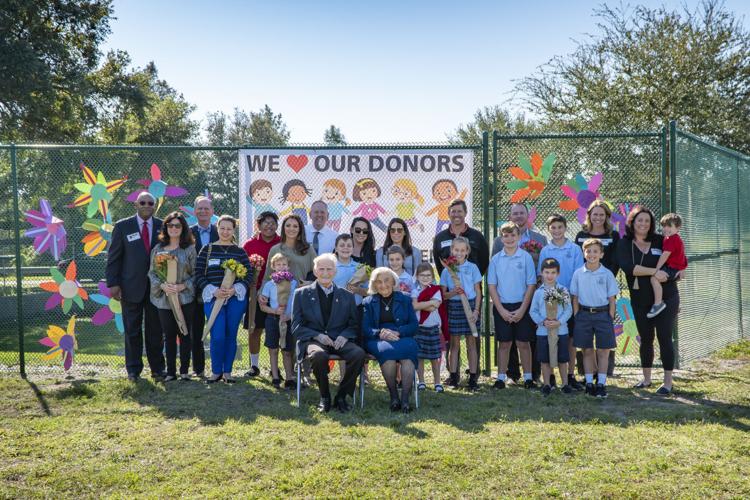 St. Cecelia Catholic School holds dedication for new fence
CLEARWATER — St. Cecelia Catholic School, 1350 Court St. in Clearwater, held a fence dedication and blessing on Nov. 19.
The new security fence that encompasses the back portion of the campus was made possible by donations from Herb and Diane Brown of Clearwater and other families.
St. Cecelia School has consistently updated and upgraded its campus in terms of safety, employing a full time safety director for more than 20 years and monitoring the campus with security cameras.
Five Pinellas County Schools swimmers and divers win state titles
Five Pinellas County Schools swimmers and divers recently won state titles at the Florida High School Athletic Association state championships. The winners include the following.
• Summer Cardwell, Countryside High School, 3A state titles in the 100 and 200 freestyle.
• Alexa (Lexi) Atherholt, Dunedin High School, 2A state title in diving.
• Carina Lumia, Osceola High School, 3A state title, 1-meter diving.
• Lukas Cote, St. Petersburgh High School, 3A state titles in the 100 and 200 freestyle.
• Andrew Billitto, Seminole High School, 3A state title in the 100 butterfly.
Largo High football player selected to play in nationally televised football game
Jayion McCluster, a Largo High School senior, was selected as one of more than 100 players to compete in the 13th annual Under Armour All-America Game.
The football game is a nationally televised competition spotlighting the America's top high school seniors. The 2020 Under Armour All-America Game is slated for Thursday, Jan. 2 at Camping World Stadium in Orlando. The game will be televised live at 6 p.m. on ESPN2.
Under Armour presented McCluster with an honorary game jersey Tuesday as part of the 2020 Under Armour All-America High School Football Game Selection Tour. An inside linebacker, McCluster has committed to play at Florida State University after graduation.
Pinellas Teachers win top state awards for keeping kids healthy and active
Pinellas County Schools received multiple recognitions at the SHAPE Florida — Society of Health and Physical Educators — Convention in Orlando.
Debbie Porter of Palm Harbor Middle was named Health Teacher of the Year and Brennen Dayton of Bay Point Middle was named Middle School Physical Education Teacher of the Year.
In addition, Ashley Grimes, PreK-12 physical and health education, received the Don Knitt Service Award.
Two other programs were recognized: Maximo Elementary, Emmerson Clarke; and Brooker Creek Elementary, Lynn Morton and Lisa Watt.
Ozona Elementary students learn to be journalists
St. Leo University students are teaching Ozona Elementary's Aspiring Writers how to be journalists.
Professors, editors and college students will visit the school every Tuesday and Thursday this month for a one-on-one writing class. Ozona students will write articles in small groups that will be published in St. Leo's school newspaper called The Lion. St. Leo students will write an in-depth article about their experience with the elementary students.
 Pinellas County Schools parent survey underway
Pinellas County Schools annual parent survey provides the district feedback and helps to improve schools, identify what is working well and support the accreditation process. Parents can complete the survey by visiting www.pcsb.org/parentsurvey. The survey closes on Jan. 24.
SPC to host 140th commencement ceremonies
LARGO — St. Petersburg College will hold its 140th commencement ceremonies at 9 a.m., noon and 3 p.m. Saturday, Dec. 14, at Indian Rocks Baptist Church, 12685 Ulmerton Road in Largo.
Guest speakers include State Rep. Chris Latvala at 9 a.m., County Commissioner Kathleen Peters at noon and State Senator Darryl Rouson at 3 p.m.
The youngest graduate taking part in the ceremonies is age 17 and the oldest is 71. Fifteen are over the age of 60.
SPC will award 868 associate of arts degrees, 396 associate in science degrees, 263 bachelor of applied science degrees, 245 bachelor of science degrees and 228 certificates.
Retired educators meet second Tuesdays
CLEARWATER — The North Pinellas County Retired Educators Association will meet Tuesday, Dec. 10, at the Clearwater Country Club, 525 N. Betty Lane, Clearwater. Meetings begin at 11 a.m. and include socializing, program and lunch.
All retired educators, administrators, support staff, bus drivers, cafeteria workers, maintenance workers and friends of education, pre-K through college are welcome to attend. Holiday and winter music will be performed by Blair Kooi, president of the Board of Trustees of the Dunedin History Museum. For more information, email npcrea@gmail.com.
Record number of seventh graders takes SAT
LARGO — A record number, 938, of Pinellas County Schools seventh graders spent Dec. 7 taking the SAT tests, which is a rigorous college entry exam usually reserved for older students.
However, these students, who are too young to drive, six years away from entering college and may not even be teenagers yet, are academically talented enough to tackle the challenging college entrance exam typically taken by 11th and 12 graders.
The Pinellas County Schools Talent Identification Program identifies the top 15% of seventh grade students at each school based on 2019 Florida Standards Assessments for English Language Arts and Math.
Students were tested in reading, writing, language and math. The essay portion is optional. The test was three hours and 50 minutes long with the essay. The scores will help identify strengths and weaknesses and customize a study guide to help students with college prep academic plans.
The PCS TIP Program was one of School Superintendent Michael Grego's first initiatives when he joined the Pinellas County School District as superintendent in 2012-2013.
The SAT (Scholastic Aptitude Test) was taken by 2.22 million high school graduates in 2019.