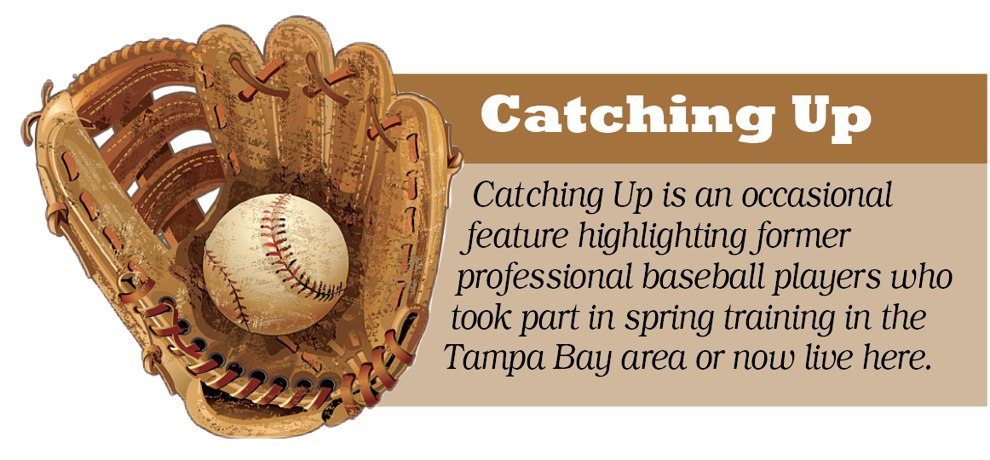 When Tom Kotchman made his pro debut with a Cincinnati Reds Class A minor league team in 1977, little did he know that this would be the start of baseball career that would span over four decades — and is still going strong.
Kotchman, a lifelong resident of Seminole, is a Baseball Lifer beyond reproach. His pro playing career lasted only two years, but his career as a minor league manager, coach and scout has not ended. 
After attending Seminole High School and then playing for Chipola Junior College and later Georgia Southern University, Kotchman was signed by the Reds in 1977. In two years in their Single-A system, Kotchman put up modest statistics but by midseason that second year the writing was on the wall, accentuated by an errant pitch.
"The decision (to retire as a player) was sort of made for me," recalled Kotchman. "We were playing a game and there were shadows (over home plate). David Palmer was pitching, and it was the fifth inning. He threw me two sliders for strikes and then he threw one up and in."
Kotchman was hit above the left eye and went down. He ended up needing cosmetic surgery and by the time he got back to the team he was relegated to part-time duty. Instead of brooding about it, Kotchman took advantage of what he could.
"Mike Compton was the manager and when I was on the bench I would ask him a lot of questions," said Kotchman. "I coached first base. I made the most out of the situation."
Kotchman, a third baseman, also calculated his chances of getting to the majors with Cincinnati. "Pete Rose was playing third base for the Reds and Ray Knight was behind him at Triple-A. But it all worked out for the better."
Kotchman wasn't out of work for long. In 1979, he got his first managing job — at age 24 — when he was picked to pilot the Auburn Redstars in the Class-A New York-Penn League. The next year he was hired by the Detroit Tigers organization where he managed for two years, then it was on to the Red Sox for two years. 
"For some (going from playing to managing) the transition could be a hard, but it wasn't for me because I learned a lot from the coaches I played for," Kotchman said.
Many players Kotchman managed would eventually make it to the majors, but one that stood out right away was the Red Sox's first round pick (19th overall) in 1983. The right-handed pitcher who joined Kotchman's Winter Haven team straight out of college was Roger Clemens.
"He came right from the college world series to us," Kotchman recalled. "He was unbelievable. In the first few games he struck out 36 and didn't walk anybody. I couldn't imagine who could have been drafted before him."
Clemens, who would go on to win 354 games, strike out over 4,500 batters, and win seven Cy Young awards, had Kotchman in awe of the pitcher's "total package."
"The way he acted, just a ballplayer and all business," said Kotchman, who turns 68 this August. "No fancy car, no gold chains. And he was in such great shape. He had the strongest legs I ever saw. He ran our other pitchers into the ground."
Years later, Clemens' career was tarnished by steroid allegations, but in 1983 there was none of that. A year after playing for Kotchman, Clemens made his major league debut with Boston.
"As far as what I know of Clemens when he was with me, he was a man among boys," said Kotchman. 
In 1984, Kotchman joined the American League's Angels, a tenure that would continue through 2012. In 1990, Kotchman took on a dual role with the club. In addition to manager, he became the team's Florida-based scout. As a scout, he would sign several future Angels, including Howie Kendrick, Scot Shields, Bobby Wilson and Jeff Mathis.
Kotchman didn't know anything about Shields initially.
"I was scouting a player from the University of Western Florida, and they were playing Lincoln Memorial University," he remembered. "Lincoln's pitcher was this skinny, wiry righthander — 6-foot-1, 160 pounds. I ended up signing him in the 38th round for $1,000. A few years later he was on the Angels World Series championship team."
Kendrick, an outfielder, was another player that Kotchman had little knowledge about before coming across him in a junior college game.
"He was from a small high school, and I had never seen him," said Kotchman. "And then for crying out loud later on he becomes a superman in the postseason. As a scout sometimes you get really surprised."
While with the Angels he also had the pleasure of signing a couple of Seminole High School products, Bobby Wilson and Greg Jones. He was also given credit for another Seminole native, Casey Kotchman.
Yes, that would be Tom's son, and someone who had an outstanding major league career as a premier first baseman. Tom speaks highly of not only Casey but his daughter Cristal, who had a terrific collegiate softball career. "My wife, Susan, and I are very proud of both of them," said Kotchman, who also has two grandsons. 
The science of scouting
Scouting, though, is not as easy it might seem.
"It's not an exact science," said Kotchman. "A guy might get four hits in a game, but what were the conditions? So many things go into it. Plus, there is so much information out there with social media. With phones players can get dissected every day. I try and get through that by determining the character and makeup of the player. I have to trust my eyes."  
Kotchman rejoined the Red Sox organization at the end of 2013, and he remains a part of the team. He still enjoys working with young players, even if times have changed somewhat since he started out. Back when he began there were no cellphones, no internet. 
"You have to adapt," Kotchman said, adding that some things stay the same. "You still have to get them off on the right foot. Assume they know nothing. They think they know a lot of things, but they don't. My job is to give them a foundation so that they can go to the next level."
Kotchman, who has won nearly 2,000 games as a manager and was recognized with Baseball America's Tony Gwynn Award for "lasting contributions to baseball" in 2017, has clearly done a great job of creating those foundations as evidenced by the trust teams have given to him all these years. 
Kotchman breaks his success down to an old saying: With youth we learn, with age we understand. "It's a very simple phrase and that's what I've done for 40-some years. I acquired knowledge and I get it to the kids."