SEMINOLE — As the Tampa Bay area experienced heavy rain and strong winds Friday evening thanks to Tropical Storm Nestor, an EF-0 tornado touched down near Seminole City Center, damaging homes and businesses.
Meteorologist Nicole Carlisle said the National Weather Service received reports of a tornado, including images, from first responders, media and Seminole residents.
"Based on that, we determined that the damage was consistent with an EF-0 tornado with maximum winds of 70 miles per hour," she said.
According to the NWS, tornadoes classified as EF-0 boast wind gusts between 65 and 85 miles per hour.
In an email update to Pinellas County officials, Chief Heather Burford wrote that Seminole Fire Rescue received its "first weather-related call" around 9:30 p.m., after the tornado first touched down at Twelve Oaks Mobile Home Park, 10999 Park Blvd.
SFR fire engine No. 29 was returning from an emergency call when the tornado hit.
"This thing literally landed in front of them, and we started getting calls," she said in an interview with Tampa Bay Newspapers.
A vacant mobile home at Twelve Oaks suffered the most extensive damage at that property, Burford said. "Otherwise, it was predominantly (damage to) awnings, carports and lightweight patio furniture."
From Twelve Oaks, the tornado traveled northeast across the Freedom Square complex. The tornado "ran along the plastic fence line," tearing the fence to pieces, and knocking down the independent and assisted living facility's sign, she said.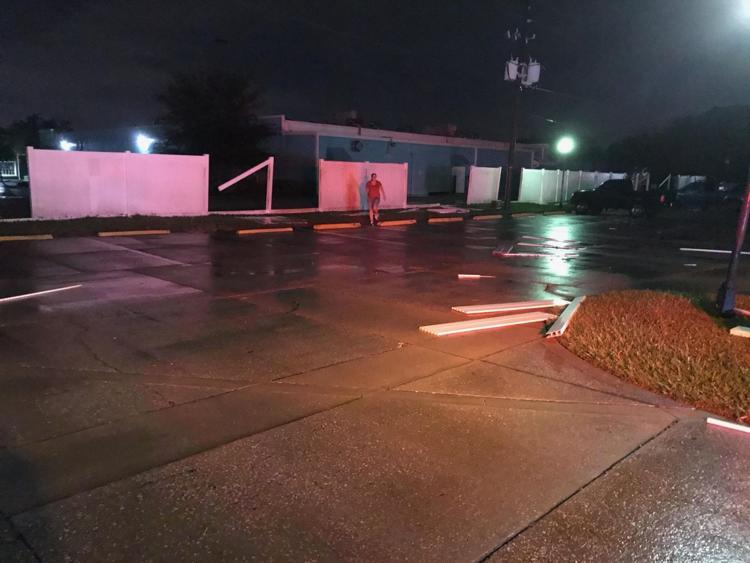 The tornado then traveled north into the Temple Terrace neighborhood. The EF-0 picked up the carport of a single-family home at 10801 Temple Terrace, dropping it between the original and a neighboring home.
After this, the tornado continued north, causing a large tree limb to crash through the roof of a home at 10850 Valencia Terrace, Burford said. "It hit a little bit of the Majestic (Park Homes) as well."
She added, "We were super lucky. There were no injuries, no serious damage."
Luck may have been a factor, but Burford said fire crews deserve a lot of credit.
"Truck 29 was on Park Boulevard when the tornado touched down in front of them," she said. "Thanks to their quick actions and clear directions, additional units were dispatched and the situation was brought under control quickly.  These events are challenging because of how widespread they are."
The area also experienced some power outages, Burford wrote in her email to the county, "but Duke (Energy) was on the scene quickly and most power was restored within 90 minutes. As power came back on along Park Boulevard, we did receive some smoke scare calls, but nothing significant.
Carlisle said the NWS decided not to send a team to Seminole to investigate as they were focused on an EF-2 tornado that hit the Lakeland area.
"We sent a team there, as it look(ed) to be more significant," she said.
A third tornado, an EF-1, also hit Cape Coral earlier this morning, she added.
This is the second tornado to hit Seminole in less than a year. The last one, which occurred Nov. 2, 2018, initially touched down at the Holiday Village Mobile Home Park on Seminole Boulevard and traveled east across the bayou and Lake Seminole Park, damaging nearby businesses and homes in a residential neighborhood just off Park Boulevard and Starkey Road.