SEMINOLE — When Richard Khan lost his sister, Natalie, to lymphoma, he knew he wanted to do something to honor her memory.
She was just 27 years old at the time, and the cancer spread quickly.
"It was all over within six months," he said.
The loss was difficult for Khan and his family. But he decided he would celebrate her life and try to make an impact on others suffering from the disease.
At the time, he was still living in London, where he grew up. He "did everything [he] could for awareness," he said, even jumping out of airplanes.
In 2016, he moved his family from England to Seminole. He had visited the St. Petersburg area since he was a child.
"And I've always loved Florida," Khan said.
He dreamed of living there one day. After a Christmas visit in 2015, he decided it was time to make the move.
With the help of an immigration attorney, he was able to move his aviation recruitment business to the United States.
"The U.S. market is always something I wanted to capture, but unless you're in America, it's very difficult," he said.
Within seven months, he and his family were living in Seminole.
The next year, in 2017, he signed up for his first Great Cycle Challenge, riding in his sister's name to raise money for the Children's Cancer Research Fund.
He'd always loved riding his bicycle, and used it as transportation to and from school. As an adult, it became "a form of exercise I enjoy," he said.
It's more "pleasant" to ride his bike in Florida than in London, he added.
"It's nice cycling around here. I often cycle around Lake Seminole and see lots of alligators and birds," he said. "You don't get those kind of views around England, that's for sure."
Through the GCC, he aligned his cycling hobby with a cause close to his heart. The organization encourages cyclists across the United States to challenge themselves and set their own personal riding goal throughout June to fight kids' cancer. Since 2015, more than 153,000 riders from 50 states have ridden 12 million miles and raised more than $16 million for childhood cancer research and treatment development.
Though his sister was an adult when she died, she was four years younger than Khan, and the cause embraced by the GCC resonated with him.
"Even though she wasn't a kid then, she was still a kid to me, and I do everything I can to raise money for the fight against cancer, especially for kids who have to battle something they shouldn't," he wrote in his rider biography for the GCC.
During his first two years participating in the GCC, Khan rode 313 miles and raised $3,824.84. Both years he was honored as a top rider, and had his and his sister's image featured on the Jumbotron in New York City's Times Square.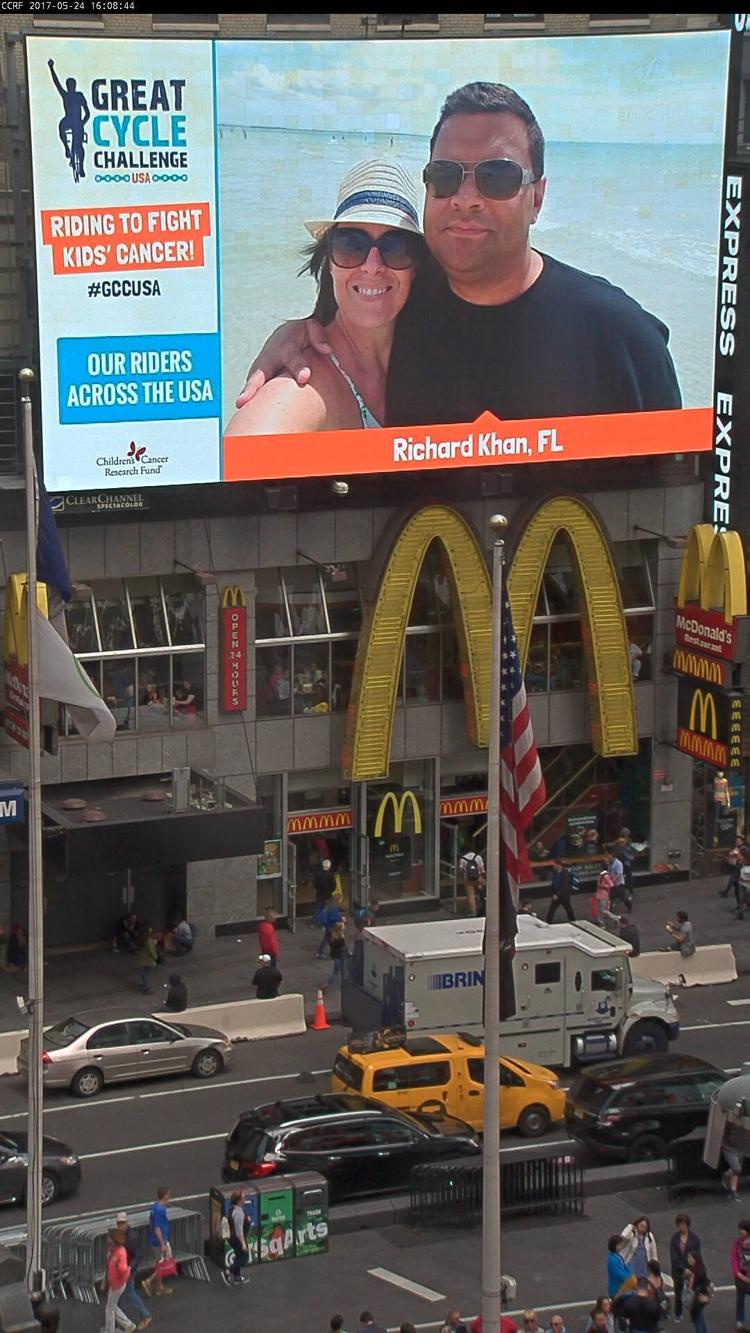 Now he's gearing up for his third GCC. This year, he plans to ride 250 miles, raising $2,500. The GCC also invited him to participate as a champion rider for the 2019 challenge to help raise awareness of it throughout the Tampa Bay area. He ranks at #109 nationally and #7 in the state of Florida.
Khan is seeking donations for the miles he cycles during the month of June. He's also hoping to sign up some new riders this year.
Though he hasn't set any dates or locations, yet, he plans to host some group bike rides in June, too.
For more information or to donate towards Khan's GCC goal, visit greatcyclechallenge.com/Riders/RichardKhan
Those interested in signing up for the GCC can also contact him at rkjr@khan.net.