SEMINOLE — Seminole has grown a lot since it was incorporated in 1970. This includes its business community. As the city celebrates its 50th anniversary, let's take a look at some of the oldest businesses in Seminole.
Joto's Pizza
For more than 45 years, Joto's Pizza has been serving the Seminole community. In 1973, Fred and Carol Zinda moved from rural Wisconsin to St. Petersburg to open a Crusty's Pizza franchise. They opened that location in Pinellas Park.
Eventually, they broke away from the chain to form their business, Joto's Pizza. At one point, they operated four pizzerias. Today, the family still owns and operates two restaurants — one at 13050 Park Blvd. in Seminole and one at 9119 Belcher Road in Pinellas Park.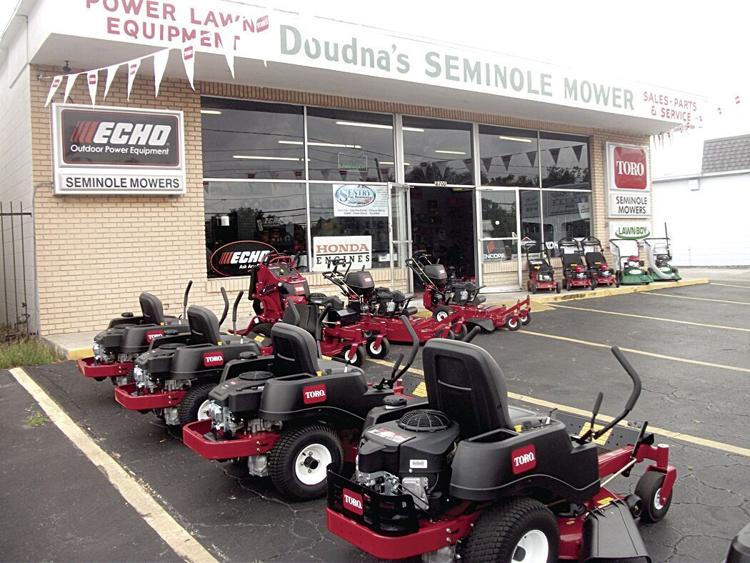 Doudna's Seminole Mowers
Doudna's Seminole Mowers enjoys the distinction of being the first business to register in the newly formed city.
In the mid-1960s, when Thornton "Duke" Doudna retired from the U.S. Marine Corps after 21 years of service, he followed his sister and brother-in-law to Pinellas County.
At the time, his brother-in-law owned and operated Seminole Mowers, which was located near the intersection of 54th Avenue and Seminole Boulevard, said Duke's grandson, Kurt Doudna Jr. "Need(ing) something to do," Duke purchased the business in 1967, he said, changing the name to Doudna's Seminole Mowers and relocating it to the building where it stands today at 8700 Seminole Blvd.
Today, Kurt runs the company, which offers top-of-the-line equipment for home and commercial use, as well as repair services.
DeLoach, Hofstra & Cavonis, P.A.
Six years after Seminole incorporated, what is now DeLoach, Hofstra & Cavonis, P.A. and Seminole Title Co. first formed. An integral part of forming the city, Dennis DeLoach left the law firm he was working for to partner with Peter Hofstra in 1976.
The law firm, which specializes in estate planning, guardianships, trusts and elder law, has operated in the city for more than 40 years. They've expanded their offerings, adding the title company. And Deloach's son, D. Rep DeLoach III, has joined the business.
The firm broke ground in November for a new office building on Seminole Boulevard.
Lewis W. Mohn Funeral Home
The Lewis W. Mohn Funeral Home has been a part of the Seminole community for decades. In fact, it was the first business to join the Greater Seminole Area Chamber of Commerce. It joined the chamber Jan. 1, 1964 and remains a member to this day, the Seminole Historical Society revealed at a 50th anniversary event in January.
The business was founded by Lewis and Martha Mohn. They moved to the Seminole area from Ohio in 1954 when Lewis was offered a job as manager of the Seminole Beach Funeral Home. Eventually, they founded Lewis W. Mohn Funeral Home.
Allen R. Shuffleboard Company
This leading manufacturer of shuffleboard equipment and supplies has been in business since 1941. It was founded by R.K. Allen and eventually his son, Sam Allen, relocated to Seminole to take over the business in 1967. Eventually, a third generation – Jim Allen – took over the company in the early 1980s.
Seminole Mall (Seminole City Center)
Built in 1965, the mall, located at 11201 Park Blvd., where Seminole and Park boulevards meet, quickly became known as the area's downtown. It was a community gathering space in addition to a shopping destination for the community for decades.
The mall went downhill by the early 2000s, though, as shopping habits changed. Many stores closed.
In 2012, North American Development group purchased the mall through a subsidiary, Seminole Mall LP, for $14.6 million. They teamed up with Tampa-based Primerica Group One and Primerica Development to redevelop the site.
They tore down the old mall and build Seminole City Center, an outdoor mall. In addition to shops and restaurants, Seminole City Center also boasts Studio Movie Grill, an upscale movie theater.