PINELLAS PARK — "Like father, like son."
Eighteen-year-old amateur kickboxer Austin Bybee places a lot of stock in that adage, and is working hard to follow in his father's footsteps as a champion kickboxer with the long-term goal to become a professional.
A senior at Seminole High School, Austin is already a world-class amateur kickboxer who developed his skills through long hours of work at the family's gym.
In February, he won an amateur kickboxing title in the 165-pound weight class at the National Championship in Nashville, Tennessee, where he fought in the Pro/Amateur division and won all three of his fights. He is also the youngest Team USA member at 18 years of age.
Austin secured a slot on Team USA Kickboxing, and will go to the World Association of Kickboxing Organizations Championships in either Dubai or Italy in November.
In addition, Austin earned a spot in the World Championships and a chance to compete in the 2022 World Games in Birmingham, Alabama, next summer.
It marks the first time the World Games will have K1 kickboxing, and serves as a precursor for the sport to be included in the 2024 Summer Olympics.
A family tradition
Kickboxing appears to run in the Bybee family blood.
Austin's father, David Bybee, 42, is a three-time world champion kickboxer with wins around the globe. In 2018, he was chosen as a Team USA Olympic coach.
David says the feeling of seeing his son follow his path is indescribable.
"To just see him competing in the ring, it's something that you can't imagine," David said. "It's an incredible feeling."
Having fought in the ring, David also feels protective toward Austin.
"Knowing that my son is kind of following in my footsteps and can maybe even do better than I ever did is amazing," he said. "It's exhilarating, but it's scary at the same time."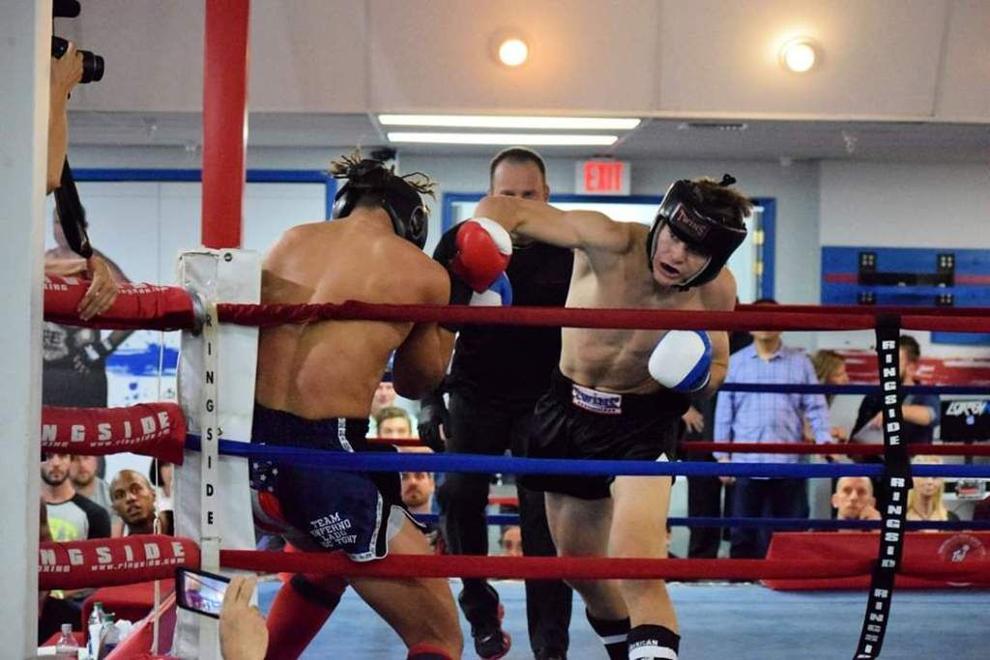 Austin credits his dad for serving as both role model and coach.
"It's a sport that I love because of my dad, watching him fight as I was growing up," Austin said. "He has taught me to love this sport."
Austin says he has developed a personal passion for the sport, which he now calls the "ropes of truth," a place he knows he belongs there.
"When you get in the ring, it's just you," Austin said. "Stepping in the ropes, fighting, it's a thrill. I want to be there."
David Bybee started doing martial arts in middle school as a way to stay out of trouble.
"There was now a way to fight and hit someone legally," David joked.
As a result, David devoted himself to martial arts, moving his way through the ranks to black belt. By age 18, he had fought over 30 times and remained undefeated. He became the first person in the country to become USA kickboxing certified.
Martial arts training became a Bybee family business when David started the American MMA training gym in Pinellas Park in 2003. The school offers martial arts instruction to adults and children.
Austin, who started his martial arts career at age 4, switched over to gymnastics, but came back to the kickboxing ring six years later.
Austin said working gymnastics actually helped improve his flexibility and increase muscle strength.
At 10, Austin learned K-1 kickboxing, which allows fighters to kick and punch their opponents from head to toe.
At 11, he won his first world title in the International Kickboxing Federation World Classic Tournament. At 16, he took home the International Kickboxing Federation Florida state title.
The arrival of COVID-19 in early 2020 curtailed state and national kickboxing competition, but Austin used the time to stay in shape and train with his father at American MMA.
And while the Olympic Summer Games that will include kickboxing are now three years off, Austin will have a busy fight card for the next two years.
Austin will first be competing in the WAKO (World Association of Kickboxing Organizations) World Championship this fall.
David, a former WAKO gold medalist and now a WAKO USA Team coach, will be right there with Austin. He was recently named the "coach of coaches" where he will be certifying other coaches to be eligible for USA kickboxing status.
"I can only teach him and show him the way, then I have to rely on him to go out there and do what he has to do," said David.
After the Olympics, Austin plans on launching his professional kickboxing career.
"It's what I want to do — it's what all the training and working for, "Austin said. "I know it's where I should be."