SEMINOLE — Councilor Jim Quinn announced he won't seek reelection this year during the Seminole City Council's June 29 budget workshop.
Quinn, who turned 80 in March, has sat on council since March 2010, serving as vice mayor from March 2011 through March 2012 and November 2015 through November 2016.
"I'm 80 years old now. So, that only gives me 20 years left to complete my bucket list, which I intend to do," Quinn said.
He said he plans to remain involved with the community, including volunteering with the Interfaith Food Pantry, and organizing his annual shoes and socks drive for the Florida Sheriffs Youth Ranch.
"I'm happy to help wherever [the city needs] me, if they need me on a committee or something," he added.
He expressed his appreciation for city staff and city councilors.
"The employees who work for the city of Seminole are all very dedicated to their jobs," Quinn said. "And I believe this is a great sitting city council. ... I love this city."
Seminole's municipal election will take place Tuesday, Nov. 5. Residents will determine the winners of two council seats — those currently held by Quinn and Thom Barnhorn — and the mayor's seat, which is currently held by Leslie Waters. The qualifying period for candidates runs July 29 through Aug. 12, though candidate packets have been available at Seminole City Hall since July 1. Both Waters and Barnhorn have said they are seeking reelection.
Waters praised Quinn for his role on council.
"Councilor Jim Quinn has been a very positive and valued member of city council," she said. "With his retirement from public office, I am confident that he will continue to be an active force within the city. For all his years in office, he has distinguished himself with community activism and legislative advocacy on behalf of the city, and recently was recognized as a 2019 Home Rule Hero by the Florida League of Cities."
She added that many will also miss his humor.
"Especially when he would refer to our city as 'Camelot,' because it always put smiles on the faces around him," Waters said.
Jim Olliver, former provost of the St. Petersburg College Seminole campus, has announced plans to run for council. Olliver retired from SPC in 2015 and has remained involved with the Greater Seminole Area Chamber of Commerce, where he currently serves as board president and chair. He also recently sat on the city's 2019 Charter Review Committee.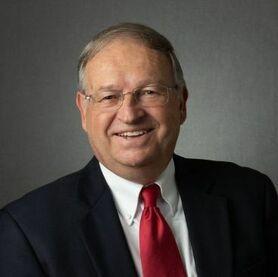 "I've been asked since retiring [from SPC] about running for office," he said. "I always said I would not run against any of the city councilors who were councilors during my tenure at the college. They were all good friends and good to us."
Earlier this year, Quinn reached out to Olliver to share his hopes to retire.
"But he wanted me to run," Olliver said. "He said, 'Run. If you run, I'll retire.'"
Quinn said, "The only reason I'm not running is because he agreed to."
After thinking about it, Olliver decided it was time to run for council. He's lived in Seminole for more than 15 years, and has been involved with the community for around 30 years between his career at SPC and his work with the chamber and other organizations, he said.
"I've had so many interactions with the city," he said. "I love the city, I know the city and think I can be of service to the city on the city council."
His term as chamber president and chair ends this year, he added, so he doesn't anticipate any conflict of interest.
"Next year, I rotate off. It's a one-year position," he said. "So, when the role is over, that really eliminates any conflict of interest and my role as councilor takes precedence."