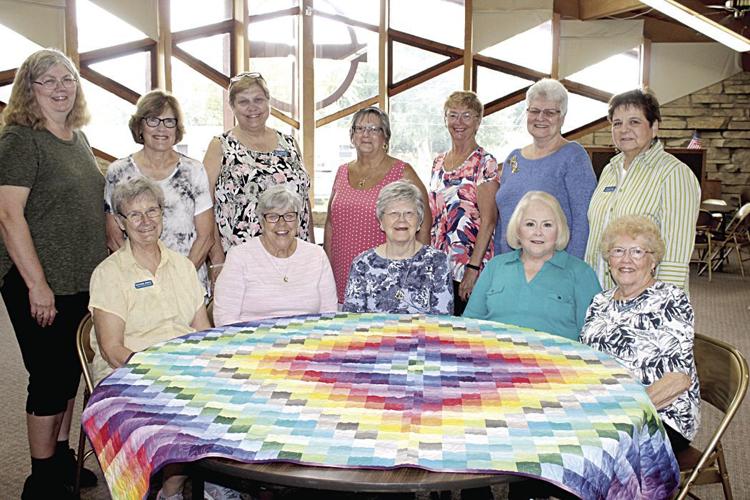 LARGO — It all started on Nelle Attaway's back porch. Nine women gathered in 1981 to practice the art of quilting, a bygone tradition that has connected women to one another for centuries. These women shared stories and jokes; helped teach their craft to newcomers and passed on traditions from those who came before them.
And thus, the Largo Cracker Quilters guild was born.
Now, almost 40 years later, the guild has grown to almost 90 members, from all walks of life — some hail from as near as Seminole, while others fly down from as far away as Canada during the winters.
It's not just a love of quilting that bring these women together — it's the sense of fellowship and community that draws them in each Monday of the month.
"Well, it's cheaper than therapy," cracked guild member Myrtle Tucker of Largo. But, upon reflection, she adds, "Maybe not so much."
That's because, although the art of quilting is a time-honored practice, like most things over time, the cost to indulge in the craft has risen.
But guild members don't let cost deter them. As the largest and perhaps the most productive quilting guild in the area, the Largo Cracker Quilters donate hundreds of quilts, place mats, table runners and various other items to community organizations each year.
"Our philosophy is to give to charities throughout the year, not just during the holidays," said club member Karen Barrie.
The group has partnered with various organizations, including Habitat for Humanity, CASA, Veterans Affairs, and Brookwood, in an effort to give back to the community while spreading the joy of quilting.
"When a child is taken away from his home, to know that he might be keeping himself warm in a strange place with one of our quilts, it just brings tears to my eyes," said Fran McComas.
Joan Scaffidi of North Redington Beach said she finds quilting not only meditative, but a way to stay active.
"Quilting involves a lot of skills," she said. "Math, design, color appreciation. It takes a lot of effort."
The group meets each Monday, except for the months of July and August, and also serves as docents at Heritage Village in Largo.
"I think it's nice we meet once a week," Tucker said. "It's a good reason to get out of the house."
The group is open to all ages and skill levels.
"I'm constantly doing something new and asking questions," said guild president Dell Forrester, who said she has only been quilting for a year. "These ladies are so helpful."
If life were a quilt, friends would be the stitches that hold it together. The ladies of the Largo Cracker Quilters are a testament to that.
A sense of welcome, of joyful invitation is a happy presence as the group met one Sunday afternoon at Christ Presbyterian Church in Largo. A dozen quilts, if not more, lined chairs in a meeting room as a group of 12 women gathered to share their work — and their stories.
Traditions of those who came before them, almost 40 years in the making.
"We wouldn't have it any other way," Barrie said.