DUNEDIN — Lita Edwards recalls the first breast cancer survivor that entered her tattoo studio.
Her name was Alice, age 68. "She was a broken woman," Edwards said. "She had horrendous scars. She was crying her eyes out. I was crying.
"I said, 'I don't know what we're going to do, but we're going to do something that's going to make you feel better.'"
She did, and at Metamorphosis Ink, Edwards now specializes in mastectomy tattoos, scar coverups, and the sacred healing art of tattooing, in addition to more traditional fare. For more and more women, the next step after the surgical suite is a tattoo studio.
"It's an entire life transformation. It's the end of one chapter and the beginning of another," Edwards said from her shop at 2141 Main St. N. in Dunedin. "They come through, they're emotionally scarred, they're put together like patchwork. They look in the mirror, and it doesn't look like the woman they're familiar with. It's that whole transformation of needing to feel beautiful again."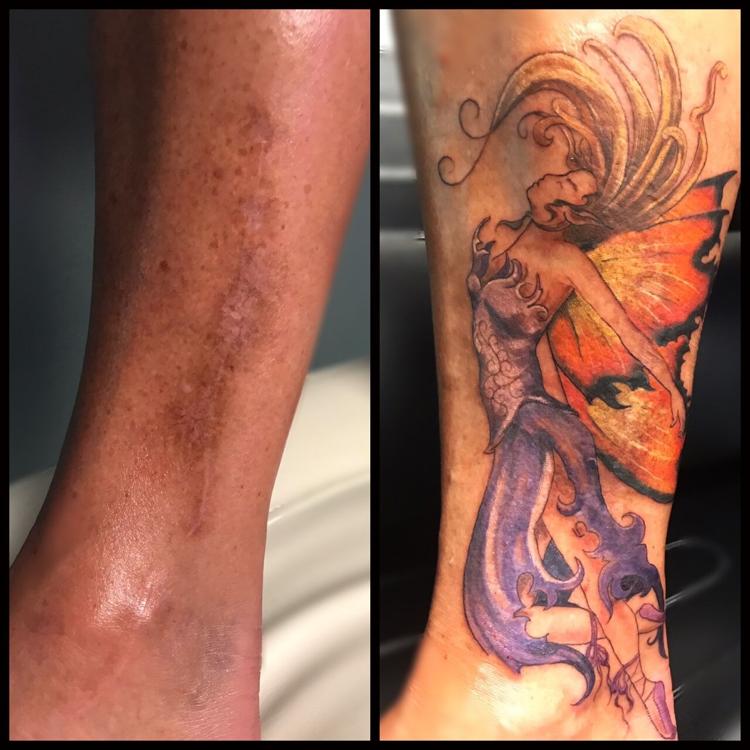 The post-op tattoo trend spread from California, originally with women seeking lifelike nipples or areolas. Others choose to have a more artistic design to camouflage scars or to take advantage of a blank canvas.
Edwards said floral designs and natural images are popular, "as opposed to something harsh like a ship or an octopus."
What is often referred to as paramedical tattooing is a growing business, with accident victims and others seeking everything from fingernails to disguising facial scars.
Edwards' business has taken off, and when a new artist arrives soon from Tallahassee, she will have five on staff. Her wife, Dawn, runs the business side of things.
She works with and gets referrals from plastic surgeons, cancer specialists, and dermatologists.
A gallery at metamorphosis-ink.com shows off the studio's best work.
"The biggest part of it is the ability to make an emotional connection with someone who has faced death, maybe several times," Edwards said. "There's an emotional connection I can bring to the table with anyone that is facing a scar that can be mended. It has given me purpose.
"Everybody has a scar from something, be it emotional or physical."