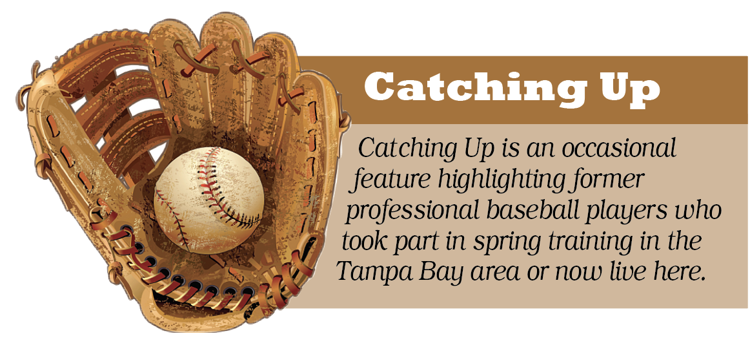 It was February 1985 and Dwight Gooden was already the talk of the town as the New York Mets opened up their spring training camp at Huggins-Stengel Field at Crescent Lake Park in St. Petersburg.
As a 19-year-old phenom from Tampa with just one minor league season behind him, Gooden shook up the baseball world by going 17-9 the year before. In 218 innings he struck out 276 batters and fashioned an ERA of 2.60 on his way to easily take the National League Rookie of the Year award. The expectations for Gooden, and the Mets, loaded with talent on a team that also included Darryl Strawberry and newly arrived Gary Carter, were extremely high.
Despite his success in 1984, when spring training started in '85, Gooden had concerns.
"They are always talking about the sophomore jinx," he said. "That was on my mind." To make matters worse, "I started out bad."
The veteran catcher Carter, an eventual Hall of Famer who passed away in 2012, kept working with Gooden to expand his pitch selection that spring.
"My change-up was horrible," recalled Gooden, whose nickname was "Doc." "Gary worked with me to make it effective. He kept pushing me in a lot of ways, he gave me confidence. He was the perfect guy for me at the time. Just a great, great guy and a true leader."
Gooden's season went from bad to sensational pretty quickly. "By around my fifth or sixth start that's when I knew I had something special going," he recalled. "Every time I pitched it became a show. The crowds got bigger. They wanted dominance."
Dominance is what they got. Gooden would go 24-4 that year with a miniscule 1.53 ERA. He struck out 268, completed 16 games and recorded eight shutouts. Gooden could not be stopped, and his confidence was out of this world. He remembers one game in late summer against the Dodgers with the Mets clinging to a 2-0 lead. Los Angeles loaded the bases with no outs and three lefties coming to bat.
"Gary came out to the mound and told me I could do it," said the right-handed Gooden. "The first guy popped out and then I got two more outs. No runs."
The media crush throughout the season for Gooden's attention was intense. Every print, radio and TV reporter wanted a piece of him, locally and nationally.
"The demand was crazy," he remembered. "They had to set a few interview rules. Jay Horwitz (the Mets PR director) did a great job handling that."
Although Gooden was the unanimous choice for Cy Young and the Mets finished with a terrific 98-64 mark, it was still not enough in the standings as New York finished second in the NL East. But that did set the stage for 1986, when Gooden and the Mets won the World Series over Boston in a series most remembered for Bill Buckner's costly error in Game 6 that gave New York a second life. Gooden fashioned a 17-6 record in 1986 but was winless in four postseason outings (including the division series against Houston).
Over the next two years, the Mets could not regain the World Series glory of 1986, although they did make it to the playoffs in 1988, where they lost to the Dodgers. Gooden was still considered one of the best, however.
The trajectory changes
Things started to go downhill with Gooden in 1989 when his season was shortened by a shoulder injury. Although he bounced back in 1990 with a 19-7 record, trouble was already brewing in his personal life. Over the next several years, Gooden had problems with drugs and legal issues. From 1991 until 2000, his career was checkered, a few decent seasons, mainly so-so years. His career with the Mets ended in 1994 after posting his third straight losing season that was shortened by a drug suspension and then a season-long suspension for 1995, again due to drugs.
In the next few years, he spent time with the Yankees and Cleveland, and very short stints with Houston and Tampa Bay. He pitched good enough for the Yankees, going 24-14. The highlight of his Yankee career came in 1996, when on May 14 he tossed a no-hitter against a tough Seattle Mariners team. Gooden nearly didn't pitch that day. At the time his father was undergoing dialysis and was preparing for heart surgery the next day.
"I was prepared to go home," said Gooden, now 55. "I had my flight scheduled. I woke up that morning and knew that my dad would want me to pitch because he always said work comes first. I told (manager) Joe Torre that I was going to pitch." Torre tried to talk Gooden out of it but Gooden felt it was the right thing to do even though his mother disagreed. "I did make the right decision."
He also made the right decisions during the game.
"By around the sixth inning I was throwing to every batter as if it was an 0-2 count," Gooden said. "At one point after I walked a couple, (pitching coach) Mel (Stottlemyer) came out and asked me how I was doing. I told him, 'I'm not coming out.'" The game ended on a pop out to shortstop Derek Jeter, who Gooden declared as one of the best he's ever played with. Darryl Strawberry and Robbie Alomar are two others.
Through all the ups and downs, Gooden still finished his career with a respectable record of 194-112, although more than half of those wins came before he was 25, with 2,293 strike outs. He was a four-time All-Star and played with three World Series champions — the Mets in '86 and the Yankees in 1996 and 2000.
'I've had to dig really deep into myself'
While Gooden has plenty of good memories, he readily acknowledges that he also has more than his share of memories he wished had never occurred. He has been in rehab, had run-ins with the law, and in general, had many hiccups in his life. About five years ago he started to confront mental health issues that likely percolated going back to his childhood, and got particularly worse when his mother fell seriously ill a year after.
"I started losing weight," said Gooden. "I was suffering from depression. I knew I needed some special help. I've had to dig really deep into myself."
Gooden, who says he still has mood swings from the depression, battles on with his recovery from drugs and mental health on a daily basis. He frequently has Zoom meetings with a mental health program he is part of.
"That's what keeps me going," he said humbly. "It helps me when I can share my situation with others. I made mistakes and I'm trying to move on and not make the same mistakes again. I am still learning about myself every day."
He openly spreads his story to others, especially young people he speaks to on the virtues of not only baseball and pitching, but most importantly, life issues.
Through it all, though, Gooden remains a "sports nut" — thoroughly enjoying baseball, basketball and football. Of special interest right now for Gooden is the youngest of his seven children, Dylan, a prep school standout football player who has the potential to do some big things down the line.
And some more good news: Gooden, now living in New York and doing appearances for the Yankees, reports that he just became a great-grandfather.
"It's too easy to dwell on bad things," he said. "But there are good things, too."