DUNEDIN — Typically when spring training ends, Major League Baseball players pack up their bats and gloves and head north for the start of the regular season and the highly anticipated Opening Day.
But this being 2021, which so far has been a slightly less crazy version of 2020, traditions are out the window.
That's how, due to international travel restrictions still in place due to the ongoing coronavirus crisis, the Toronto Blue Jays wound up playing their 2021 regular-season home opener at TD Ballpark, the Canadian team's recently remodeled minor league stadium located in a quiet neighborhood on Douglas Avenue in Dunedin. The Jays squared off with the Los Angeles Angels on April 8.
And while there were signs of the challenges of playing a major league game in a minor league park — including bringing in additional lighting and a capacity limited to roughly 1,300 fans in the 8,500-seat stadium — the thrilling game, which the Jays lost, 7-5 in 11 innings, had all the benefits of a Grapefruit League tilt. Players interacted with fans, albeit from a distance, and the action was close to the stands, but there was the feel of a big-time major league contest.
"It's an intimate experience, like seeing a big band in a small concert venue," said New York City resident Benjamin Weil, who was sporting a Mike Trout jersey while shagging home run balls during batting practice. "It's a pretty awesome experience. I'm really enjoying it."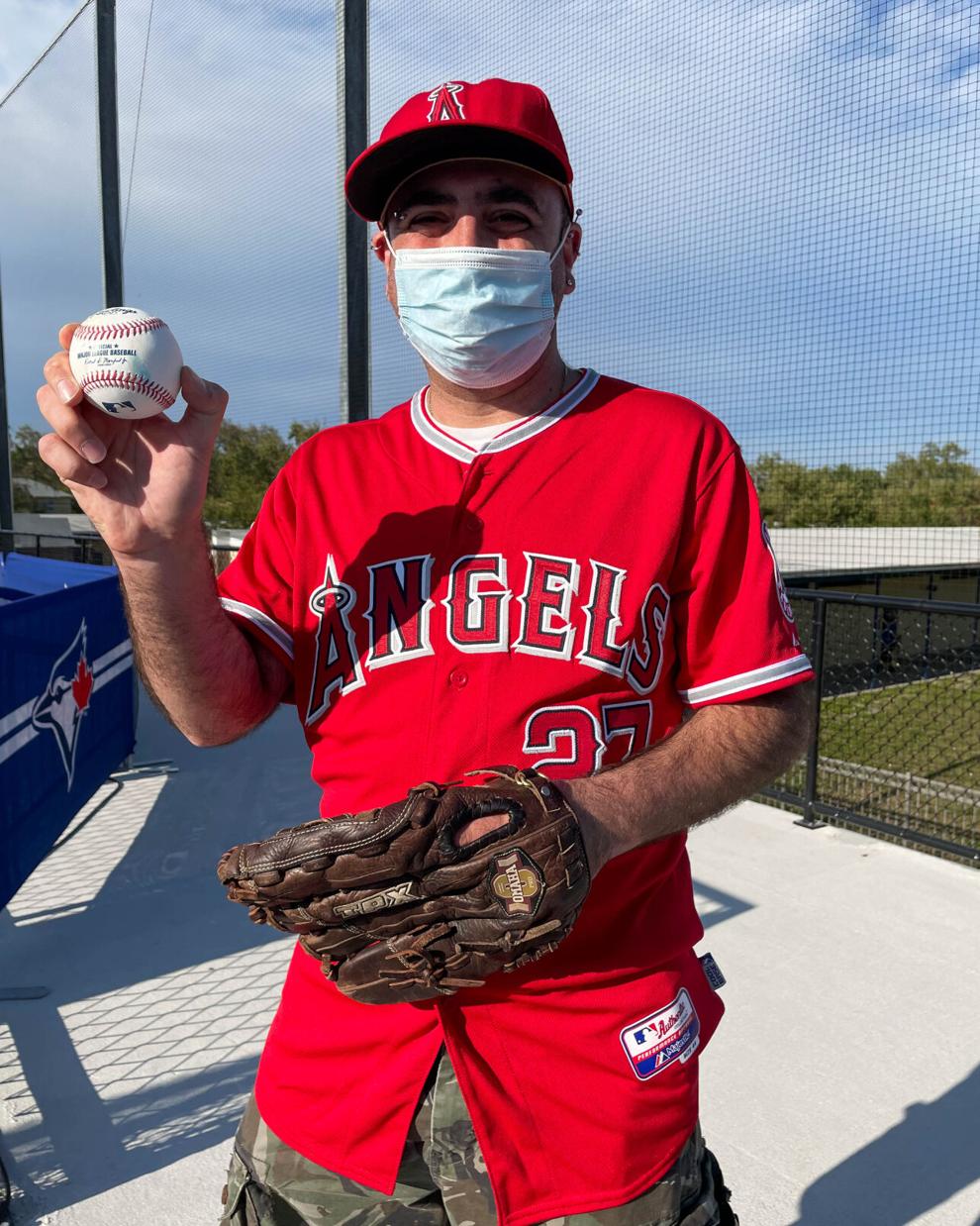 Weil said he's attended major league games at 45 different stadiums, including in Mexico, Japan and London, and when he heard there would be a regular-season game in Dunedin, he jumped at the chance. "I knew I had to be here," he said. "I wasn't missing this!"
Weil enjoyed it even more when his idol tossed him a ball between innings.
"Good job giving it to the guy in the Trout jersey, Mike!" one nearby fan shouted, and the three-time MLB MVP turned and smiled and tipped his cap in appreciation.
A trip around the wraparound concourse, which was part of a $100 million renovation of the old Grant Field, the Jays' spring training home since 1945, revealed many COVID-19-related precautions. There was pod seating, sanitizing crews and mandatory masks, but that didn't stop fans of all ages from all parts of the country in the announced crowd of 1,348 from enjoying the action.
Behind home plate two buddies from central Florida painted head to toe in blue attracted almost as much attention as the players.
"He's a Canadian, so I'm here supporting him," Auburndale resident Jacob Fuller said of his friend, Jorel Belarmino, a Toronto native who currently lives in Windemere.
After posing for photos with a few passersby, Fuller said he was "stoked" to be at the game.
"Any excuse to paint my body, I'm there!" he said.
In left field, several Dunedin officials and county commissioners were enjoying the action from a roped-off section. According to Pinellas County Commission chair and former Dunedin mayor Dave Eggers, the opener put the city and the stadium under a well-deserved spotlight.
"This is unbelievable. So surreal," Eggers said as he enjoyed the game with his wife as well as local and county officials, including Dunedin Mayor Julie Ward Bujalski. "The field looks great, and everyone involved did a great job pulling this off."
Eggers, who served as Dunedin mayor and commissioner from 2003-2014, said with the Tampa Bay Rays set to play their home opener against the New York Yankees at Tropicana Field in St. Pete the next day, "there will be one Major League Baseball game being played at one end of the county and one being played at the other end. It makes you really proud for the people who live in Dunedin and St. Pete and for the whole county to be able to enjoy something this special. This probably won't happen again, so we need to enjoy it while we have it!"