PALM HARBOR — To say everyone associated with the Valspar Championship was disappointed when the PGA Tour event was canceled in 2020 due to the coronavirus would be a massive understatement.
But rather than lament what was lost when the event wasn't played at Innisbrook Golf Resort's famed Copperhead course last year, tournament and resort officials have been looking forward to this year's event, which is scheduled to begin Monday, April 26, and run through Sunday, May 2.
During the Valspar kickoff breakfast last month, tournament director Tracy West, Innisbrook's managing director, Mike Williams, and others expressed their gratitude for having the opportunity to host the tournament again this year, albeit five weeks later than usual. There will be some COVID-mandated changes but a solid field that's scheduled to include Brooks Koepka, two-time defending Valspar champion Paul Casey and world No. 1 Dustin Johnson.
"We're ecstatic we're actually going to have a tournament, but things are definitely going to be different," West told the room full of guests, which included Innisbrook members, media and PGA pro Jason Kokrak.
West explained the 2021 tournament would feature limited attendance "in the range of 20-30% of the available capacity," as well as other safety and social distancing guidelines, and she noted they have been working closely with local health care professionals in the months leading up to the tournament.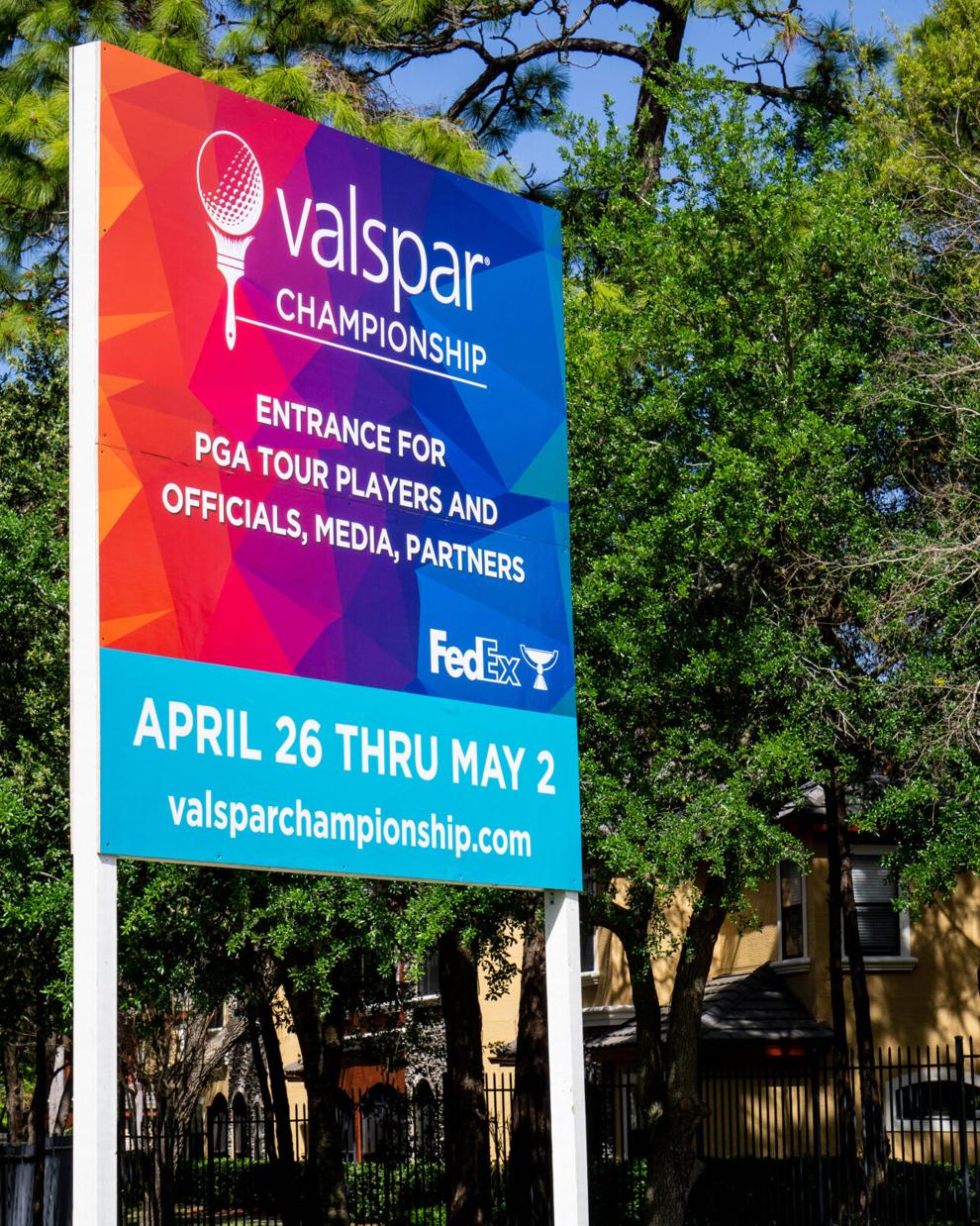 "We take health and safety very seriously here at the Valspar Championship," West said.
Williams echoed those sentiments, stating "we're happy to welcome everyone back for what we know will be a very successful but very different tournament this year," noting the conditions on the Copperhead course were "outstanding and the greens are in great shape."
Indeed, Kokrak, a tall, affable native Canadian who has a trio of top 10 finishes at the Valspar during his 10-year career, praised the course, saying "it's definitely in the top five golf courses we play because it's a great test of golf. You've got to hit a great golf shot to be successful. I love it here. It's a great venue and a great tournament."
When asked what his goal was for the 2021 Valspar, Kokrak replied to "take down" the two-time reigning champ Casey. The first of the Englishman's back-to-back titles came in 2018, when Tiger Woods entered the field for the first time and nearly won it if not for Casey shooting 6-under-par on Sunday.
That year the Valspar enjoyed record television and attendance numbers, a feat that won't be duplicated at the course this year.
But according to West, the fact they are able to host the tournament again is all they could ask for.
"We are overjoyed that the tournament is going to happen," West said after the breakfast. "We feel we've got good protocols in place. We're disappointed that we won't have everybody here that would probably like to be here, but we're grateful that the tournament is happening, and we are going to play and there's going to be people in the community here. We're really excited."
West admitted last year's cancellation "was certainly hard" and event organizers were "disappointed because of all the hard work that went into it, not only from a staff perspective, but for all the volunteers who work not just tournament week but all year round." She said they quickly put things into perspective once the severity of the pandemic was revealed, even managing to find positives amid a year of bad news.
"In a way it was a silver lining because we always knew how deep people cared about this tournament," West said. She praised local and national partners, including the PGA Tour and Valspar, for keeping the tournament "financially viable" over the past year. "But when there's adversity and people come together, it was heartwarming, in a way, to know it was true and how much people care about this tournament and the impact it has economically and charitable wise in the community."
She also said they were treating 2021 as a bridge year to what they hope will be full attendance next year.
"That's exactly what it is," she said. "It's make the best of the situation that we can, try and have a positive impact in the community this year and hopefully, God willing, we'll be back at full strength in 2022."