Q: Is Week 4 too early for must-win matchups?
A: Nope.
Clearwater and Largo get after it this week and Friday night's winner may lock up the District 6A-7 title in the process. That's because the rest of the league isn't quite as threatening, especially after seeing Countryside's attention-grabbing 48-26 loss at Dixie Hollins.
Anything can happen with six games remaining after Friday, but Clearwater-Largo tops the list of North Pinellas games to watch this week.
Clearwater (3-0) at Largo (2-1)
Clearwater's proving itself as North County's premier program this year by starting out 3-0 against quality opposition. The Tornadoes opened with an impressive 28-18 win over Palm Bay Heritage, beat up on East Lake 44-12 and then dropped Jesuit 14-10 last week.
Next comes district-rival Largo and a chance to jump in the league's driver's seat. Countryside, Osceola and Seminole round out the District 6A-7 field and the Tornadoes and Packers will be favored to handle each. That means Friday night's winner in Largo basically wins the district championship and a top-four seeding in their Class 6A region come playoff time.
Since Clearwater's reemerged as a contender in recent years, a high-octane offense has been the program's defining characteristic. Quarterback Rent Montie & Co. have the unit playing well again, but it's the Tornadoes defense that is making this year's version look like a serious contender.
Largo's played a similarly challenging schedule but its record has a blemish after falling to Pinellas Park 26-22 last week. The Packers opened with big wins over Bradenton Braden River (7-2) and Boca Ciega (17-6). Pinellas Park did not look good while losing their first two games of the season by 20 and 40 points, respectively. That doesn't mean Clearwater can take Largo any more lightly after the Packers fell to the Patriots, though.
Dunedin (3-0) at Seminole (0-2)
Talk about a turnaround.
Dunedin's well-known, lengthy losing streak is old news. That's because the Falcons improved to 3-0 – no misprint – by trouncing Tampa Bay Christian Academy 48-0. Again, no misprint. The shutout was Dunedin's first since blanking Clearwater 35-0 on Oct. 23, 2009.
So what's next? Improving to 4-0, it seems.
Dunedin heads to Seminole, another long-struggling program that is looking for its first win of 2019. The Warhawks showed a lot of promise in defeat last week at Northeast. Falcons players, coaches, students, parents, fans, staff, mascot, lawn maintenance crew, etc. should all be celebrating the 3-0 start, but the team needs full preparation and focus Friday night if it wants 4-0.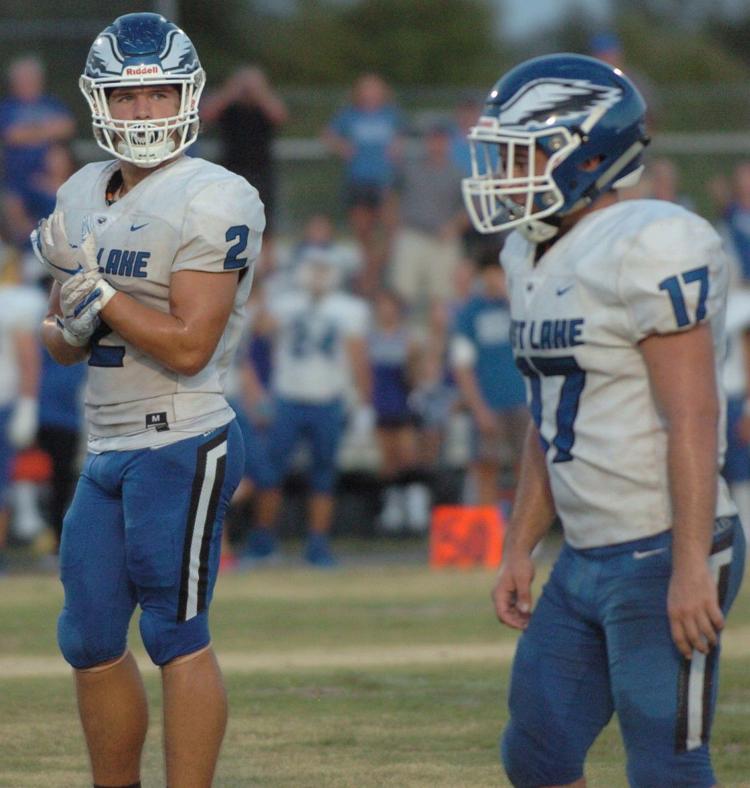 Sunlake (2-1) at East Lake (1-2)
The first win's out of the way. Now East Lake needs to string a few together before the 2019 campaign gets away from it.
The Eagles get to host new District 7A-9 foe Sunlake a week after beating rival Palm Harbor University, 34-16. With Mitchell, Pinellas Park and Sickles lumped into the sprawling district, every game counts for teams hoping to win the league title.
The Seahawks stumbled out of the gate this season, getting smashed 53-0 at Springstead. They've rebounded nicely, however, with wins over Pasco and Wesley Chapel.
When Sunlake lost to Springstead, the Seahawks defense simply could not stop the run (38 attempts for 373 yards and eight touchdowns.) East Lake junior Ryan Cunningham has stepped up as the team's leading rushing so far this season and could take another leap forward with a big night Friday.
Countryside (1-1) at Osceola (1-2)
What a difference a week makes.
Countryside sat out Week 1 with a bye and then blasted Land O' Lakes 49-7 two weeks ago.
Last Friday? Dixie Hollins 46, Countryside 28.
Granted, the Rebels are playing as well as they have in years, building on momentum from last year. But a 22-point win over Countryside is still shocking.
If there's anyone that needs a quick turnaround in North Pinellas, it's the Cougars. Similar to Seminole and Dunedin, the past decade hasn't been kind to Osceola. The Warriors have been competitive through three games, though. They shutout Gulf 40-0, fell to resurgent Dunedin 26-6 and lost in overtime last week 28-21 against Sarasota Out-of-Door Academy.