The abrupt halt to the 2020 spring training season in mid-March because of the coronavirus pandemic dealt a huge economic blow to Pinellas County, where the Toronto Blue Jays play in newly refurbished TD Ballpark in Dunedin and the Philadelphia Phillies have trained in Clearwater for more than half a century.
According to a survey commissioned by Clearwater officials last year, the Phillies' spring season generates more than $43 million annually in direct, indirect and induced spending, including $6.8 million on hotels, $6.6 million on food and beverages and $2.4 million in retail purchases and other spending. The survey did not take into account the economic impact of the Clearwater Threshers summerlong Florida State League's schedule.
While Major League Baseball players were allowed to resume practicing July 1 for the regular season that will start at their home ballparks July 24, Minor League Baseball president and CEO Pat O'Connor announced there would be no minor league season this year.
"Major League Baseball has informed Minor League Baseball that it will not be providing its affiliated minor league teams with players for the 2020 season," O'Connor said in a statement released June 30. "As a result, there will not be a Minor League Baseball season in 2020."
The news, coupled with the abbreviated spring season, will have serious economic repercussions in Pinellas County, according to city officials and local business owners.
"Of course, we are extremely disappointed that our city will not be hosting Minor League Baseball this year, especially with our new stadium," Dunedin Mayor Julie Ward Bujalski said via email. "We were really hoping to introduce our new stadium and an economical family night out to our residents. Our businesses benefit from all the activity that the minor league games bring. Many of our local businesses and 501 (c)(3)'s partner with the Jays on special event nights, which bring them marketing recognition and fundraising opportunities."
Indeed, according to Janet Baustert, owner of the popular Douglas Avenue bar and music venue, Bauser's, the cancellation of the Dunedin Blue Jays season combined with the coronavirus-induced closure of bars in the county is a double whammy that could prove to be a crippling blow for many businesses.
"We do get some revenue from Minor League Baseball, but it's more the closing of the stadium itself that really hurts," Baustert said by phone over the July 4 holiday when her bar, located a couple of blocks from the stadium, remained closed. "When they have events there like Wing Night or fireworks, we always get great crowds. For us, it draws people past us and gives them a reason to come down Douglas and possibly stop in. Now with the stadium closed and the season canceled we won't get that. And that really hurts."
Baustert said she has plans to survive what promises to be a long, difficult summer that involves selling alcohol to go at her establishment and converting an adjacent lot she owns into an outdoor venue.
"We're going to see if we can make it through," she said, "but closing the stadium is definitely going to affect our business."
She also expressed regret for the minor league players whose careers could be halted, or ended, due to the cancellation of the 2020 Florida State League season.
"These poor guys are working so hard to make it to the majors, and now that's been taken away from them," Baustert said, adding, "I feel so bad for those kids."
In Clearwater, where the Threshers have become a huge draw for locals and families all summer long, the news that the minor league season was canceled hit hard.
"Most of the Threshers fans are locals taking advantage of very inexpensive entertainment at Spectrum Field," Mayor Frank Hibbard said. "It's an inexpensive, family-friendly way to enjoy baseball and that's why they have been breaking (attendance) records there every year. I mean, we all love the Major Leagues and spring training, but it's not a cheap date."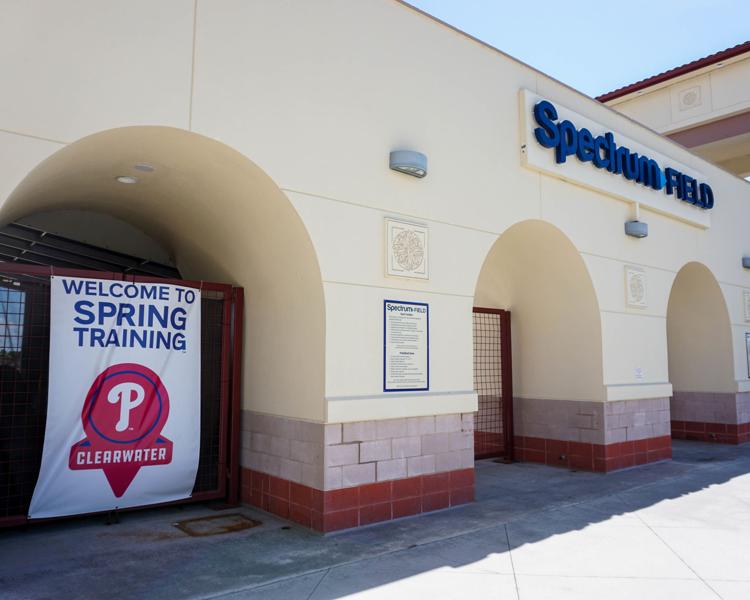 Hibbard said the longer the coronavirus grips the country, the more it's going to affect the county.
"We're seeing the effects everywhere, including the bed tax, which funds a lot of other things," he said of Tourist Development Tax, a 6% tax collected on accommodations rented in Pinellas County for less than six months. "It's unfortunately been devastating from that aspect."
Hibbard, who originally served as mayor from 2005-12 and was elected to replace term-limited George Cretekos in March, said the city is trying to come up with alternative ways to entertain residents, and occupy Spectrum Field, as the COVID-19 pandemic continues.
"We're talking about the (Clearwater) Jazz Holiday moving there as renovations to Coachman Park ramp up," he said, adding, "Spectrum Field is literally a 365-days-a-year facility because the Phillies bring their injured players to Clearwater to rehab."
While hosting events at the ballpark on Old Coachman Road would help in the interim, the mayor admitted he didn't want to entertain the prospect of not having baseball resume at the stadium next year.
"There are a lot of unknowns and we have to think about every scenario," Hibbard said, adding, "I certainly hope we come up with a vaccine sooner rather than later, but I don't think any of us know what's going to happen. I was mayor in '08 and '09 and we made it through (the economic collapse), and hopefully we can do it again. But to lose another season would be devastating."